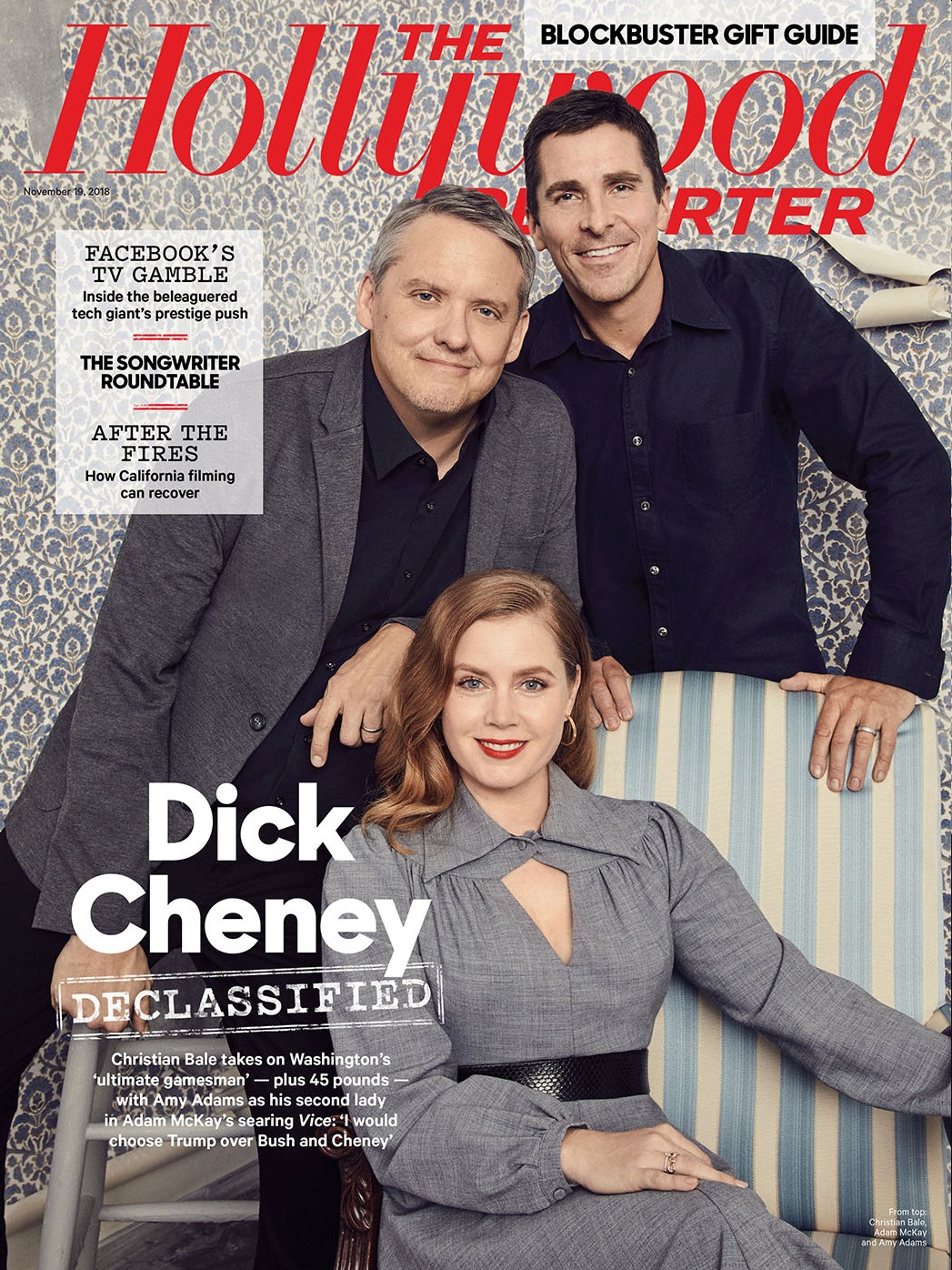 Are you looking forward to Vice? That's the Adam McKay-directed bio-pic about Dick Cheney, with Christian Bale starring as Cheney and Amy Adams starring as Lynne Cheney. I think the movie looks good, but I did have concerns that it would treat a war criminal like a cuddly con artist, or that the Cheneys would be humanized, and all of that. Well, Adam McKay, Bale and Adams all sat down for The Hollywood Reporter's cover story, and I came away feeling like… okay, maybe McKay didn't humanize Cheney after all? Bale wanted to find the humanity in Cheney, for sure, but McKay wasn't interested. McKay scorched the f–k out of everyone involved with the Bush administration, and his quotes were the most interesting and noteworthy. Some highlights (all quotes are from McKay):
McKay think Bush was an idiot: "George W. Bush is really going to hate this movie. I think there's going to be a backlash from the Bob Woodwards of the world, who went the opposite direction with the narrative. Their idea was, 'Bush is smarter than you think. He actually did a lot.' I did a lot of research on that. And boy, do I strongly disagree. I couldn't find any evidence that Bush was surprisingly competent. I just didn't see it."

He thinks Bill Clinton was a bad president: "I legitimately think Bill Clinton is one of the worst presidents in the modern age. I really do. I think his presidency has aged so poorly: the deregulating of the banks. His personal life [in light of] the #MeToo movement. Like, shame on all of us. I at least was at SNL making fun of him with some cold opens. But man, they let that guy off the hook. I think he killed the Democratic Party. … I would say Jeb over Bill Clinton."

He thinks Trump is better than Bush/Cheney: "I would choose Trump over Bush and Cheney… Dick Cheney was the safe-cracker, the professional you brought in who knew all the ins and outs of our government. He was the ultimate gamesman. With Trump, the front door to the White House is wide open. There's deer and dogs and hyenas running around. And this guy is like an orangutan just throwing sh-t around. But Cheney was the grand master who finished the deal. Donald Trump has no belief system. So I would take the hyenas, the random wild animals running through the White House over Cheney any day of the week. If Cheney had stayed in office — let's say we didn't have term limits, and he was able to go another four, eight years — they would have invaded Iran."

On being criticized by Joe Scarborough: "He wrote something like: 'Adam McKay is very biased,' so I was like, 'I wonder what Joe Scarborough said about the Iraq War.' Beep, beep, beep [miming Googling]. Oh, well, you know, vehement supporter of it. I don't think anyone who supported the Iraq War should hold office anymore. I don't think anyone who supported the Iraq War should be a legitimate pundit on television. Like, you failed the biggest test that we had."
As I was reading this cover story, I was reminded yet again of how many people were wrong about the Iraq War and how almost all of them never had to face any consequences for it. I was one of those wide-eyed liberals who believed that once Bush and Cheney were out of office, we would have a reckoning, as a country, about the Iraq War and how intelligence was falsified and how Cheney gamed the "liberal media." But the reckoning never happened, and there was no "truth and reconciliation" moment in politics or the media. And I think those compounded failures led to Trump.
All that being said, I think McKay is full of it when it comes to Clinton's presidency being one of the worst. The Clinton presidency wasn't the best thing ever, and of course we should turn a critical eye to all of it. But "Bill Clinton is one of the worst presidents in the modern age"? Really? A modern age which included Dubya and Trump???
Cover courtesy of THR, additional photo courtesy of Getty.