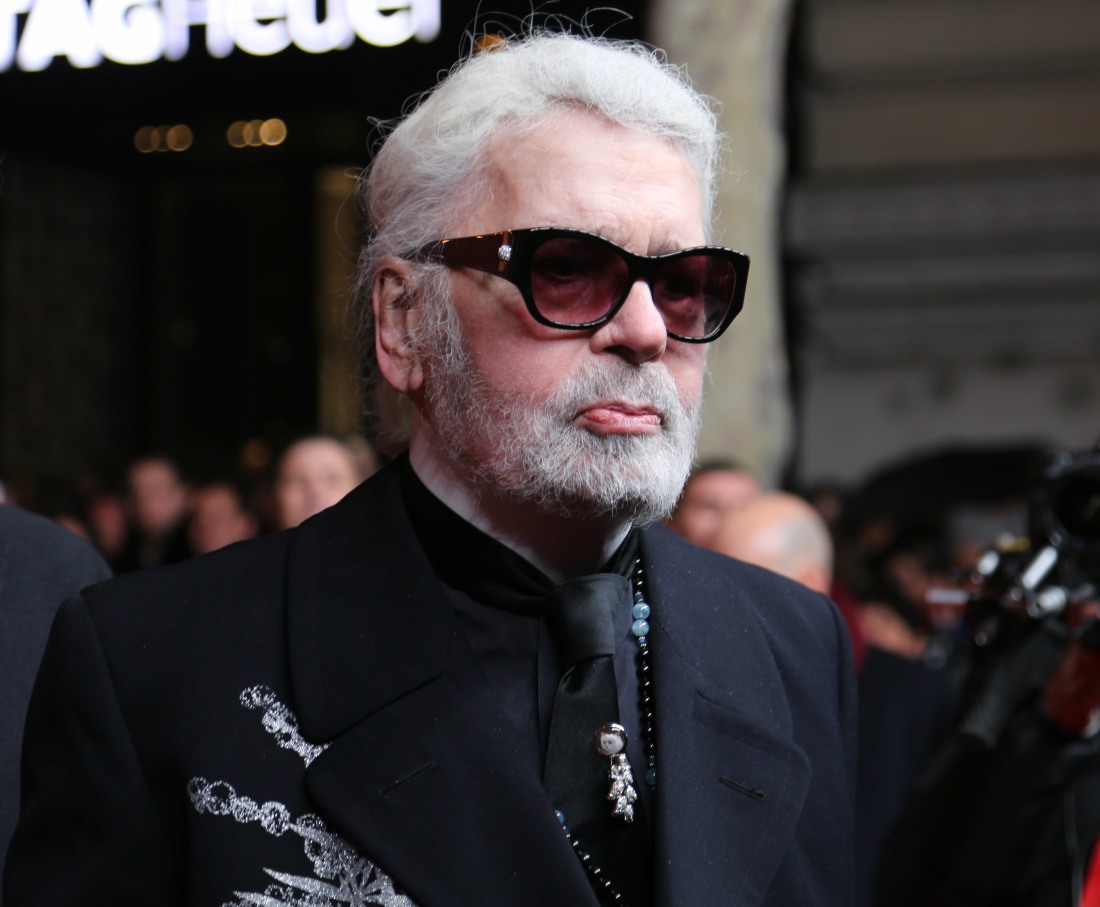 One of the biggest reasons why I've always enjoyed Karl Lagerfeld's interviews is because he's from a generation that knew that "less is more," especially when speaking. Lagerfeld doesn't go on and on about himself, or anything, really. He is the master of the pithy quote or the four-word insult. So while I think Lagerfeld is an unpleasant and grumpy dude in general, I always enjoy his interviews. He sat down with The Cut to talk about his latest collections, fashion in general, and the great love of his life, his fluffy kitty Choupette Lagerfeld. You can read the full piece here. Some highlights:
He knew he would be famous: "I was 6 years old. I was sitting on my mother's desk in the country estate, in the big house — on her desk, where I was not supposed to sit and sketch — and I said to myself: You will become very famous."

Texts from Choupette: [There was] one moment in the interview where he took off his sunglasses was when he picked up his phone, which has the initials KL embossed on the case, to show me texted photo updates of — he says "from" — Choupette. On the sofa, on the bed, lounging around looking, yes, very much like the child-princess surrounded by servants in Velázquez's Las Meninas, to which he's often compared her.

He will eat some meat: "I don't eat chicken birds…I only eat what doesn't look anymore like what it was when it was alive. I can only eat hamburgers. I am not inclined to steakhouses."

How he stays informed: "Today the world comes to you. I read every magazine and everything. There are very few people as informed as I am… I think it's great [to read on a smart phone], but I have assistants who inform me [about] what I have not seen. Personally, I have no time. I don't do internet, I don't do Facebook. I have to sketch, I have to play with Choupette, I have to sleep. The day is too short for that.

His thoughts on Germany: "I'm very drawn to Germany, but to a Germany that doesn't exist any longer, [that] died in 1933. If they became Nazis again in Germany, I'd throw my passport out of the window … My mother said Germany without Jewish people is like a dish with no salt.

His mother's advice: "I was a very bad driver. I had two accidents that were my fault — where I fell asleep — and it's a miracle that I'm still alive, but I never touched a wheel again. You know, as a child I was told by my mother, you must learn nothing. You always have to depend on people, because then you have to make an effort to have the money that they will do it for you. I don't know how to cook, I don't know how to make a bed. I only know sketching and talking and making collections.

His love for "My Choupette." It was more than a surprise, because my best friend, Sandy Brant, had a cat, and I thought it was too much, the fuss about the cat. Then a friend of mine came with Choupette and said, to one of my mates, not even to me, "I'm leaving for two weeks, can you keep the cat?" When he came back, I told him that the cat was not returning to his house, and I kept it, this kind of genius creature….Yes, of course [she's coming to New York]. She is always on the knees of the pilots. She loves private jets. She adores them. You know, the problem with private jets is that even if you have a big one, if you have many people [aboard], then it is a nightmare. More than three or four, forget about it. I remember I came back from Moscow and brought all my assistants. It was the worst flight, because they asked for drinks and this and that. I like to sleep in planes. Or I close my eyes and clean my brain.
At one point, Lagerfeld insists that he is "working class," which… I think he means he grew up working class, because if he still considers himself working class now… good lord. Mostly, I just think he's softened so much because of Choupette. She is his daughter, and the most important "person" in his life. "I am not inclined to steakhouses" should be on a t-shirt. As should "I don't know how to cook, I don't know how to make a bed. I only know sketching and talking and making collections." The thing is, I doubt that Lagerfeld is truly that helpless in normal, everyday situations.
Photos courtesy of WENN, Instagram.