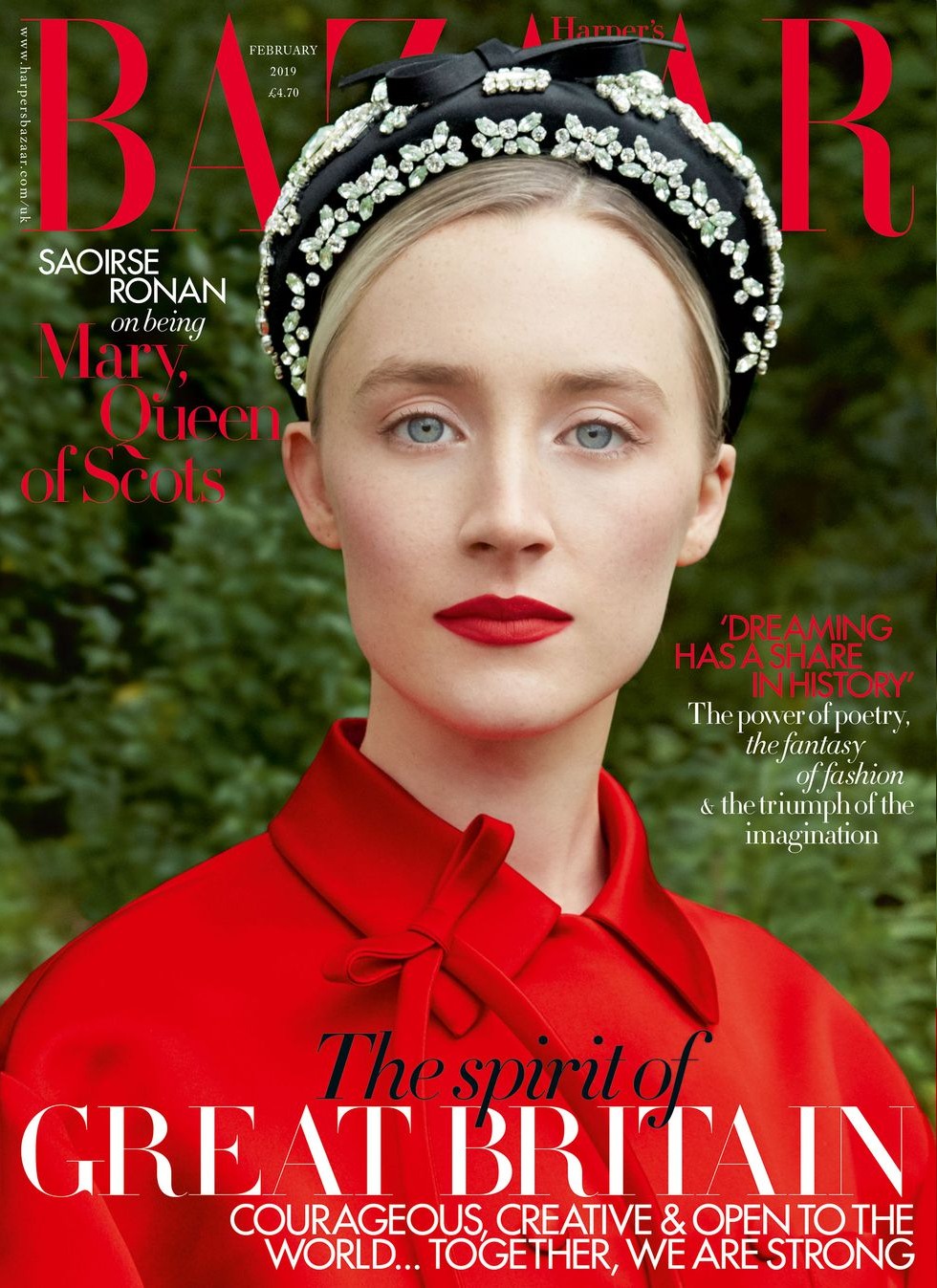 Saoirse Ronan covers the February issue of Harper's Bazaar UK, in what could possibly be the last push for Mary Queen of Scots' Oscar campaign. The film hasn't done much during the awards season, but you can tell that Margot Robbie and Saoirse are proud of the film. Anyway, this photoshoot is gorgeous – I never would have imagined that Ronan would look THIS amazing with bright red lips, but here we are. Her face, to me, is timeless. The interview is pretty good too – you can read the full piece here. Some highlights:
She has dual Irish and American citizenship: It's clear that the political situation in both countries exasperates her. She's vocal about her fear that Brexit's effect on the Irish border will revive past divisions. 'I was watching RTE news and they were talking about the border – and it's such a feckin' mess. One of my best friends, Eileen [O'Higgins, the actress, who she met on the set of the film Brooklyn], is from Down, in Northern Ireland; even I didn't fully appreciate what the reality of it was.' Ronan mentions a television series she's been watching, Derry Girls, a Northern Irish sitcom set in the early 1990s, before the Good Friday Agreement made peace possible. 'Derry Girls handles the situation so brilliantly with humour; you have the girls going, "Och, there's a bomb on the bridge and I can't get my nails done now!" And I asked Eileen if that's what it was really like – soldiers coming on the bus? She said, "Yes, yes it was." And I think no matter what side you're on in the North, nobody wants to go back to that.'

Her flawless American accent: 'It's how I get into the character. What can be more difficult than the actual sounds is the cadence and melody. Modern American is much flatter than my natural voice. I found that quite a challenge on Lady Bird. Greta [Gerwig, the director] kept having to say, "Make it a bit flatter!" And I'd think I sounded like a robot. With the Scottish I'm basically speaking the same way. The rhythm and music are the same.'

There's a menstruation scene in Queen of Scots, one of the few since Carrie: 'What's genius about Carrie is that it shows what it feels like when you have your period for the first time. When I watched it as a teen with my mam, I'd already had my period for a few years, but if I hadn't known what it was, I'd have thought I was dying. And that's why it needs to be talked about.'

Women's movies versus films for everybody: 'With Lady Bird, the amount of guys who would come up to me – and I had it with Brooklyn as well – and be like, "I'm not usually into films like that, but ah… I really liked that, and I even cried a little bit because I loved it so much". And I'm like,"What kind of films do you mean?" Of course, they mean female-led movies. But the thing is, whether there's a girl or a boy leading it, Lady Bird is about someone preparing to leave home. That's it. And the more specific you can make it to one person's experience, the more universal it will be.'

Her mom protected her in the early days of her career: 'I don't know what would have happened if she hadn't been around. I'm sure I would have been exposed to that quite a bit, but she just protected me from all that. I wasn't unaware that there were people in the industry who abused their power, or who were seedy or untrustworthy. But because of her I was never a victim and I'm very, very thankful. I didn't leave home at 19 all bright-eyed and bushy-tailed – I hadn't been wrapped in cotton wool – but I had been protected.'
I laughed when she talked about the Carrie-period scene being good because that's how it feels when you get your period the first time. What kind of terrible first period did Saoirse have??! I sort of get what she's saying though, and I agree, more TV shows and films should do a better job of representing menstruation. As for Brexit and Northern Ireland… Brexit will have long-term effects with the Good Friday Accord, and with the Scottish Independence movement. I honestly believe that the next time Scotland takes a vote on independence – post-Brexit – the Scottish people will vote to Scexit from the UK.
Cover and Instagram courtesy of Harper's Bazaar UK.