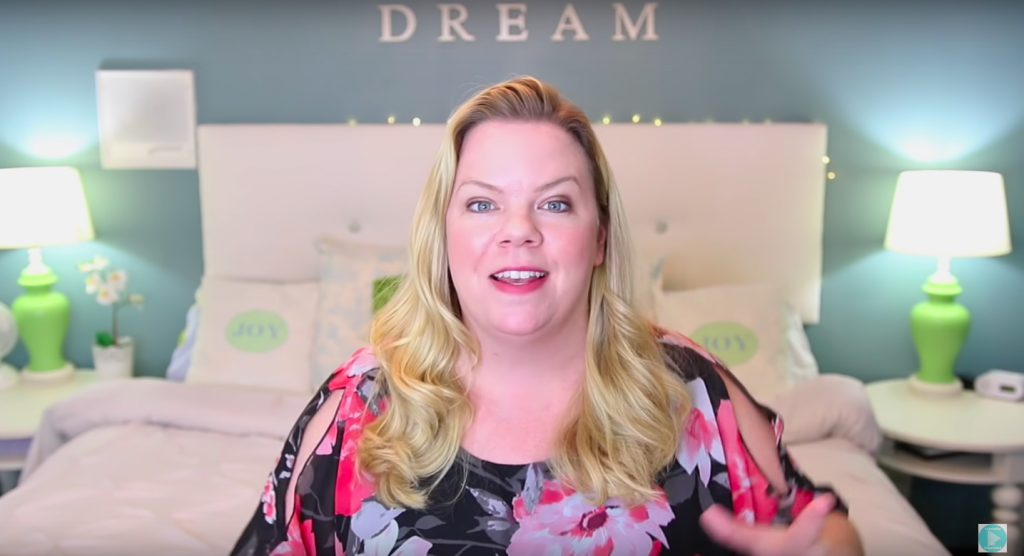 This post is a request by Donna on Twitter. I use easy systems for keeping my stuff organized and my house clean. As I always mention, Clutterbug changed my life. Her books can help you get organized, keep your stuff and not feel like you're missing anything. (Take Clutterbug's test if you'd like to learn what may work for you. I'm a ladybug! You also don't have to take an entire day each week to keep your house clean. She has all sorts of hacks for cleaning a little here and there and also making your own cleaning products.) For reorganizing your stuff I highly recommend going to Dollar Tree to get drawer organizers and plastic and fabric bins before you start purging. You don't have to know exactly what you want ahead of time. They're all a dollar each, obviously, however in many cases you can get better products, or more products in a bundle, on Amazon. (The photo above is a screenshot of Cas from Clutterbug.) Here's an affiliate post with products that may work for you.
Work with your existing system with small organization solutions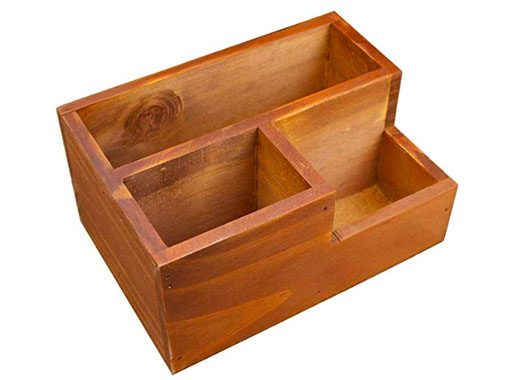 I keep bills, post it notes, pens and miscellaneous stuff on top of my dishwasher. So I bought a small desk organizer for that area. It looks neat and attractive instead of being a pile of stuff. This is the same one I have! I know where to find pens and paper clips and my bills are ready to pay. (I only keep a few behind it and I also have a list of what is due when.) As a system I sort all my mail the minute I come in the house and I do it over the recycling bin and shredder, by the door, so junk mail is thrown out immediately. Here's a list from Clutterbug of things around the house that usually require a designated place! A small organizer might be a good place to keep your keys too. You may want a charging station organizer as well, so you can keep your devices in one place.
Organize your junk drawer and bathroom drawers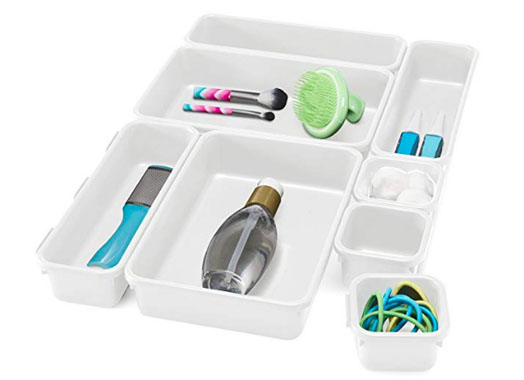 My junk drawer used to be a total mess, but then I got a bunch of plastic bins like these, dumped it out and separated it into categories like batteries, rubber bands, paper clips and pens. There are so many YouTube videos of people doing this that can help you. I even have a junk drawer in my laundry room that is organized now. Here are more bins that can help sort hidden spaces. You can do this for the disaster areas under your kitchen or bathroom sink and there are containers for your pantry too. Do it on a Dime has a video for purging and organizing under your bathroom sink and Clutterbug has one too.
Get fabric bins for sheets, towels, and extra clothing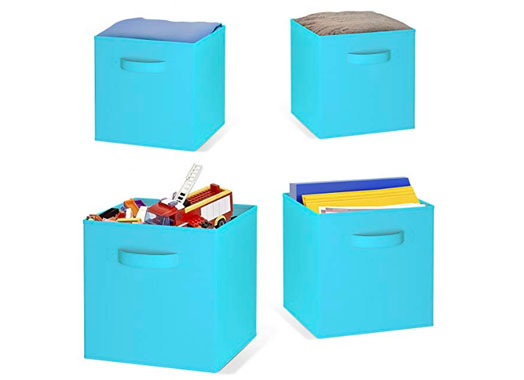 One of the main tips I learned from Clutterbug and Do it on a Dime was that your house looks so much more organized if you just put things in bins. Go to the Dollar Tree to get fabric bins if you don't mind them thin or you can get them a little pricier (just a few dollars) from Walmart, Dollar General or Amazon. I'm not really good at folding fitted sheets. I've watched the Martha Stewart demonstration video so many times, but I can't get them tidy. It doesn't matter how they're folded if you put them in a bin. Slap a "Queen Sheets" label on there and your linen cabinet looks so nice.
Get a label maker to label bins and even shelves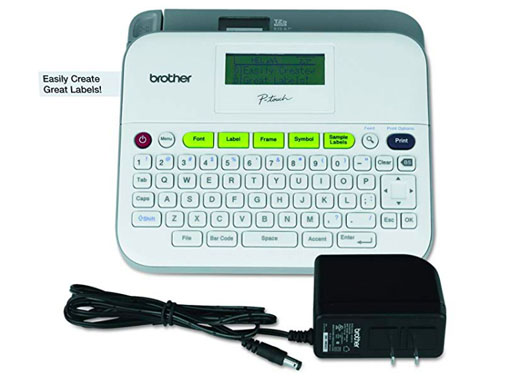 Early last year I ordered the Epson LabelWorks LW-300 Labelmaker. However I paid less than $30 for it and it's now over $100 so I can't recommend it at that price. Here is an affordable alternative that is well reviewed, the Brother P-Touch. I use mine to label little plastic containers, bins and even the shelves in my fridge! My son likes to use it and it helps let us know what goes where. It's old school with on screen choices and little icons to add and this one is the same. The replacement tape can be expensive, so I order it off eBay.
Organize kids' stuff with colorful bins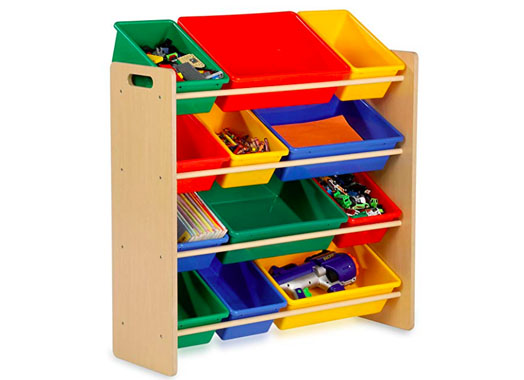 I had this exact organizer for my son's room. I gave it to the Goodwill when he became a teenager and aged out of his toys. (Now I am thinking of the end of Toy Story 3 and getting choked up!) Clutterbug has a great video where she organizes kids' toys in her sister's house, right in the living room where the kids play. You see what kind of toys they have and then organize by subject like "Lego," "Cars," "Dolls" etc. This was just a catchall for us though and the best part was that my son could help put the toys away.
Make your fridge look organized with clear bins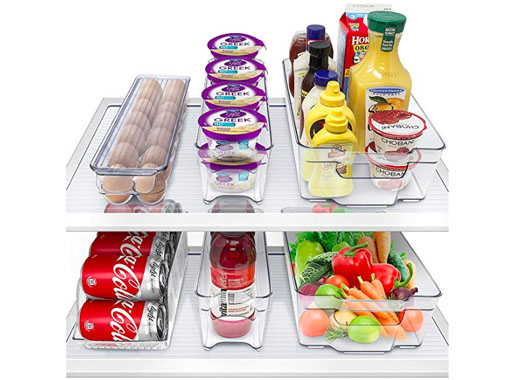 My fridge is so clean-looking now thanks to clear plastic containers! I got mine from Dollar General but they stopped carrying them. If you get about 4-5 for little drinks, condiments and sundries you will spend less time digging around for stuff and guests will think you're organized. I also have the clear egg holder and it looks so cool and is easier to see when you need to buy eggs. This set is a great price for what you get and is about what I paid. I used my label maker to label the shelves in my fridge too. There's one for condiments, another for sauces, and another for drinks. At Home with Nikki has an aspirational example of fridge organization but she is so perfect I find her a little intimidating.
Get drawer organizers to sort your clothes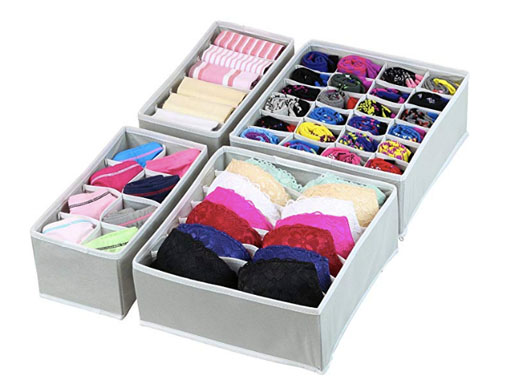 It's incredible what a difference a simple drawer divider makes. I use expandable drawer separators for my workout clothes to sort by tops and bottoms. I also have a diamond drawer divider for my underwear and it's a game changer. I don't have to really fold my underwear and can just stuff them in. I use a little fabric divider for my bras. Ooh and something similar to this for my socks! The set above is the best reviewed and is #1 in drawer organizers.
Thanks for reading and commenting on our affiliate post!