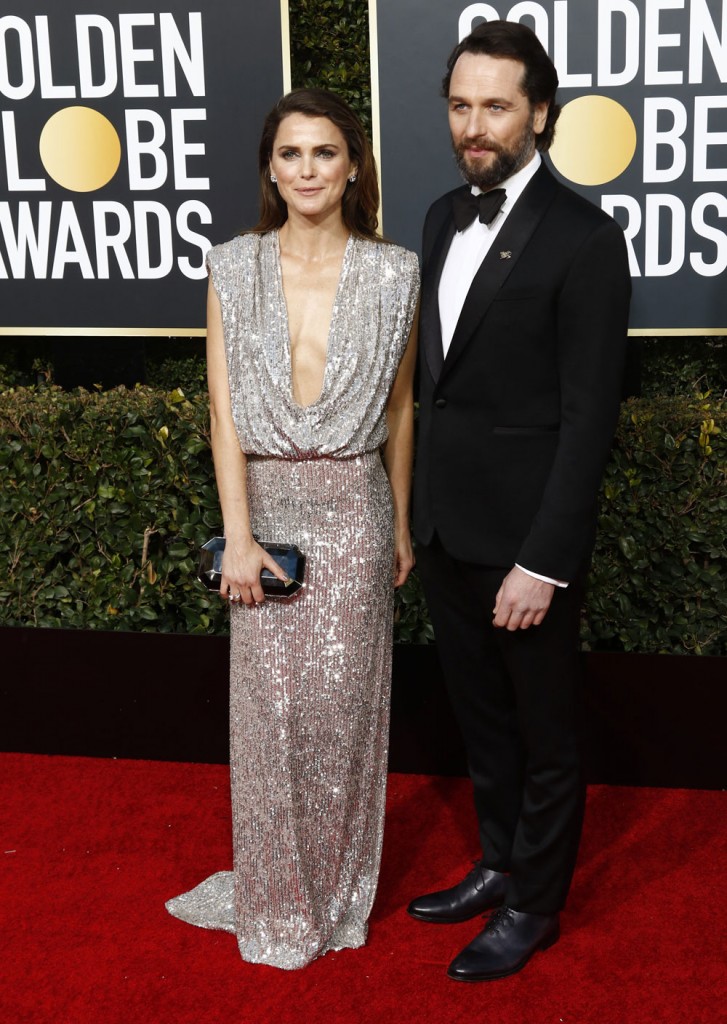 Last night The Americans won Best TV Drama Series! For such an incredible show it sure took long enough, its sixth and final season, for it to be recognized. It wasn't even nominated in the category until last year, which is a crime, and it lost at The Emmys to Game of Thrones. So I'm happy The Americans is getting acknowledgement. It's a slow burn for sure and it took me a while to get into it, but it's so worth it.
As for fashion, star Keri Russell was in this silver sequin Monique Lhuillier with a plunging v-neck and a floor length skirt. The top of this dress makes it look like she's slouching. I would slouch in that gown as I wouldn't trust it. There's something off about the shoulders too. I like a good retro shoulder pad but the bodice is all wrong. She's lovely though and I'm so happy for her and her partner, Matthew Rhys. Plus all the talented cast and crew on this show. Especially the costume designers!
Here's a cute photo of Keri carrying her Louboutins while getting out of limo to go to the WME Golden Globe Party. Now I don't even care if I ever own a pair of those bloody shoes. I guess those high end designer shoes are typically uncomfortable.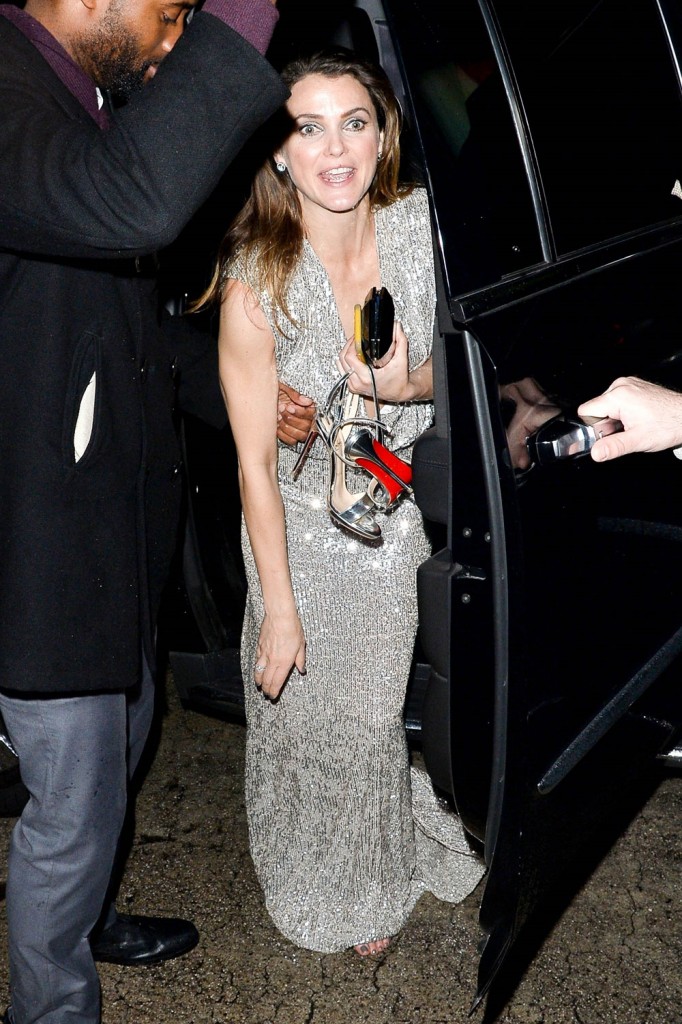 Presenter Kaley Cuoco had on a very cute white and navy Monique Lhuillier gown featuring a velvet strapless top and white structured full skirt with pockets. The black bow at the waist fit perfectly and gave the dress a holiday vibe. She kept sticking her hands in the pockets and it was cute. She looked so good! I really liked her hair, it looked so sleek like that. Her arms are goals.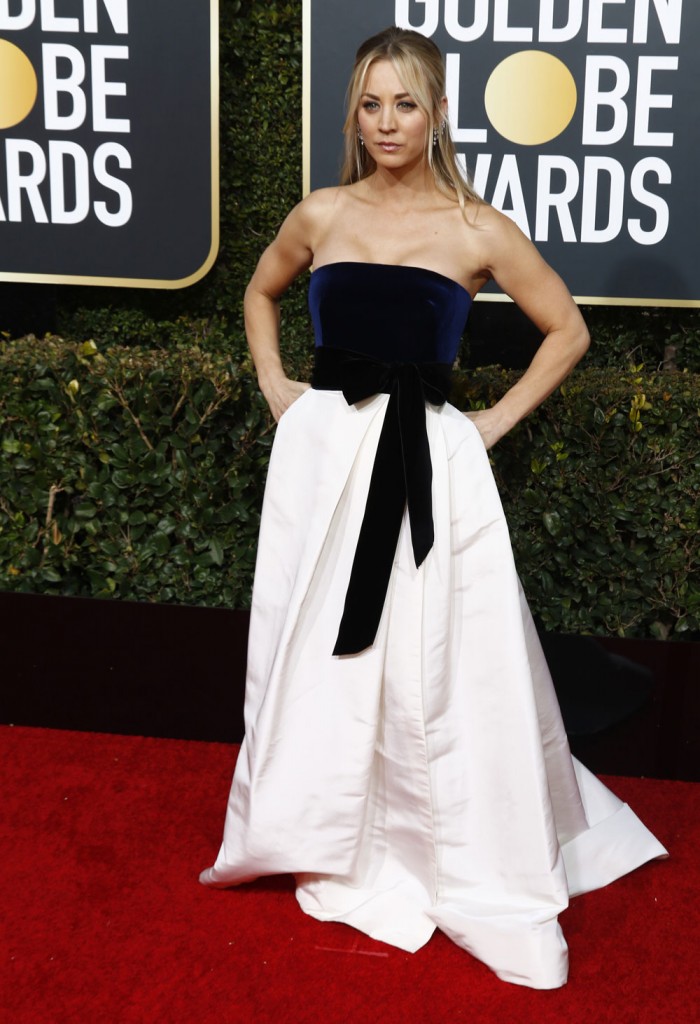 Linda Cardellini was also in Monique Lhuillier. More women wore that designer than any other, which is rare as Christian Siriano usually takes that honor. Her black chiffon and sequin dress is just ok. We've seen that same silhouette, the asymmetric side draped top with the keyhole neckline, on so many gowns. Linda starred in Green Book, the white savior movie which won Best Comedy or Musical for some reason. I really hope that's the only award it gets this season apart from some technical ones.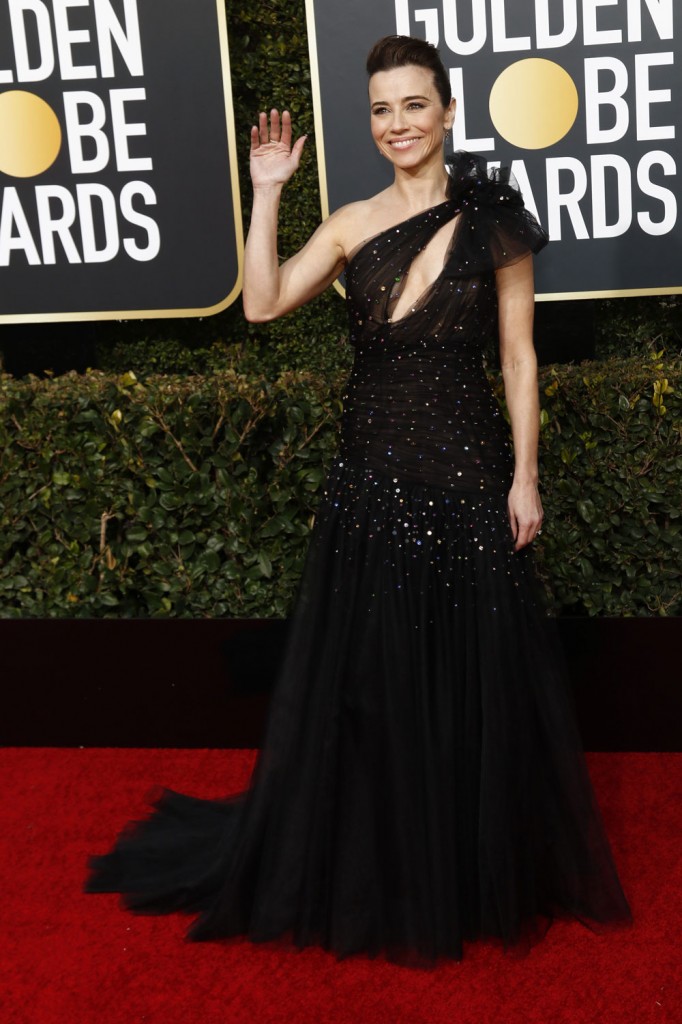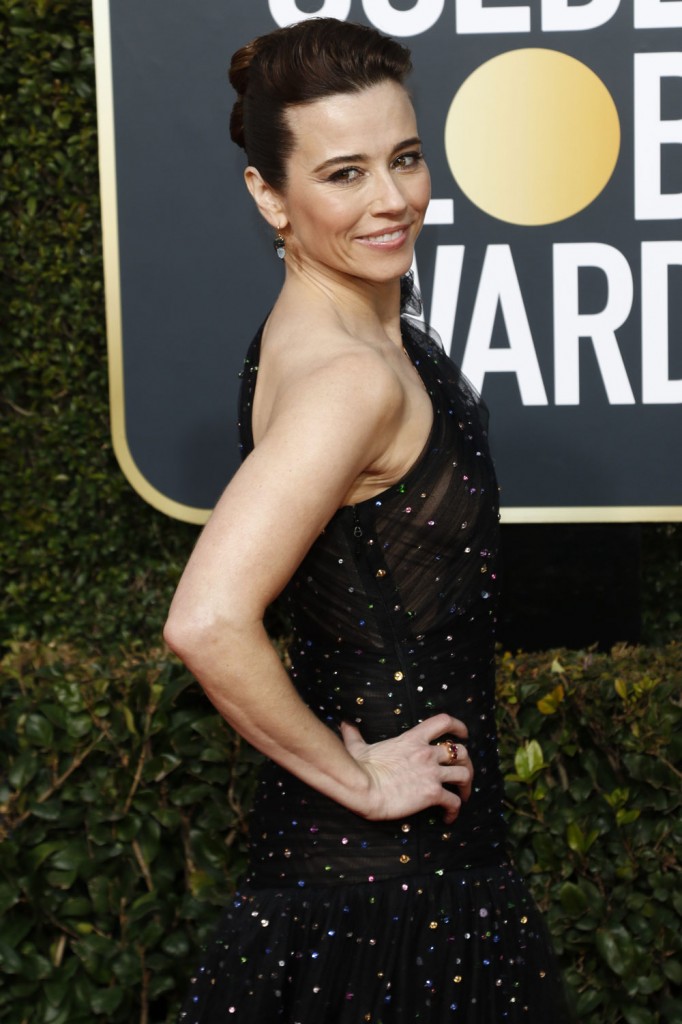 Last night there was a weird bit where "doctors" in white lab coats came out giving flu shots. There was no real reason for it and the flu shots must have been fake, but Linda was game. A lot of celebrities said "no," which would be my default response to random people doing that, and I usually get a flu shot. What if you already had one that season? Here's that video:
This weird flu shot bit. Linda Cardellini was game but Keith Urban and Emmy Rossum were not. #goldenglobes pic.twitter.com/4kWB8ugVM6

— celebitchy (@celebitchy) January 7, 2019
Jameela Jamil had on a salmon-colored Monique Lhuillier featuring floral embroidery and beading. The top is a little too low cut, you can see her strapless bra from the side, but I really like the elegant gathered skirt. Imagine if the top was higher and just a solid color. It's a good look for her.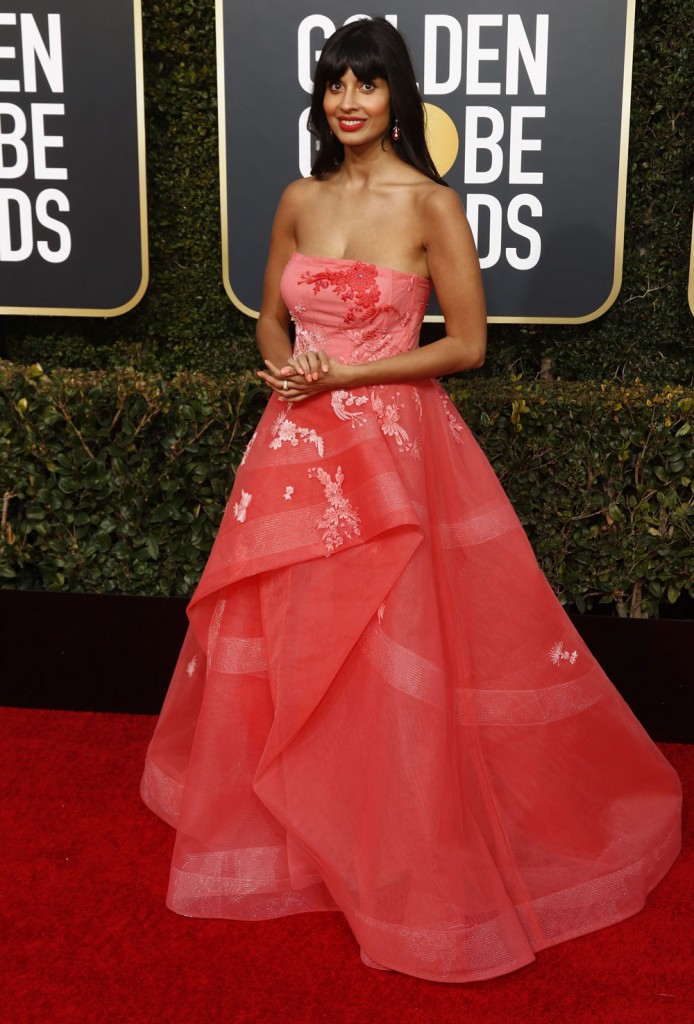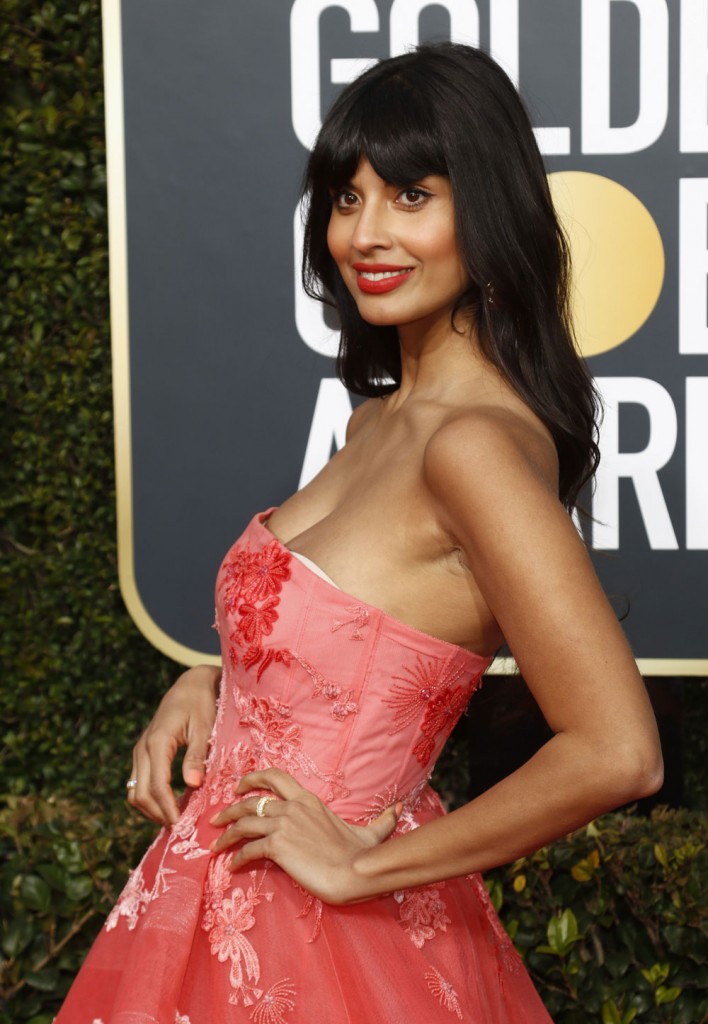 Newly engaged lady Heidi Klum was in a fug Lhuillier ballgown with a very low cut bustier top and a full skirt with colorful floral appliques. Her makeup was bad and her face kind of says it all in the full length photo. She does look thrilled to be with her new fiance, Tom Kaulitz. I hope they don't make it official. That would be a disaster.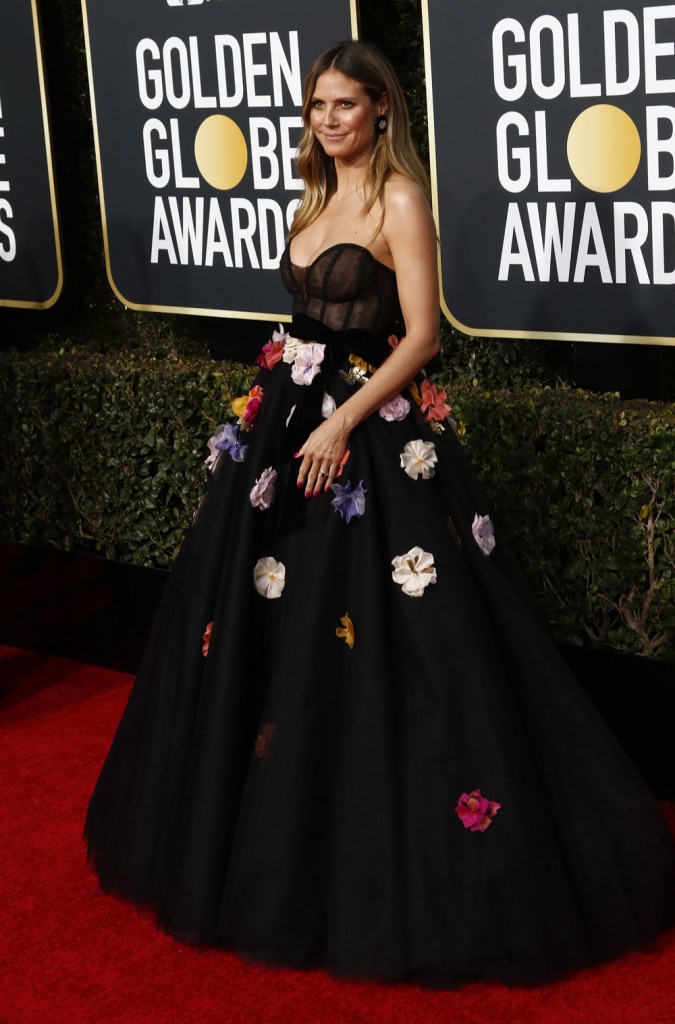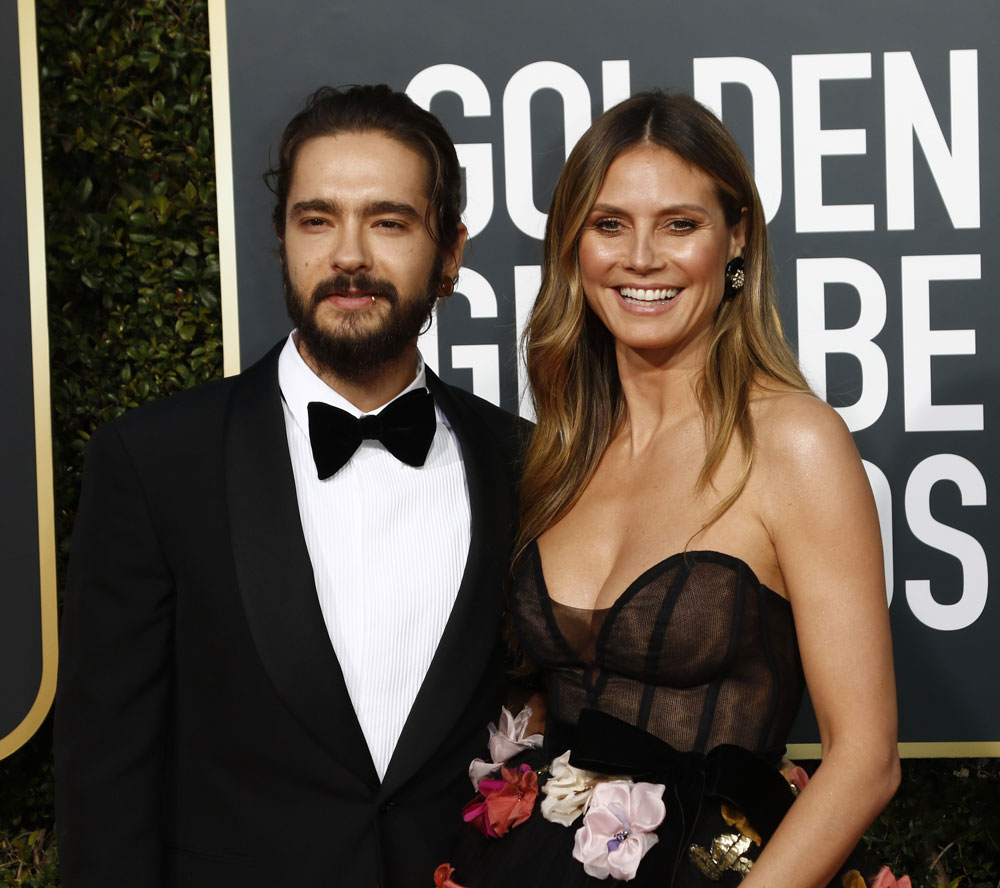 Amber Heard over accessorized her Lhuillier with a ton of stacked bracelets and way too many rings. This is a perfectly acceptable gown otherwise. I like the lower skirt and the open back with the bow. Her styling is so pretty too, I don't remember seeing her hair curly like that before .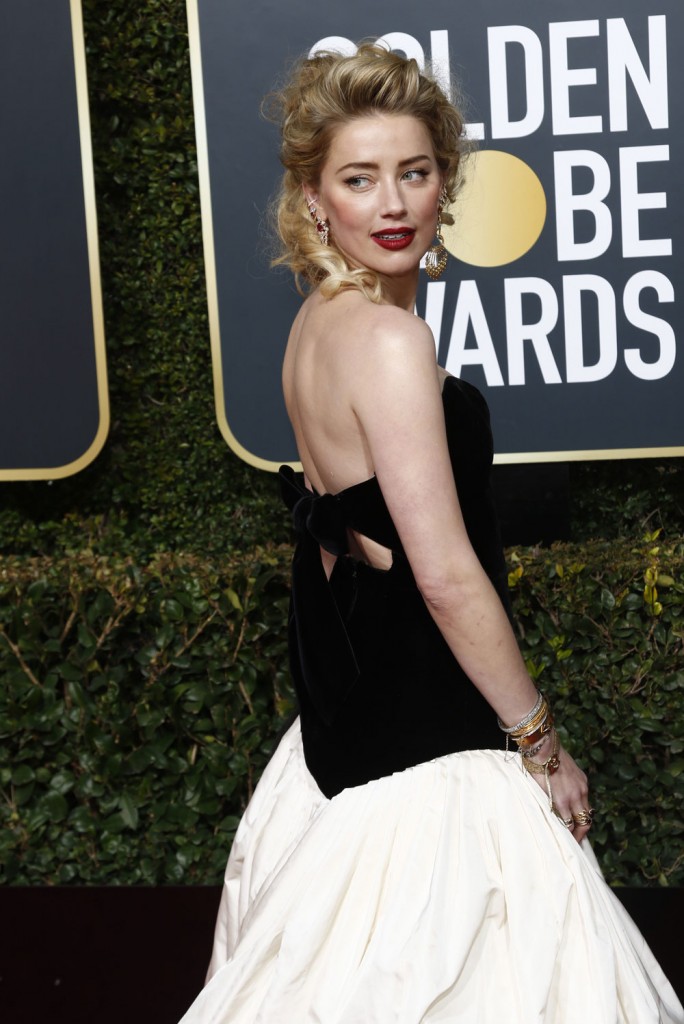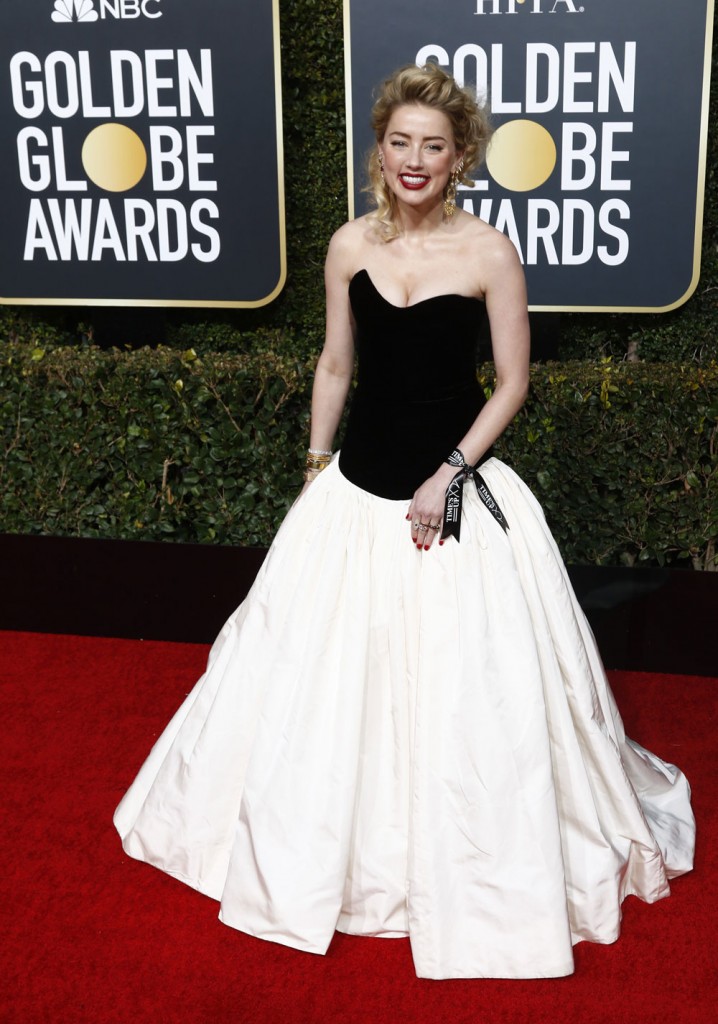 When announcing the winner of best Actor in a Mini-Series, Darren Criss, Amber called him "Daniel," but it wasn't a glaring mistake. I didn't even notice.
When she announced the winner, Amber Heard called Darren Criss "Daniel" 🙁 pic.twitter.com/H3ymBkV2Ji

— David Mack (@davidmackau) January 7, 2019
There are two more people in Lhuillier! I told you they dressed more women than anyone. First here's Isla Fisher, who seems to have been stuck with the same designer as Heidi Klum. (I mean technically everyone had the same designer but they must have a team of people. Like Amber and Kaley's dresses look similar to each other too.) This is just bad with those giant stripes in scalloped lace.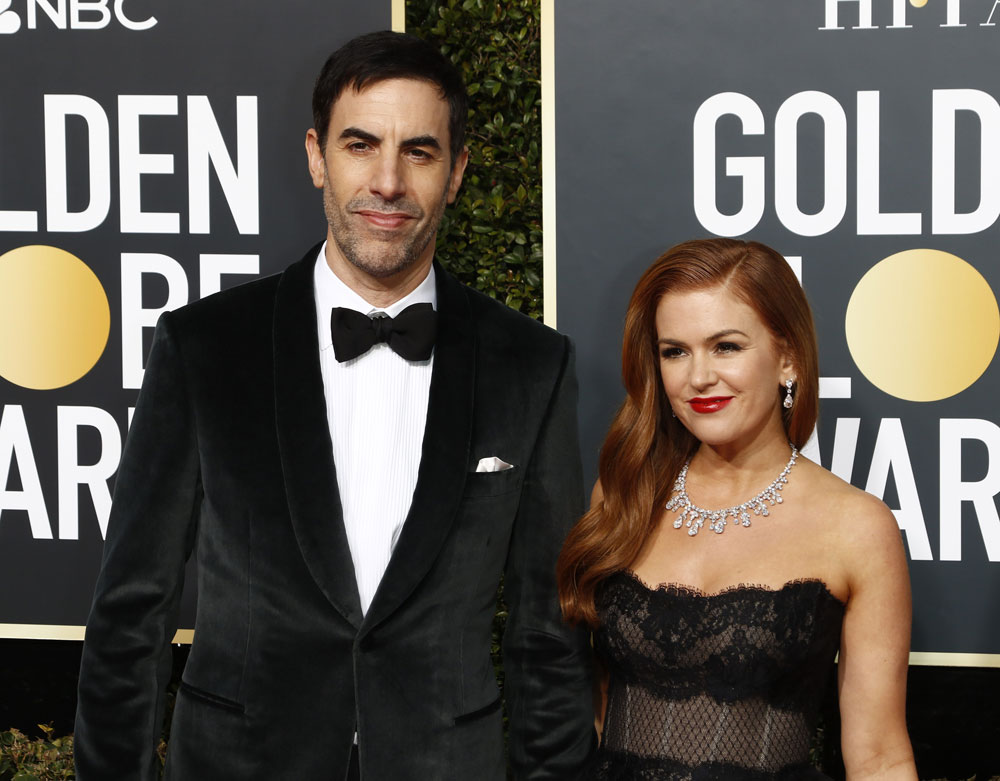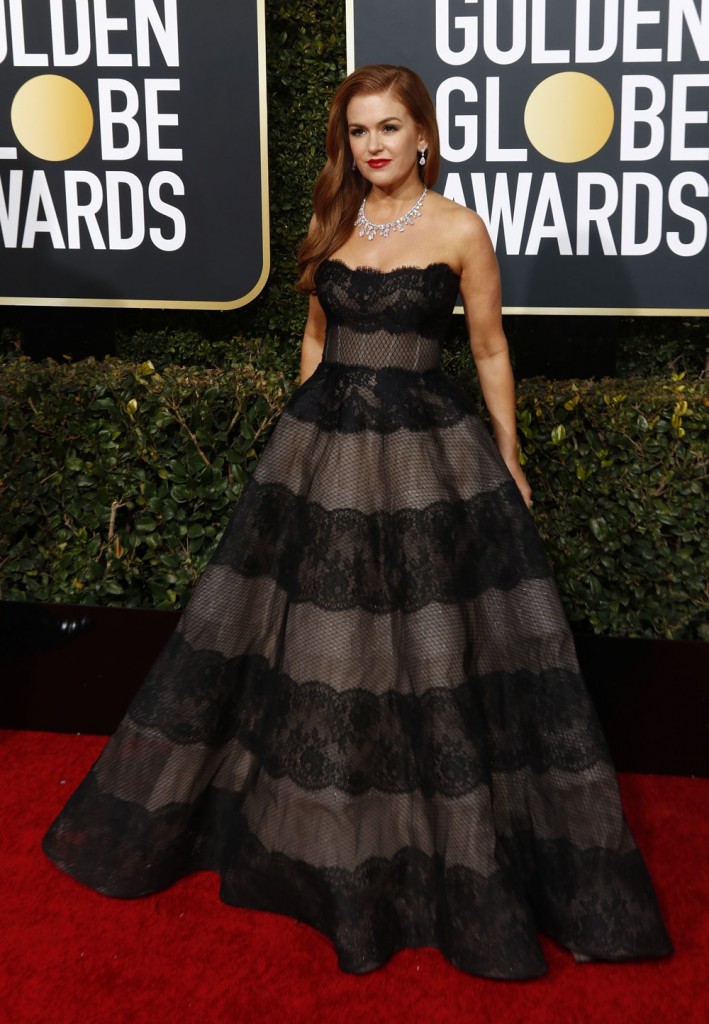 Finally, I would say that Emmy Rossum got the best Lhuillier but that's just because I like her. There's something off about the bustline and I don't like that dusty rose color but it would be amazing without the gathered top. The rest of the dress is amazing and I love the criss cross fabric along the waist.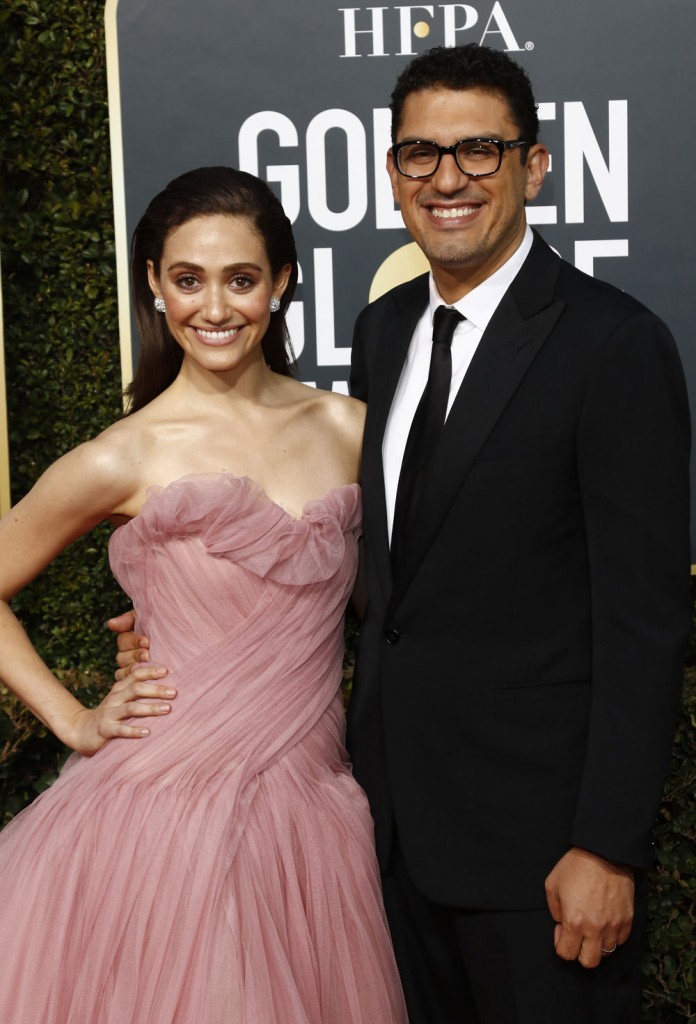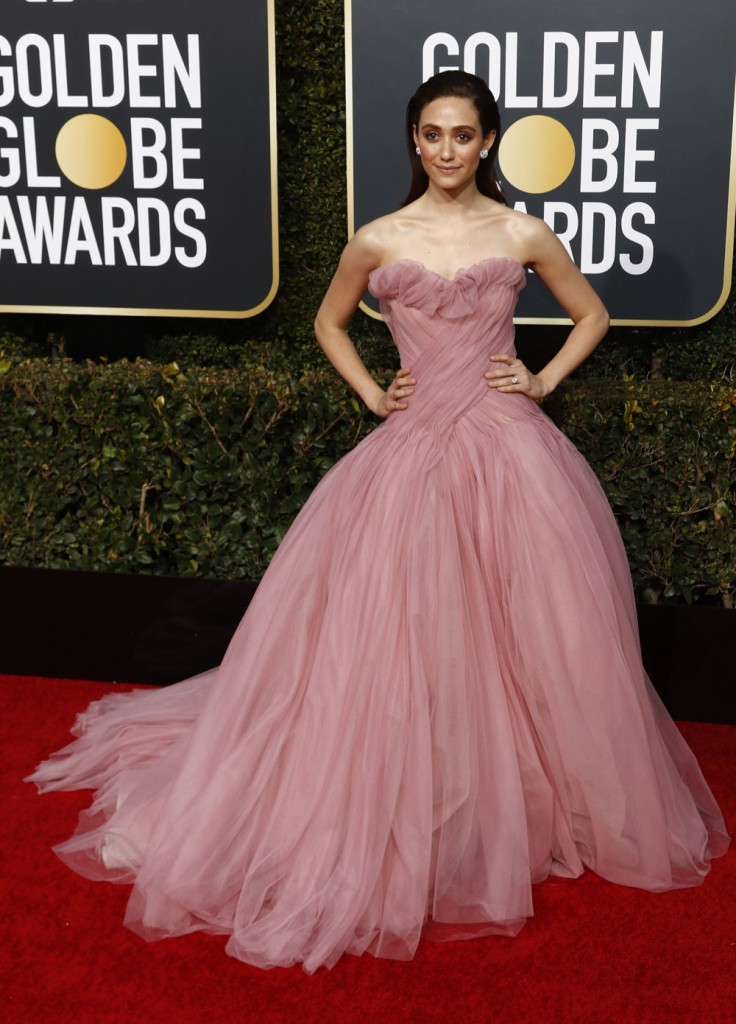 Photos credit: WENN and Backgrid