Embed from Getty Images
Is Chrissy Metz calling Alison Brie a "bitch" on a hot mic the new "did Grover say the F word" controversy? (I can still hear that Grover video either way!) In this case you can't fully hear what Chrissy is saying though. This was streamed on Facebook live, and it's Chrissy giving commentary on Alison when the camera cutaway and she presumably didn't know her mic was still on. Some people think she's saying "she's such a bitch." You can listen to that below, but it cuts off right before the word is completed.
Here's Chrissy Metz calling Alison Brie a "bitch," not knowing her mic is still on. #GoldenGlobes pic.twitter.com/YfkPJhcwI4

— Ryan Schocket (@RyanSchocket) January 7, 2019
Here's another clip.
Here's the Chrissy Metz calling Allison Brie a "b" at #GoldenGlobes2019 pic.twitter.com/Wwl25s3DMR

— Will C (@wheelsee) January 7, 2019
So Chrissy could be saying "she's such a b-ig star" or something like that! It does sound like she's calling her a bitch, but you can't actually hear the end of the sentence, at least in the clips I found. In fact Chrissy told People Magazine that she said "oh boy, I love her!" She also tweeted that the story was fake. A couple of people tweeted that they heard "she's so sweet."
"I'm so distraught and upset," the This Is Us actress said.

"I don't speak about anyone like that I don't speak like that. I love Alison, I follow her," Metz shared. "When I was walking up they said, 'Do you know Alison,' and I said, 'Oh boy, do I.' I love her."

In a statement, a rep for Metz also said: "Chrissy never said that. She would never say that about anybody. She's a huge fan and friend of Alison Brie. Chrissy has nothing but admiration and respect for Alison and, frankly, every fellow actor who must wade through this much-too-common attempt to create a feud among colleagues."
Alison Brie shared a photo with Chrissy from the SAG Awards last year on her IG stories and wrote "nothing but love," so they're all good! I believe Chrissy, her explanation sounds reasonable and it's very easy to mishear things. I can still hear Grover saying "f'ing" if I assume that's what he's saying. This is probably a similar case.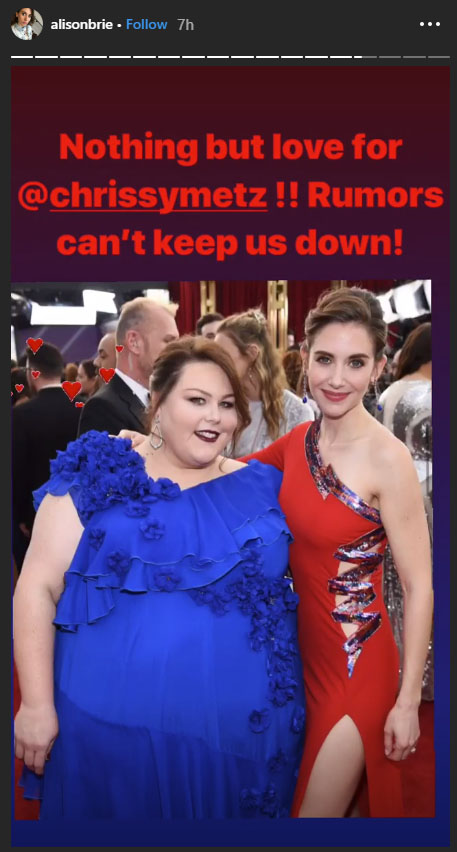 Yeah, no. I listened to it several times a didn't anything remotely like that.

— Jeanne (@lilbrick4) January 7, 2019
Alison Brie was in a custom Vera Wang dress with a black bandeau bra adorned with different-sized pearls and a baby blue sheer overlay with a long voluminous skirt. It's interesting, I'll give it that. I really liked the skirt part. She was nominated for Actress in a TV series, for GLOW, which went to Rachel Brosnahan. Update: here are the photos of their dresses I'm sorry for forgetting them. I don't have an ID on Chrissy's dress but I love the color! A lot of women were wearing that very bright red last night.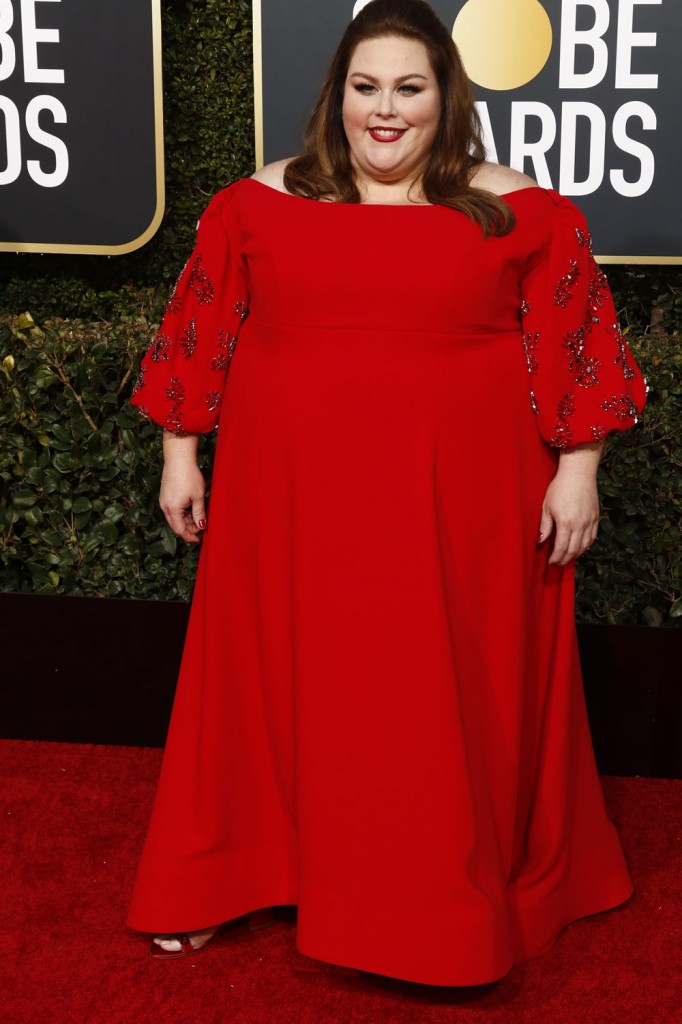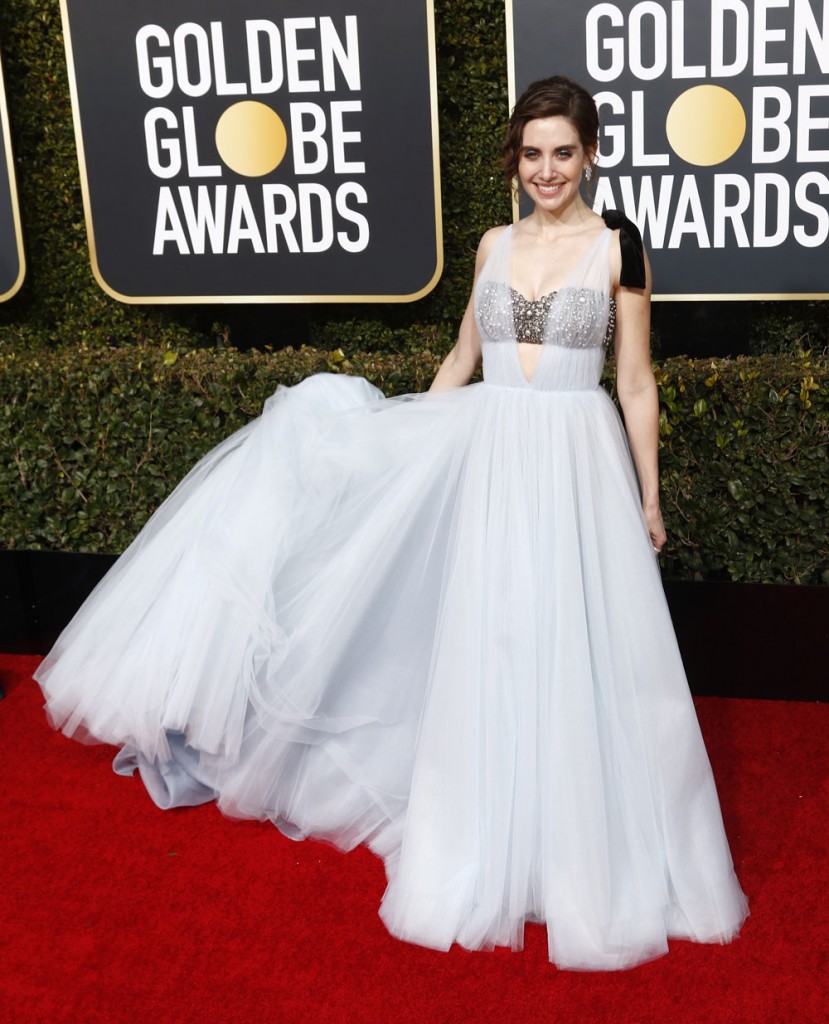 I'm including a couple of other actresses in Vera Wang last night as we need to keep cranking out the fashion! Here's Taraji P Henson in green velvet. I'm not into the top of this dress and find it too revealing. It has such potential though. Constance Wu is pulling off this nude colored Wang with the red-orange bow. It's borderline fug with that lingerie look top and the tulle skirt but she's a fashion girl and she's owning it.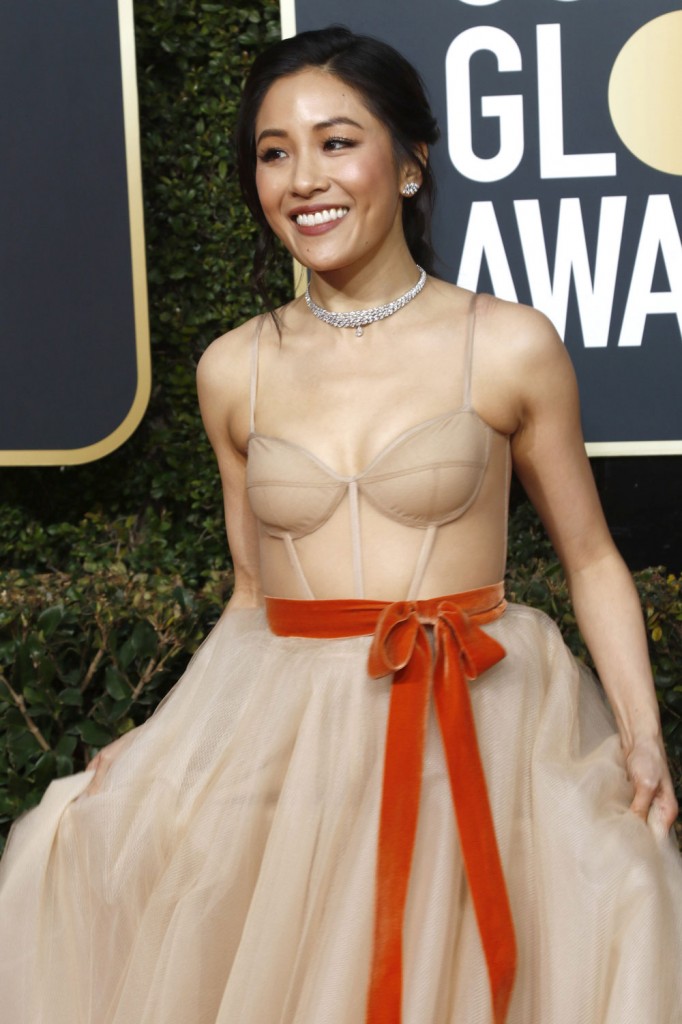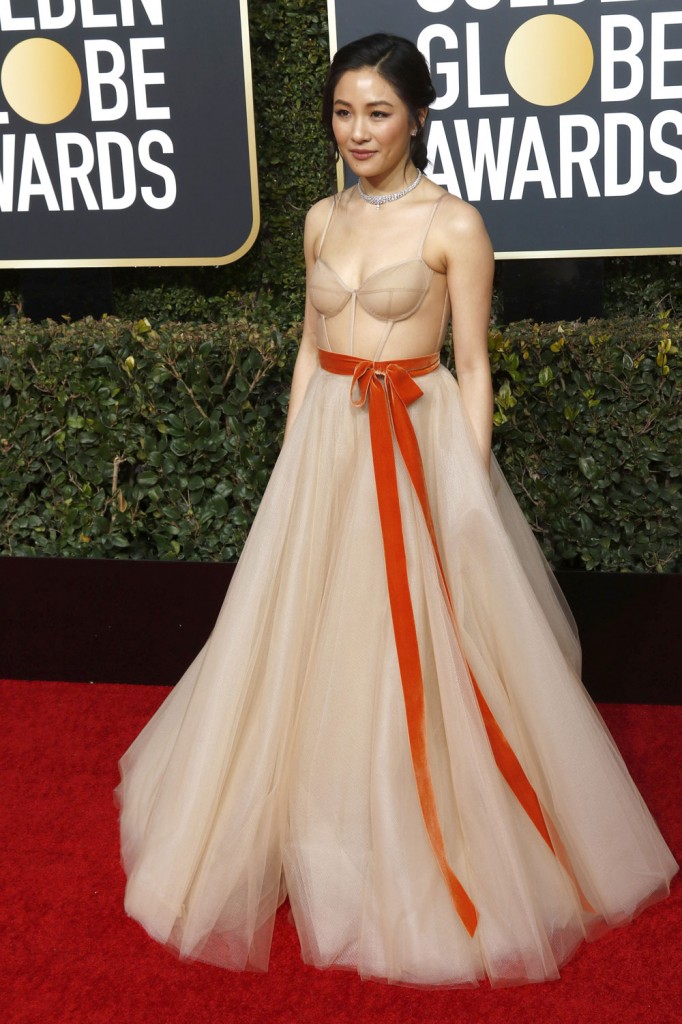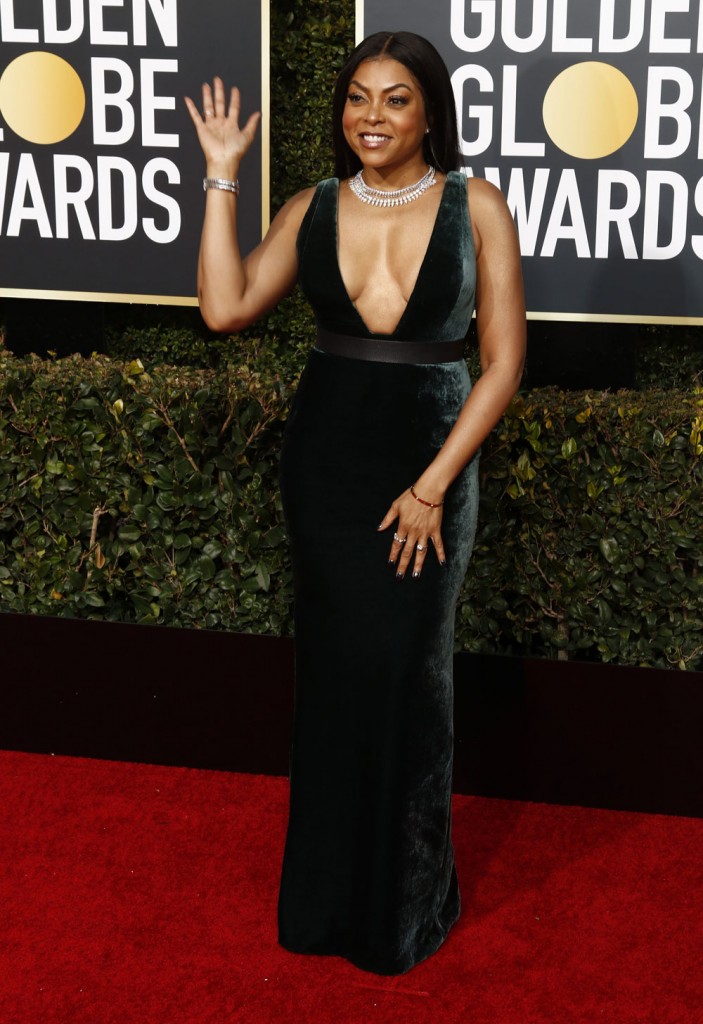 photos credit: WENN and Getty