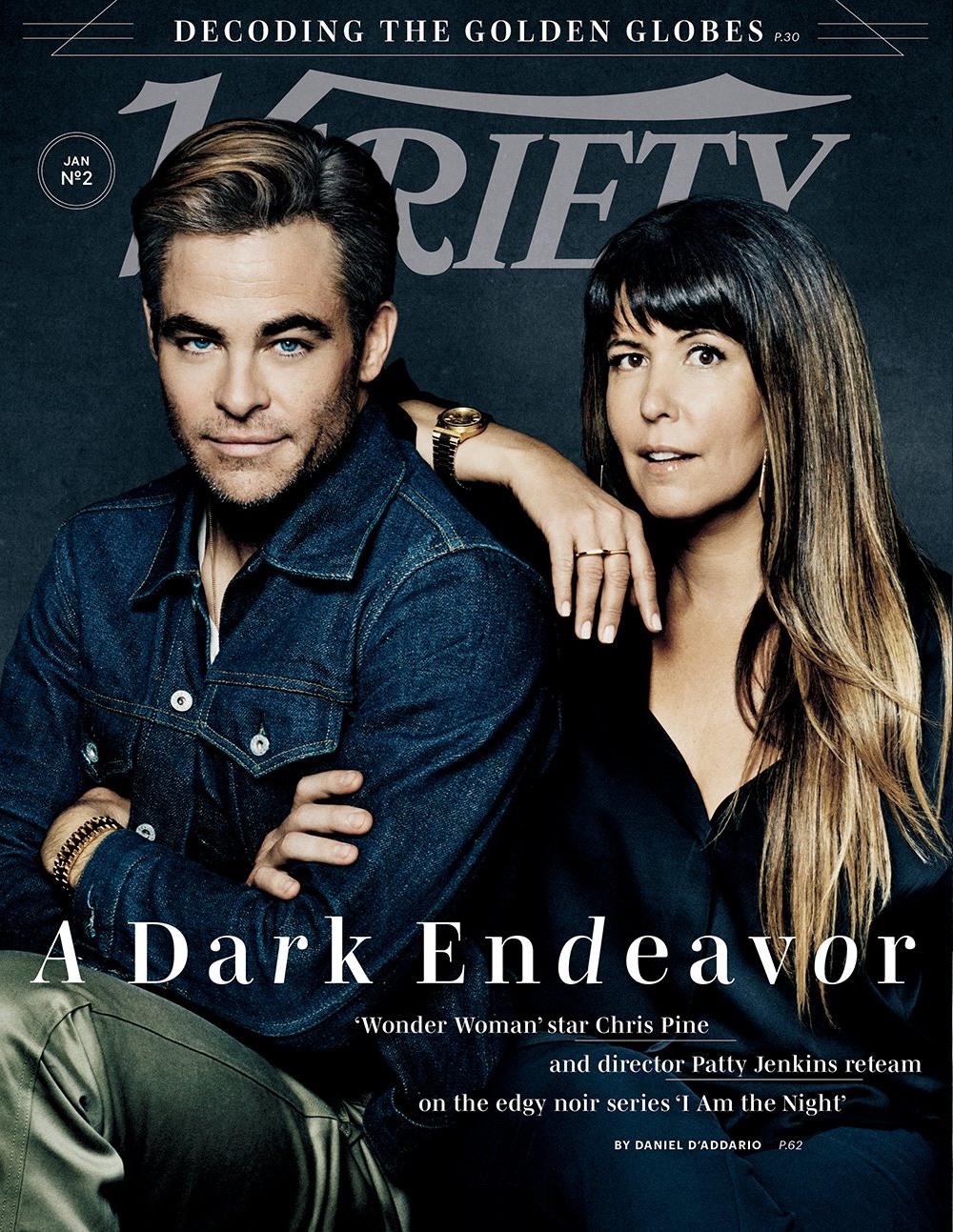 I got nervous for a second because I thought the series I Am the Night was going to start airing, like, tomorrow. But we have a few weeks to prepare for it – the first episode airs on January 28th. To promote the series, Chris Pine and Patty Jenkins cover the latest issue of Variety. They collaborated on Wonder Woman – that was their first project together, and they became huge fans of each other. Patty pitched this miniseries to TNT, with the idea that Pine could play the sort-of co-lead, Jay Singletary. Pine not only agreed to go to television, he signed on as an executive producer.
The story of I Am the Night sounds a bit tortured – it's a period piece and a somewhat true story involving a young woman's secret identity, and Chris Pine's seedy journalist trying to help the young woman piece together her background. Chris Pine has quickly become Patty Jenkins' muse, and this seems like a meaty role for a character actor, as opposed to a showcase role for a leading man. Such is Chris Pine's career at this point – leading man, supporting actor, action hero, dramatic actor, character actor – he can do anything. You can read Variety's cover story here. Some highlights:
His relationship with Patty Jenkins: "I found Patty at a time in my life when I was searching for deeper resonance with the material. It's about witnessing and being witnessed. As a friend, Patty does that, and as a creator she helps me see aspects of myself that I usually don't notice."

Pine was only in if Patty was directing: "I can entrust Patty with what should be one of the genetic pieces of directing, which is understanding another human's psychology. She is keyed in to me in a certain way where she can use the trip wires and pull that switch and throw some spice here, some pepper there, and I can go off and do what I do."

Pine's big tool bag: "I'm certainly not the greatest actor in the world, but I consider myself someone who has a nice big tool bag. And I really like to be directed. [On 'I Am the Night'] I had very little time to prep, and I said, 'Look, Patty, give me the steel pillars of this guy, and I'll start throwing paint on."

He doesn't mind playing second fiddle to his leading ladies: "As a leading man, it's the male actor's job in the pieces that I do to inhabit the role or do the job that Gal did so wonderfully in 'Wonder Woman.' Being in the film and supporting a woman doing that job is kind of a dance between ego and soul. I'm not too proud to admit it and say that at times, I'd have 30-minute conversations with Patty; I'd look at her, and she was wonderfully patient. I'd realize it had abso-f—ing-lutely nothing to do with me…. But as a man and an actor and an ego-ful person, you really make peace with that and have a sense of humor about it and say, well, screw it then — let's just go to this party and do this thing that should be done and fulfill the job as presented to you by your general."

He's letting go of his ego: He says he's letting go of "the 8-year-old in there saying, 'When's my turn?!'" and accept work that's richer than a traditional movie-star part precisely because it's not the starring role in a big-budget production. Pine says he now feels "more at ease playing someone like Jay than I would otherwise. I've never been Thor, never will be. I think any actor would say this — that the complexity and the shadow is as vital and important to —" Jenkins cuts him off. "They don't all feel like that. They super don't. That's why Chris is so great; they super don't."
I appreciate how honest he is about his qualms and his ego getting in the way, especially on Wonder Woman. He signed on to be in a big DC Comics movie, and it turned out that his female costar was the big deal, not him. But that's just it, isn't it? He handled that with such grace long-term, giving Gal Gadot and Patty Jenkins all the credit they earned, and happily taking a backseat. That won him so many fans, that he was able to put aside his male ego and celebrate the womanity and girl-power of Wonder Woman.
Also: "I consider myself someone who has a nice big tool bag…" *fans self* I bet he does have a very big tool (bag).
Between installments of #WonderWoman, Patty Jenkins and Chris Pine keep their collaboration going with a surprising noir thriller https://t.co/fxqeRqCkAd pic.twitter.com/w4p8qAS4Ea

— Variety (@Variety) January 9, 2019
Photos courtesy of Variety.