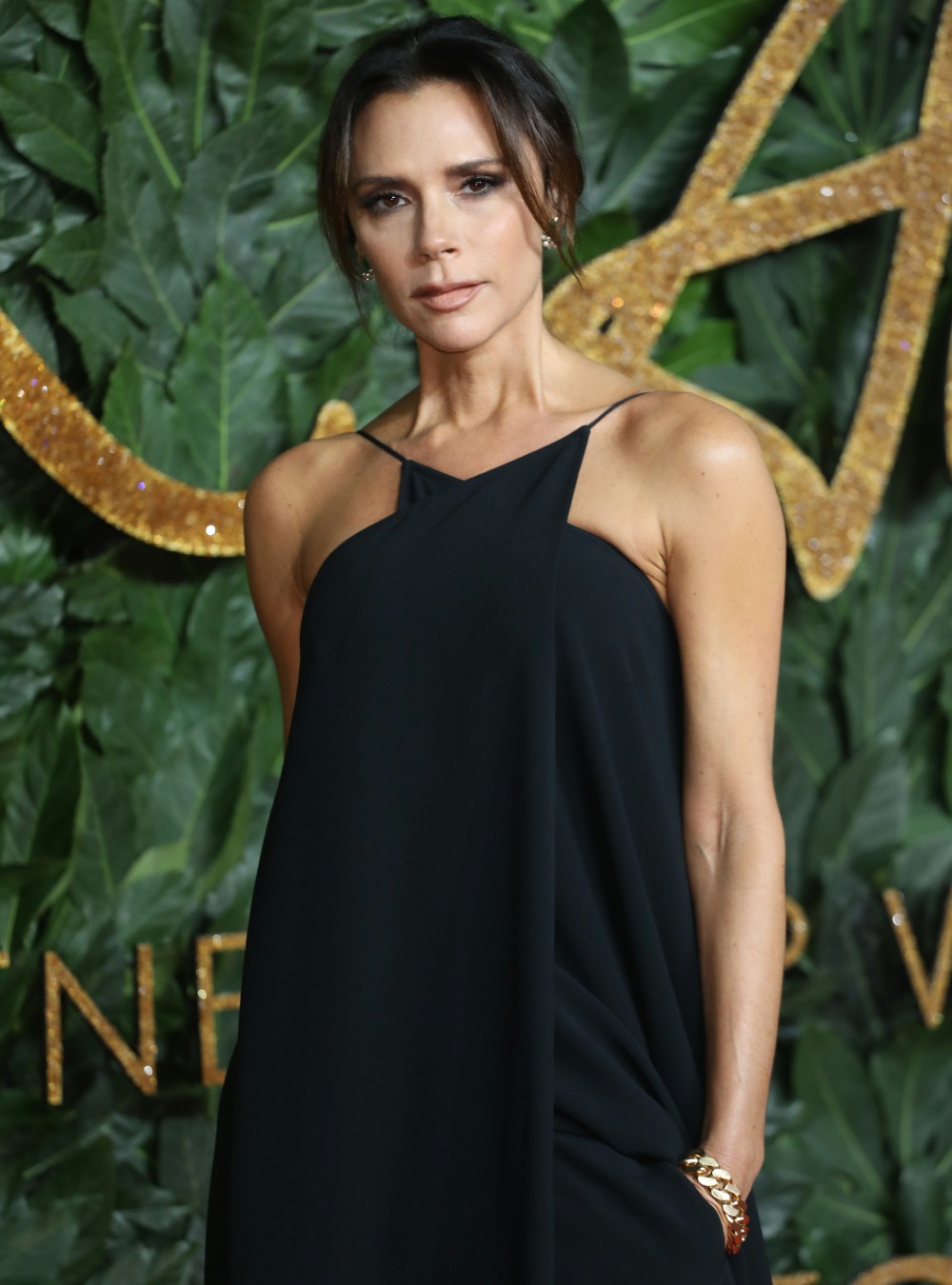 Victoria Beckham chatted with The Guardian recently to promote her label collaboration with Reebok. I've seen some of the pieces from the Victoria Beckham X Reebok collection and…they're nothing special? I mean, no one is expecting her to reinvent the wheel when it comes to athletic-wear or athleisure, but mostly it's just overly simple stuff with frankly uninspired graphics. But the point of the collab is to extend her fashion branding and hopefully make her label profitable, which it still is NOT. Victoria talked about that and those pesky rumors about her marriage and more with The Guardian. You can read the full piece here. Some highlights:
Her label had a £10.2m deficit in 2017. "At the moment the brand is significantly bigger than the business. I want them to be the same size. That is 100% the plan, to reach as many women as I can."

Her workouts start in the morning: She starts with 7k on the treadmill, "a mix of uphill fast walking, jogging, running. That's the only time I watch TV – boxsets, documentaries – so I look forward to that. It takes 45 minutes. Then I work out with a trainer – 30 minutes legs, 30 minutes arms, toning and conditioning, then loads of planks and that kind of thing for my core. At the weekend I will do the whole thing straight through, but in the week I often jump in the car halfway through to take the kids to school, then carry on when I get home. I work out every day when I'm at home, and then when I travel I really focus on work so I can get as much done as possible in a short trip and get home."

She doesn't cook: "I never cook. I used to – when we lived in Spain, I used to cook a lot. But these days I don't tend to get home till late, so dinner wouldn't be ready till quite late. David's a really good cook."

She doesn't eat for pleasure: "I am very, very disciplined in the way that I work out, in what I eat. That's how I'm happiest. I expect a lot from my body – I'm 44, I've got four kids, I work a lot, I travel. For me to do all that, I have to eat healthily and work out."

Her beige workout clothes: "I love the biscuit colour because I wanted workout clothes in a palette that would work with the coat I'd be putting on over the top."

She's not moving to Miami: "It's a fantastic city, and David and I are partners in every business venture that we have. We have made some great friends there and socialise with their families, so we will go regularly. But the kids are happy at school, we are close to our families and we love being in London."

She sounds like a busy single mother: "A project like Reebok is international, so there is travelling involved. But it's workable. I mean, the emails from the kids' schools come on my phone wherever I am, I can still deal with stuff. And, don't get me wrong, I have help. I have a cleaner, so I don't have to wash or iron. And I have someone who helps me with the children, who is wonderful and who I trust implicitly. David does a huge amount of travelling, and that's so hard on him."

On the rumors of marriage problems: "It can get quite frustrating," she says coolly. "But I leave it to my PR team. I don't get involved." All she will say is that "you do have to be quite controlling because people do believe what they read, and when it's completely fabricated, that's really annoying".

On the Spice Girls reunion: "No. Definitely not." Was that a difficult decision? "Not at all. What I do now is my passion and a full-time job. I'm excited to see it, though. And I'm sure when I'm there and they are on stage, there will be a part of me that feels a bit left out. Because even after all this, a part of me will always be a Spice Girl."
Well… shall I tell you my take? I think something really shifted between the Beckhams over the past year. Especially over the past six months, following the persistent rumors last summer that they were close to divorcing. While Victoria seemed, at the time, to be doing the most to assure us that she and David were fine, I feel like after about a month of that, she sort of gave up. They're barely pretending anymore – David is always in Miami, she's always in London or traveling. She's with the kids constantly, he's not. She's always working, he's always partying in Miami and making deals. And I think she's just come to terms with all of it. Either she'll just stick with him because their finances are too complicated (ahem, "David and I are partners in every business venture that we have") or one of them will file for divorce over the next year.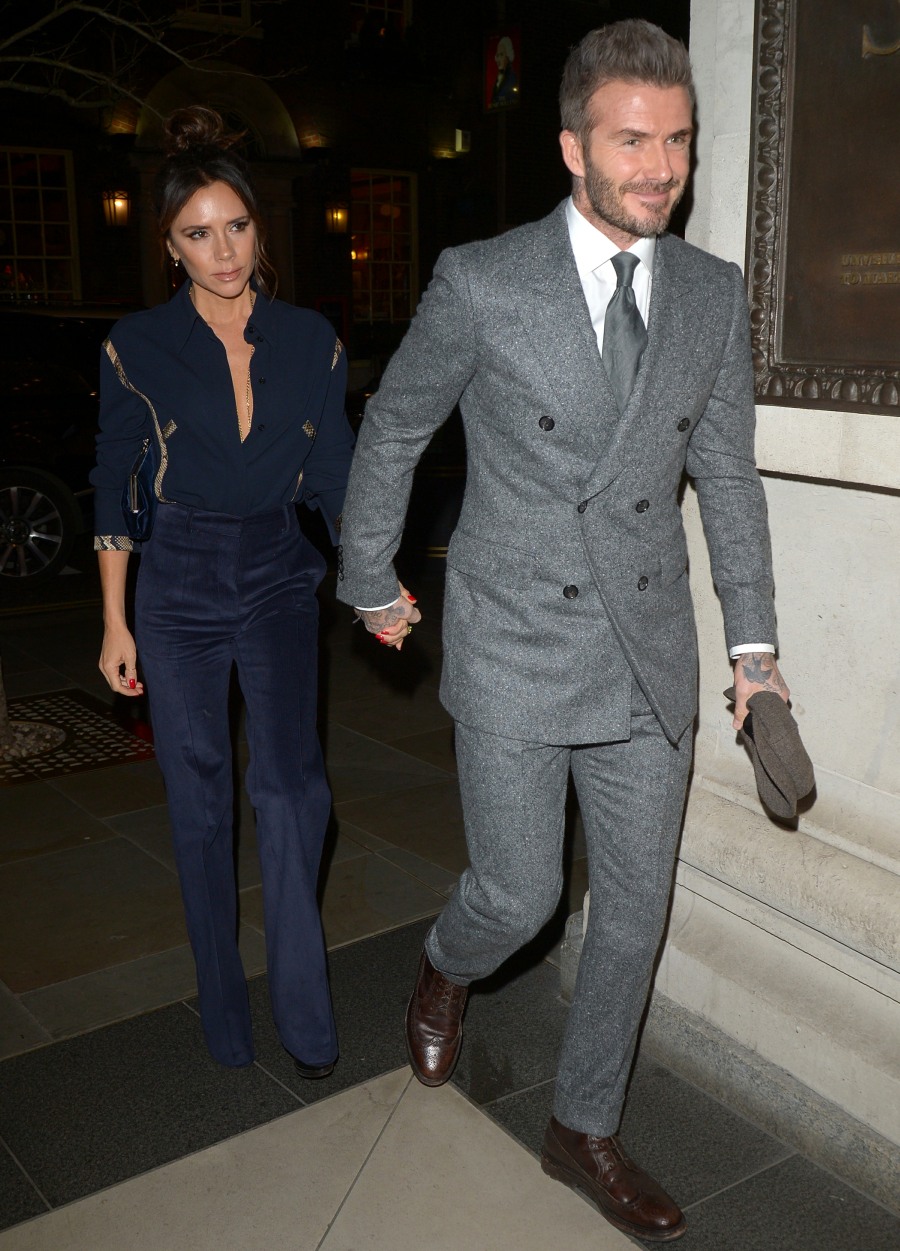 Photos courtesy of WENN.