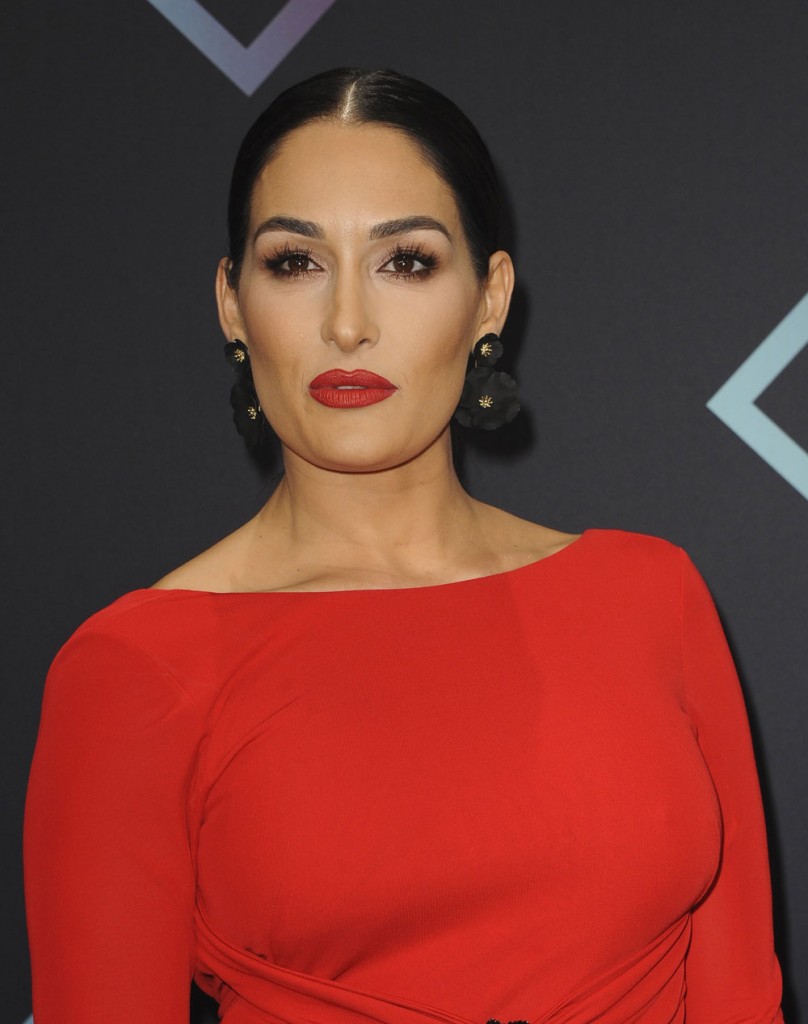 A few weeks ago I covered a story which was frankly unbelievable to me, that Nina Dobrev's mom regularly gives her new baby clothes as some kind of twisted hint that she wants grandchildren. Not that it would make it any less offensive, but Nina is not married, engaged or in a relationship. That's also the case for Nikki Bella, 35, but her family is similarly pressuring her to couple up have kids. This is probably just a bunch of staged events for their E! reality show, but Nikki's mom tried to set her up with someone and her brother told her to flirt because her clock was "ticking." Nikki of course last dated John Cena but they broke up for the last time early last year. So she's single now. Here's what happened on the show:
During Sunday's episode of Total Bellas, the 35-year-old reality star took a trip in New York City with her twin sister Brie Bella and their brother JJ Garcia.

When they visited a park, Garcia, 29, tried to convince Nikki to flirt with someone but she refused. In response, Garcia teased her that she's "ticking."

Then, Nikki revealed during a confessional, "I just find it so annoying; from JJ and other people who bring up the fact that, like, 'Hey, your clock is ticking!' "

"I get my age, I get that I'm single," she added. "I am damn proud that right now I'm doing things for me."

Later on in the episode, Nikki's mother, Kathy Colace, tried to take her daughter's romantic life into her own hands. She found a model named Andre in a bar and eventually invited him to their family dinner without even asking Nikki beforehand.

Colace's husband, John Laurinaitis, criticized her decision, but Colace explained that her goal was to help Nikki "move on" from her called-off engagement.

Nikki later bemoaned the setup to her sister. "My family should know that the last thing that I want to do right now is be forced to meet someone and date them," she said. "It's like, let me do me. Let me love me for right now."
For those of you who are single and have a-hole family pressuring you to couple up like this I'm sorry. I'm lucky my family never pressured me to get a boyfriend or have kids and that my mom never told me she wanted a grandchild before she had one. Again this is likely all a setup for Total Bellas, but there's also probably a grain of truth to it. There are two grandchildren in that family that I could find. Nikki's twin sister, Brie, has a one year-old daughter, Birdie, and her brother, JJ, has a two year-old, Vivienne. They probably want Nikki to have a kid so she's not the carefree single one anymore. A lot of married people are like that!