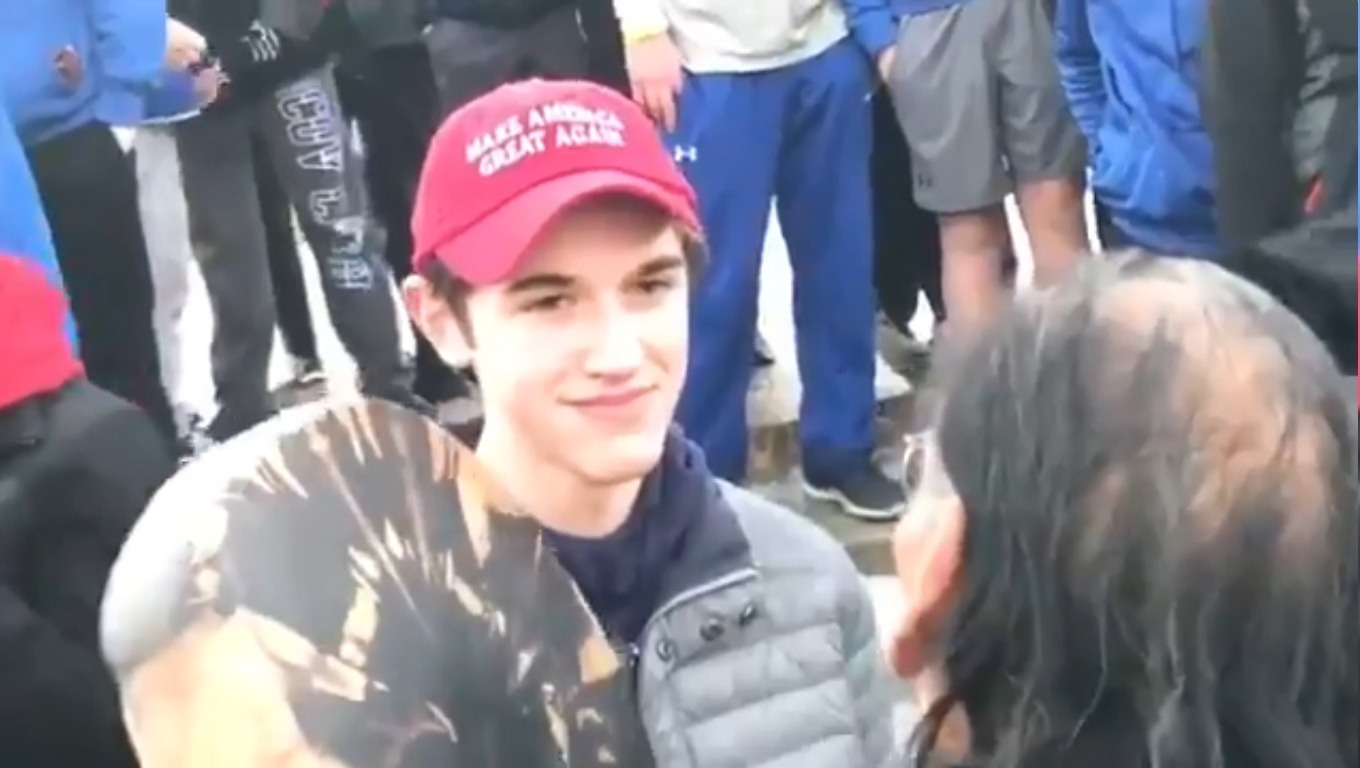 I have a lot of thoughts and feelings about those Covington Catholic MAGA brats, but I stayed up too late watching Serena Williams, so I'm going to direct you to this outstanding piece at Deadspin/The Concourse – "Don't Doubt What You Saw With Your Own Eyes." Soon after the videos went viral of a swarm of MAGA-hat wearing white teenage boys mocking and chanting "build the wall" to Native American marchers, the story shifted purposefully. The MAGA teens' parents spent a fortune on crisis managers, PR firms and lawyers, who spread an alt-(right) theory that the MAGA brats were completely innocent because there were some black people there too, because whiteness. The point of the Deadspin piece is to believe what you saw with your own eyes.
I wasn't here for the "they're just children, don't name them!" narrative. And I'm glad I didn't give that any time, because these MAGA brats are proud of their names, proud of what they did, and they're looking for their 15 minutes. Their whiteness and privilege has insulated them from all repercussions and punishment. The leader, the one who smirked at Native American Nathan Phillips, is named Nick Sandmann. He got an invitation to speak to Savannah Guthrie on the Today Show. They did not offer to do a sit-down interview with Nathan Phillips, I guess. Nick doesn't feel like apologizing for anything because that's how toxic masculinity and white privilege work, y'all.
"Do you feel from this experience that you owe anybody an apology? Do you see your own fault in any way?"

Tune in to @NBCNightlyNews for a preview of @SavannahGuthrie's interview with Nick Sandmann. Full interview tomorrow on TODAY. pic.twitter.com/7Croh0Toyj

— TODAY (@TODAYshow) January 22, 2019
And in case you had your doubts – ??? – about what kind of story this is and who the villains are, Donald Trump has made it crystal f–king clear.
Nick Sandmann and the students of Covington have become symbols of Fake News and how evil it can be. They have captivated the attention of the world, and I know they will use it for the good – maybe even to bring people together. It started off unpleasant, but can end in a dream!

— Donald J. Trump (@realDonaldTrump) January 22, 2019
To all of those people who were like "that MAGA brat is the future Brett Kavanaugh," congrats for calling it. That's exactly who all of them are.
Prior to the Nick Sandmann incident, the Covington Catholic kids were known for dressing up in blackface and viciously harassing black athletes. They found this "entertaining".

Don't believe a word these little racists say about being victims. pic.twitter.com/zkhq1ua4g7

— Nathan Bernard (@nathanTbernard) January 21, 2019
Screencap from original Twitter video.