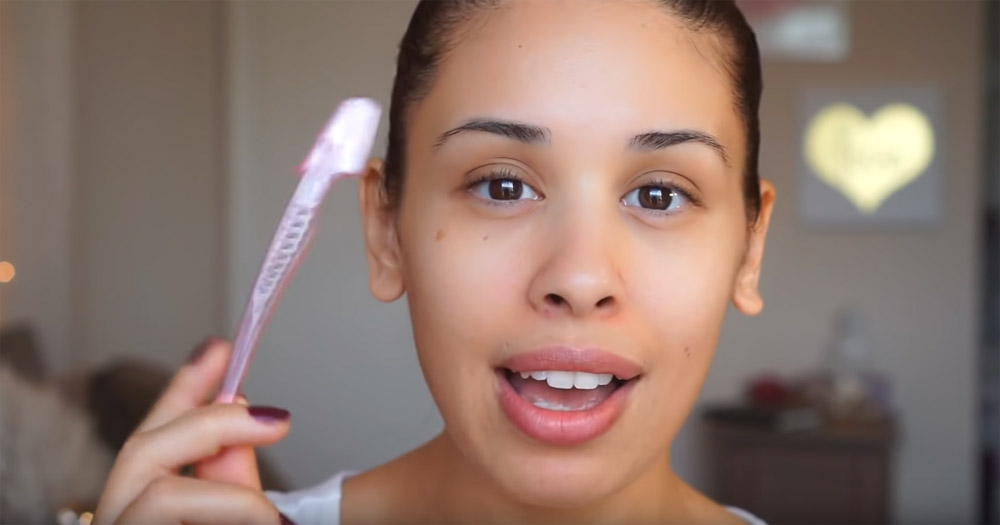 While researching for skincare posts, I keep seeing articles about dermaplaning. It sounds fancier than it is, because it's just shaving your face with a blade either at home or by an esthetician. This is an actual thing in skincare, a lot of women swear by it, and there are specific razors made for our faces. It's supposed to remove the top layer of dead skin, exfoliate it and prepare your face for products. It also removes hair of course.
I use Surgiwax (the Brazilian formula) once a week for my face. It's wax you heat in the microwave which doesn't require strips. It has to be the right consistency or it can burn you and the process can sting a little. This week Sasha at Lainey Gossip wrote about the virtues of shaving your face. It included a video from former Bachelor contestant and beauty blogger Michelle Money showing how she does it at home. Money shaved her face when it had oil on it, however I found several articles and videos recommending to do it dry. I would not do it like that at home! Please moisturize or oil your face first. (Full disclosure: I have not tried this yet. I went to CVS to see if I could find razors but I didn't have enough confidence to know what to try.)
Here's a link to a video from an esthetician who explains the process. (The screenshot above is from that video.) She also addresses the number one question I have – will my hair grow back thicker or harder? She said that "shaving your face is not going to make your hair grow back any thicker or harder" and that your facial hair is due to genetics and hormones. She explained that "once you shave your face and it grows back it seems like a lot because you just were used to not seeing anything on your face." She also said that your hair is being cut at a blunt angle so you "will feel a little resistance" that will eventually taper off and become smooth. The only downside is if you cut yourself. She also does it dry which I would not recommend.
Here are a couple of options for facial shavers and I'm also including some products to consider. This is an affiliate post and please research alternatives.
Little razors that leave skin baby smooth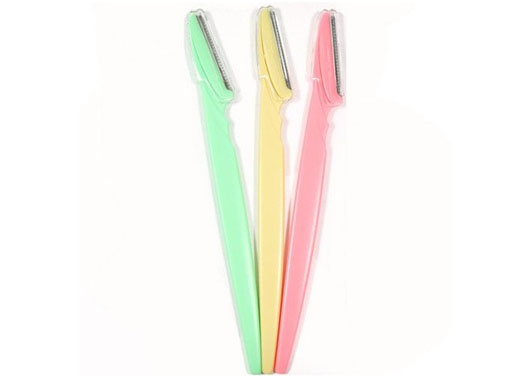 I got this recommendation from Twitter, with Julie saying "it will change your life" and your "skin glows." Reviewers write that the safety guards work and make it "very hard to cut yourself unless you actually purposely try to," "as long as you are careful using them they work wonderfully" and that they "don't irritate my skin." Schick has a similar set of razors with glowing reviews.
A set of 9 dermaplaning razors that users swear by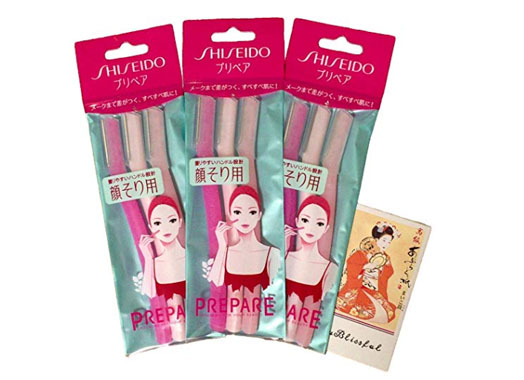 If you don't mind spending a little more money, these Shiseido razors are less than $15 for 9 and come with oil blotting paper. Users call them "the holy grail" of dermaplaning, say that they are great for shaping eyebrows and that "My makeup just glides on and my skin looks great."
An alcohol free toner that makes a different in problem skin.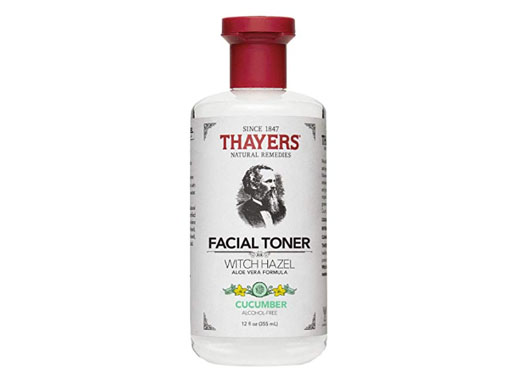 Prior to shaving your skin, you may want to use a toner to remove impurities. This alcohol free witch hazel toner comes in cucumber, lavender and rose. People rave that it clears hormonal acne, feels "refreshing" and "calming" and that it evens out skin tone. You also get a lot of product for the price.
An anti-aging toner that brightens skin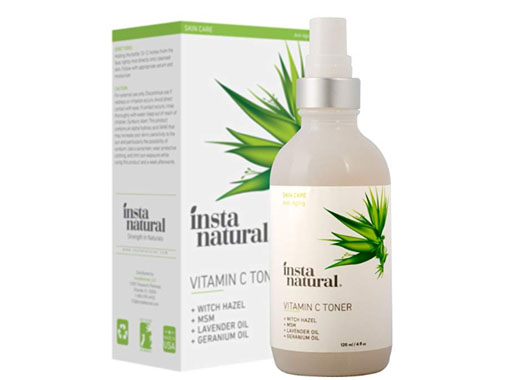 This vitamin c anti-aging toner has a 4.4 star rating with over 1,000 reviews. Women write that they get compliments on their skin, that it looks "clearer and bright" and that they've "noticed an improvement in breakouts and discoloration."
A glycolic acid toning solution for clear skin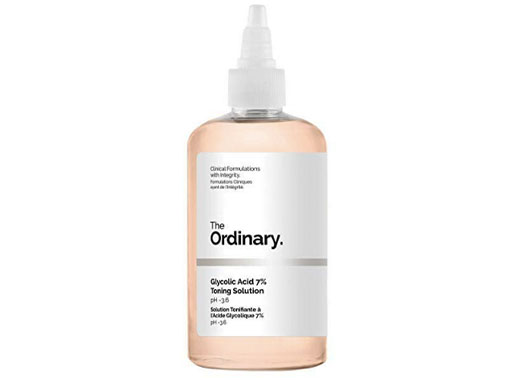 Out of all the products I've tried, this glycolic acid toning solution is my favorite. I use it only every other day in the morning and make sure to use serum, moisturizer and sunblock afterwards. Then at night I use a retinol or vitamin c serum. I'm pretty sure this is the stuff that's making the most difference in my skin as it looks smoother and tighter. Here is an article that helped me understand how to use both products together in a skincare routine.
A vitamin C serum to reduce scars and spots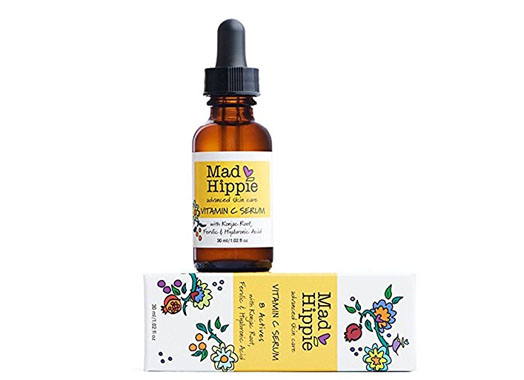 The esthetician in the video I recommended and many of you have mentioned Mad Hippie vitamin C serum. (I'm currently using this three serum set and have not tried it.) This is said to lighten scars, make acne go away quicker, and lighten and brighten skin. Some reviewers warn that it is not for people with oily skin and can clog pores. Here's another vitamin C serum from InstaNatural which has over 4,000 reviews and a 4.5 star rating.
Inexpensive Retinol serum that may reduce fine lines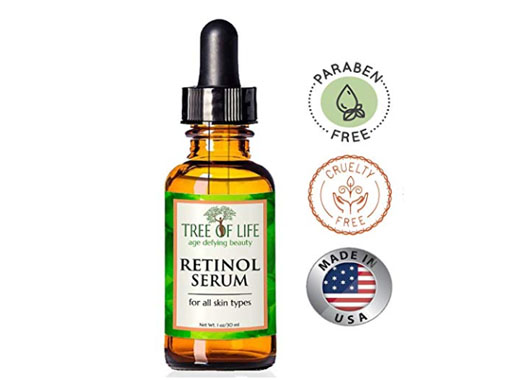 The more I dig into Amazon skincare the more products I want to try! This is so affordable at $10.40. Women say that they can "see a softening of lines and just an overall glow on my skin" after using it, that their skin is "much smoother, firmer" and that their pores look smaller. Others warn that it's not good for acne-prone skin and call it "nothing special."
A lip "mask" to leave your lips very smooth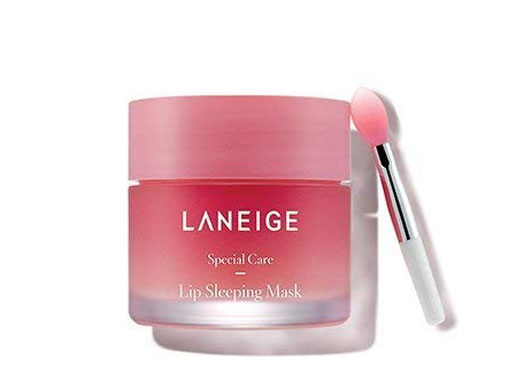 I bought this after some of you mentioned the recommendation on Go Fug Yourself. It smells decent, it leaves your lips very glossy and it moisturizes well. I don't think the effects last beyond the initial hour or two that it's on. I also have Mary Kay satin lip set with lip exfoliator and gloss. Their exfoliator is very good, but this Laniege lip mask is a better overall gloss. If you think of it like a gloss rather than a treatment it's not as disappointing.
I have a question – do any of you use any of one of these at-home pulsed light hair removal devices and can you recommend it? They're an investment and they have mixed reviews so I'm not sure. I will shave my face and report back on Twitter in this thread. I'm honestly scared but I'm ordering the Schick shavers today and will let you know.