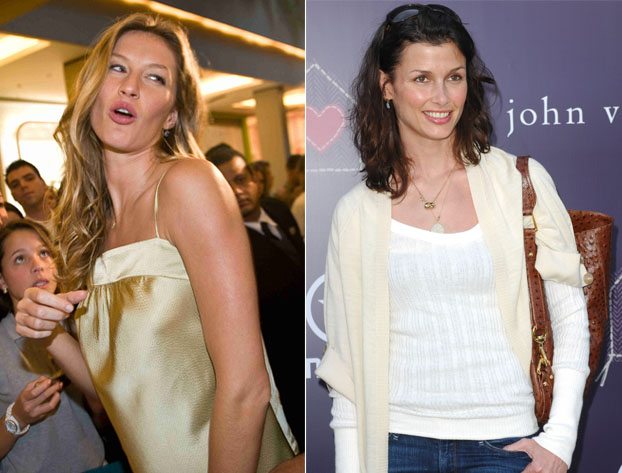 It's no secret that there is absolutely no love lost between Bridget Moynahan and Gisele Bundchen. We can fight about who left, who got pregnant and for what purpose, sketchy timelines, all of it. But at the end of the day, here's what we know: Tom Brady and Bridget share a son, John, now 2 years old. Fact: Gisele is pregnant with her first child, with Tom Brady. Fact: Gisele is a little too effusive when describing her relationship with baby John. Fact: Gisele has referred to John as "my child" and has called herself John's "adoptive mother". Here's what else we know: Bridget's friends run to the press with lots of bitchy comments. Stuff like Gisele is "desperate for attention" and "discretion and respect are not either of Gisele or Tom's virtues".
So perhaps it was never going to be one big happy family. But they're trying, y'all! Bridget is attempting to passively-aggressively bury the hatchet now that Gisele is knocked up – by buying Gisele's unborn child a $20 outfit:
"What do you buy your ex's pregnant new wife?" Bridget Moynahan quipped at Wonderland baby store in Brentwood, CA on July 2.

The actress – whose former squeeze Tom Brady is expecting a little one with his new missus, supermodel Gisele Bundchen – said she didn't want to spend much on a gift.

"Bridget settled on a neutral-colored outfit that cost around $20," a source tells Star. "But she acted like even that was too much!"
[From Star Magazine, print edition, July 27 2009]
Haha, Bridget is so cold! It would have been awesome if Bridget just gave Gisele one of John's old binkies. Bridget would have arched her eyebrow and quipped with a straight face, "Suck on that, Gisele." No, in all honesty, I get it. I wouldn't blame Bridget if she didn't want to get Gisele and Tom anything for the new baby. But going the cheap route is pretty funny. Perhaps Bridget let John barf on the outfit before she gift-wrapped it.
Bridget Moynahan is shown on 3/8/09. Gisele Bunchen is shown on 6/15/09. Credit: WENN.com