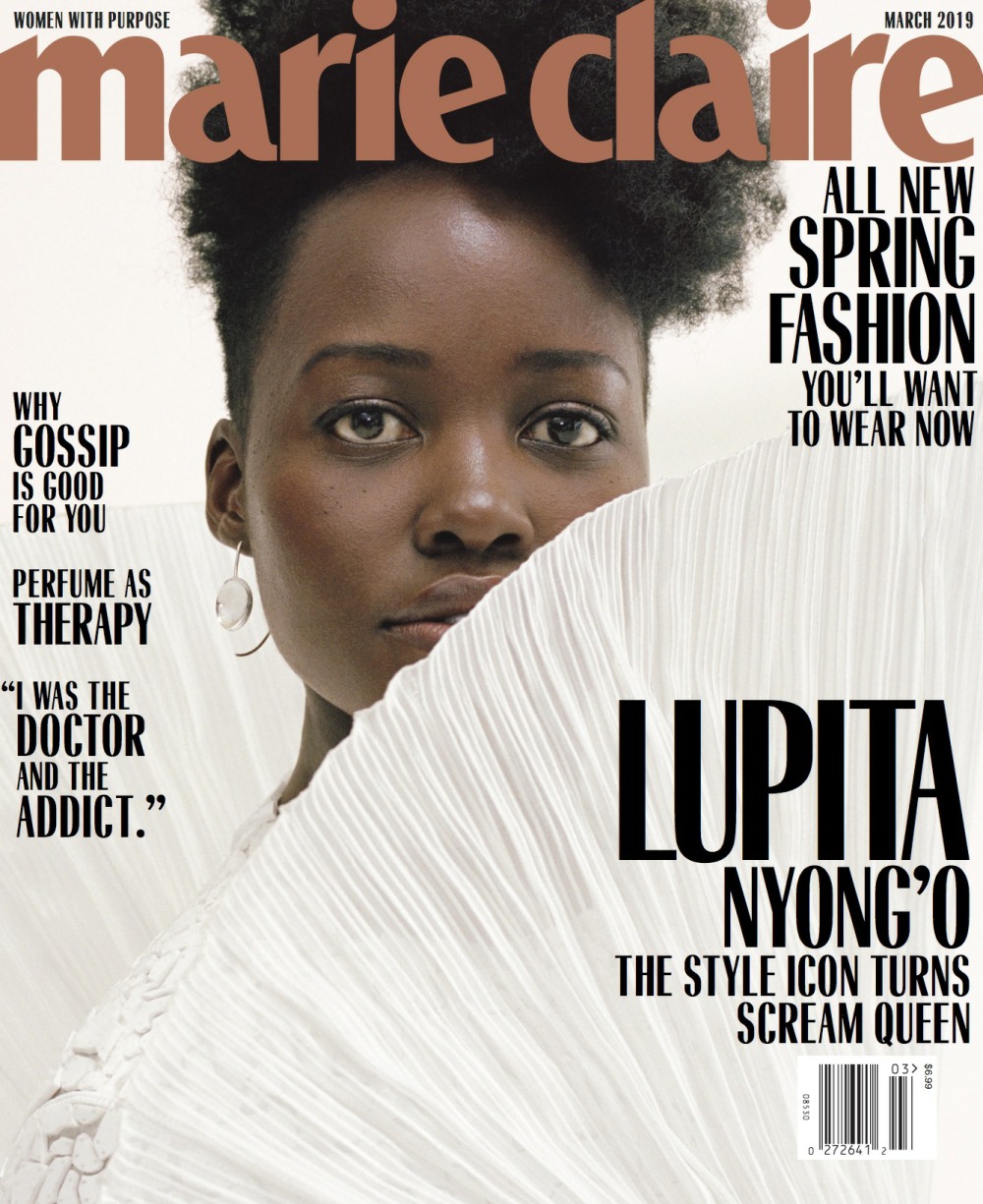 Lupita Nyong'o covers the March issue of Marie Claire to promote her role in Jordan Peele's Us, his follow-up to the hugely successful Get Out. From everything we've heard so far, Us will be very different than Get Out. Get Out was more of a social commentary/psychological horror-thriller, where Us is just straight-up horror, with a buffet of disturbing imagery already (scissors, bunnies, clones). Lupita talks a lot about how she was obsessed with Get Out and Jordan Peele before they even met, and how she cried the first time they did meet. She just sounds like the biggest fan-girl, and it's great. You can read the full cover story here. Some highlights:
On working with Jordan Peele for their film Us: "I knew I had to work with him. He [Peele] asked me, 'What is your process as an actor? What do you need from a director? And I just started to cry. I was like, 'I've never been asked that before.' I could just tell in that question was a man who understood what it meant to be an actor…"

On the horror genre: "Horror movies give us permission to be afraid in a world where you're not often encouraged to be fearful. Fear is something that is suppressed. And it's an emotion to be overcome. It's never an emotion to just experience. And in horror films, we give ourselves permission to do that. We all get into a room, and we know what we've signed up for. We go through it together, and it's cathartic."

Scary movies were kind of her jam as a kid. "I used to watch a whole lot of horror when I was younger. It was almost like I was daring myself. I had an older sister and older cousins, and I didn't want to be the scaredy-cat. You hold yourself together to prove something to yourself and to others. My siblings would tell you I love to scare them. I still to this day get such a kick out of frightening my siblings. But I stopped exercising that scary-movie muscle."

On the support from her father: "It makes a huge difference to have a father who champions you. My dad was a feminist before it was cool for men to be feminists—his father too in many ways. My father's father married my grandmother in her late teens, and he had her go to school. All his girls went to school. All my aunts are extremely educated, leaders in their fields, incredible women. And my father came from that."

On not becoming passive during within the current political climate: "Right now it's a very, very polarizing environment. The pendulum has swung to the nth degree. But it's important that we still find vigor when things are not that extreme because it's in those moments when the pendulum is just swinging side to side that the most damage can be done. That's when you get passive, when things aren't that bad. Before you know it, things are terrible again, because we fell asleep at the wheel."
First of all, I just can't with "scary movie" peeps. CB can watch scary sh-t all day long and I don't understand that at all. How do you avoid nightmares? How do you even go to sleep after you've watched a scary movie? I can't do that to myself, because my nerves will be frayed for weeks afterwards. But I know there are tons of people out there who love big scary movies and the gore and all of that. Ugh, I just can't. As for what she says about her dad being a feminist… that's really great.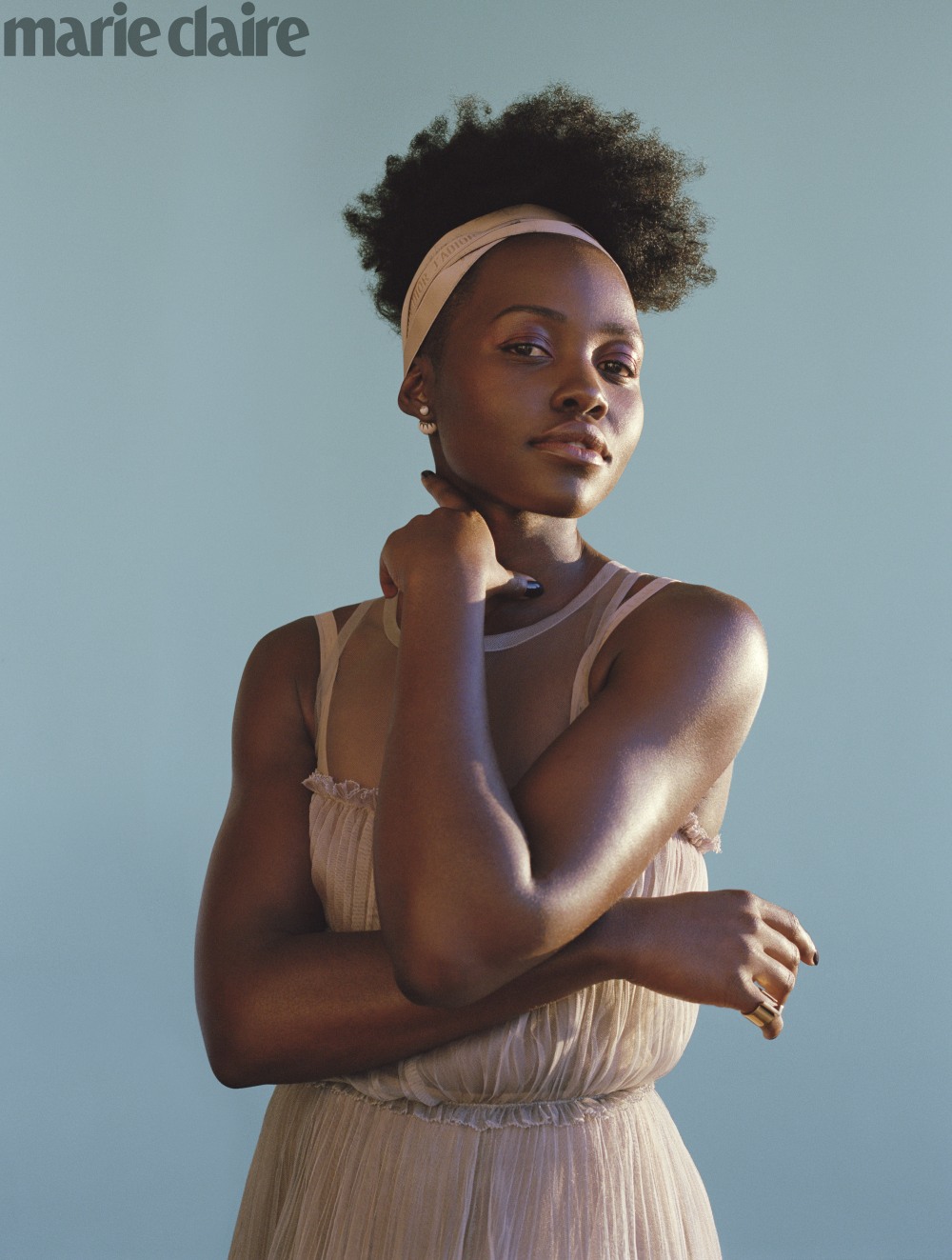 Photos courtesy of Daria Kobayashi Ritch for Marie Claire, sent from promotional Marie Claire email.