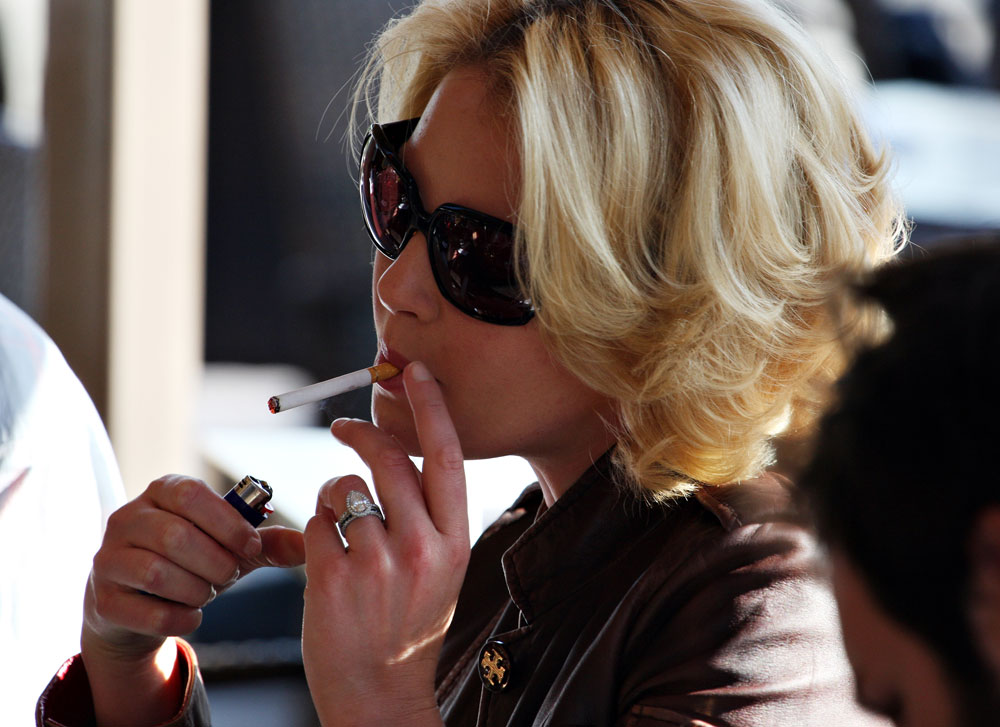 Last week, we got some of the first quotes from Katherine Heigl's In Style cover interview. Dame Heigl was in her standard form, complaining about how romantic comedies today shouldn't be "so Snow White and Prince Charming." More of the interview was released, and now we have some more gems. In Style asked Heigl about her smoking habit – she's one of the those rare celebrity smokers who doesn't seem to care how often she's photographed with a smoke. Heigl claims that she's "ashamed" of her habit, and that smoking is "stupid". She also tries to fight back against the claim that she has a nasty habit of biting the hand that feeds her:
Katherine Heigl isn't proud of some her habits. In an interview with In Style magazine, the "Grey's Anatomy" actress and star of the upcoming movie "The Ugly Truth," says she is "ashamed" of herself for continuing to smoke, adding that "it's so stupid."

But one thing Heigl, 30, doesn't feel any shame for his expressing her opinions – even when it gives her a bad reputation.

"I've got this moniker that I'm the foot-in-mouth gal, and I keep thinking, 'In what way?'" she said. "Because I said something you don't agree with? Because I said something you don't like? I'm just telling you my opinion. I hate the idea that I can't be honest about how I feel about things because it's going to piss somebody off who feels differently. That seems preposterous to me."
[From Fox News]
Well, there's saying something that isn't quite politically correct, and then there's totally alienating people that would ordinarily want to work with you. Heigl walks that knife's edge like a champ. If she doesn't see anything wrong with it, then more power to her. My guess is that if she doesn't learn how to reign herself in, she won't have much of a career in several years. Which isn't too horrible of a prospect, although I do think Heigl is actually a somewhat gifted actress.
The Ugly Truth comes out this Friday, and the press tour just keeps on rolling. There are some funny quotes in Entertainment Weekly (story via CNN) about how Heigl, Gerard Butler and director Robert Luketic (Legally Blonde) all came together. Apparently, Heigl was the first to sign on, then the director, and then Gerard. The director "skeptical", saying "The guy from '300'? In a comedy with Katherine Heigl?" So Gerard and Luketic went to dinner, and Gerard charmed him before they even ordered. Gerard says, "I was telling jokes and long, politically incorrect stories. When I saw the script, I was like, 'OK, this is me.'" Gerard describes the combination of himself, Heigl and Luketic, "Three alpha, outrageous people." Luketic describes the film this way: "There's a lot of, shall I say, flagrant banging and swearing and climaxing and squealing."
And for the last of the Gerard Butler/Katherine Heigl news, apparently as the two actors were doing press on Saturday at the Four Seasons, the hotel had to be evacuated because of a bomb threat. Oh my God, someone was trying to hurt my Gerard!
Katherine Heigl and Gerard Butler got their own dose of Ugly Truth while promoting their new romantic comedy of the same name Saturday in Bever;y Hills, Ca.

The pair were evacuated from the swanky Four Seasons just before 2 p.m., according to reports, after a bomb threat was phoned into the celeb-fave spot.

Butler mingled with fans outside and was even spotted taking photos with Italian soccer team members from AC Milan, staying at the hotel while facing David Beckham's LA Galaxy.

Heigl was reportedly whisked away promptly. No threat was found after a sweep of the premises.
[From Radar]
Heigl was whisked away promptly? Who is she, the president? Does she have a bulletproof Cadillac standing by at all times? You can tell a lot about a person by how they behave in a bomb threat situation – and it looks like Gerard Butler won. He kept his cool and was magnanimous even as he was awaiting the "all clear" in the parking lot or wherever. Meh. Heigl probably called in the bomb threat because she wanted a smoke break.
Katherine Heigl is shown smoking on 2/28/08 (sunglasses on head, credit: WENN.com) and 11/12/08 (sunglasses on, credit: Fame Pictures)