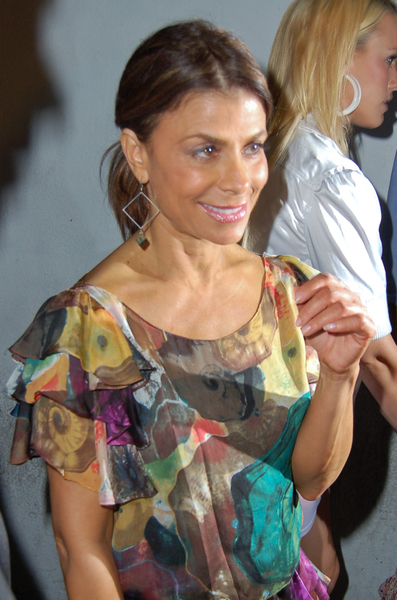 Paula Abdul's manager has made it crystal clear that American Idol producers aren't offering his client a new contract to remain on American Idol, and that it's likely she'll step away from the hit show. Last week we heard that emcee Ryan Seacrest signed a three year, $45 million contract with Idol that doesn't prevent him from producing his own reality shows on the side. The National Enquirer reported that Paula Abdul was hoping to score $20 million a year, or double her salary, to retain her seat on the judges' panel. According to Paula's manager, she hasn't even been fielded a contract continuing her current pay. Does this mean Paula is off and will self righteous new edition Kara DioGuardi remain on the show? Whatever happens, "yo Dog" Randy Jackson will stay until 2011, and Simon is sure to remain too.
Paula Abdul is unhappy. And unless the producers of "American Idol" change her frown to a smile soon, she'll dance like there's no tomorrow away from TV's No. 1 show.

"Very sadly, it does not appear that she's going to be back on 'Idol,' " David Sonenberg, Abdul's manager, told The Times when contacted about the judge's contract negotiations.

With auditions for the ninth season due to start Aug. 6, Sonenberg says he doesn't even have a proposal for a new contract from FremantleMedia and 19 Entertainment, the production companies behind the show. The new season is scheduled to premiere in January.

"I find it under these circumstances particularly unusual; I think unnecessarily hurtful," he said of the contract holdup. "I find it kind of unconscionable and certainly rude and disrespectful that they haven't stepped up and said what they want to do."

Sonenberg began managing Abdul at the end of June, he said. According to him, he has "reached out to the head of business affairs at 19" and told Fox that "Paula would love to be on the show." He said Fox told him he would hear from them, but "I have not received any proposal whatsoever…|

Meanwhile, Cowell has a contract that expires next year and is jockeying for his own rich new payday. Published reports have floated a mind-blowing figure of $144 million, which Cowell has scoffed at, saying that talks are ongoing. (Fellow judge Randy Jackson is booked through 2011.)

But the situation is more complicated for Abdul. Last season, the producers added a fourth judge, Kara DioGuardi. Producers have not announced a deal with DioGuardi either, but the speculation is that her presence at the judging table may have been a shrewd move to tamp down any outsize contract demands that Abdul and her team might make. For their parts, both DioGuardi and Abdul have said recently that they want to return to the show. (DioGuardi's publicist did not respond to a request for comment.)

But in Abdul's case, that seems dependent on getting the right dollar amount. Sonenberg has said his client has not been well-compensated in the past.

She's already looking toward an "Idol"-less future, he says, though Abdul's foray into non-"Idol" programming, the 2007 Bravo show "Hey Paula," was not a success.

"She's not a happy camper as a result of what's going on. She's hurt. She's angry," Sonenberg said. "I think at this point we're going to be considering everything, including some kind of a competition show. She has tremendous ideas for a whole variety of shows."
[From LA Times]
Is it really that bad for Paula or is her new manager just playing hardball in an attempt to get more money for his client? I don't agree that anyone merits that kind of astronomical sum, but if Ryan can earn $15 million a year it only seems fair that they offer something comparable for Paula. She probably pissed off her bosses royally when she told the press that producers deliberately let her stalker audition for Idol even after she warned them and pleaded that they not let her on. The stalker, Paula Goodspeed, followed Paula home after an Idol audition and eventually committed suicide by overdosing in her car outside Paula's house last November.
Paula is definitely loopy on camera, but the fans and contestants love her. The show needs her wacky, encouraging presence as a counterbalance to mean Simon and boring Randy. It would be a real shame to let her go. The producers have been trying to give Paula the shaft for a while, but they should listen to the fans and realize that Paula is an integral part of the show, much more so than Ryan.
Paula is shown outside Beso restaurant on 6/26/09. Credit: PRPhotos