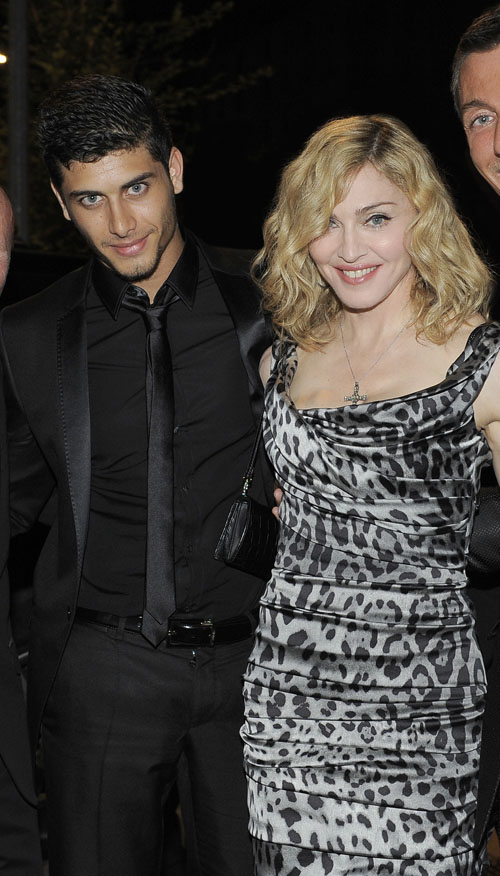 As Madonna has taken her "Sticky & Sweet" tour to Europe, her little Brazilian boy toy has been at her side the whole time. Of course, according to sources, their relationship is more employee to employer at this point. Manny to mother of four, or perhaps Jesus represents Madge's oldest child, the one prone to temper tantrums. We've already heard that Madonna and Guy are patching things up, reconnecting and maybe even getting back together (which I doubt). And now the Daily Mail is declaring an end to the spring-winter relationship of Jesus Luz and Madonna. Apparently, while on tour, Madonna sat Jesus down and gave him the "just friends" talk. If she said it in French, she would have gotten the Bradley Cooper Award.
It was only going to be a matter of time before Madonna tired of her latest plaything.

And I can now report that the Material Girl has ended her relationship with 22-year-old Brazilian model Jesus Luz after just seven months.

The 50-year-old has told Jesus, whose career was given a huge boost by the affair, that she 'doesn't have enough time for him' now she is touring Europe.

A pal told me: 'Jesus has been accompanying Madonna on tour but they have been staying in separate hotel rooms. Jesus is doing everything he can to persuade Madonna they should stay together. He's hanging in there like a lost puppy.'

'Chances are they will be seen out again together, as it's good for both their images, but Madonna has made it clear it's only a friendship.'
[From Daily Mail]
Madonna then told Jesus "It's me, not you… I need to work on myself." She then added "I'm just not in a relationship place right now." She finished the lecture with, "But of course you get to keep all of your toys and modeling contracts."
Some of us make a lot of jokes about Madonna, the Bingo-Winged One, but I always have to give her a shovel-full of grudging respect. It's no surprise that Madge and Jesus didn't last – but how else could it have ended? Only this way – with Madonna getting bored with Jesus, and him begging to stay. Well done, Madge. You hit it and quit it.
Madonna and Jesus are shown out with designers Dolce and Gabbana in Milan on 7/14/09. Credit: INFPhoto.com