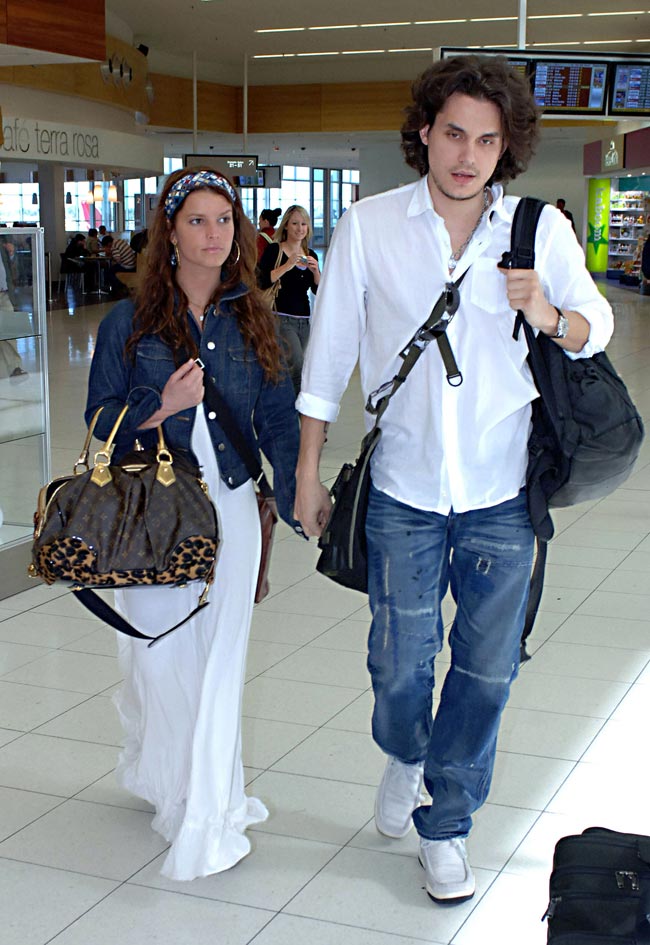 Of all the celebrities who play the victim, Jessica Simpson is one of the rare ones I actually feel sorry for. Since Tony Romo dumped her the night before her 29th birthday, and then went on to hookup with a cougar on Jessica's birthday, we've been regaled with several stories designed to make us feel some sympathy for Jessica. Sympathy… or pity? Ordinarily, I just have sympathy for Jessica. My thought process has always been: "Well, it's not like she's totally helpless, she's got some semblance of a career, lots of guys want to date her, she seems sweet, she's got stuff going for her." Lately, though, I've been feeling outright pity for Jess. And this latest story just adds to it. Apparently, when Jess was with Mayer, he gave her horrible birthday present too. Since Mayer was on tour, he sent Jessica a copy of his concert for her "present". Oh, but it gets worse:
John Mayer could be the most narcissistic celebrity ever.

An insider said, "Several years ago when he was dating Jessica Simpson, he couldn't go to her birthday party because he was on tour. So the night of her birthday she had dinner with [hairdresser] Ken Paves and a few friends. Everyone thought John would forget her birthday, but then a gift arrived from him — it was a DVD of him in concert. Jessica spent the rest of the night watching the DVD on a loop, 'being with him.' It was so sad."

A rep for Mayer declined to comment.
[From Page Six]
Dude, whatever happened to sending a girl flowers? Or maybe a nice piece of jewelry? And why did Jessica have to sit around watching the damn DVD? Poor Jessica. She loves so much and so tragically.
As the tabloids try to make some noise about a possible Jessica Simpson-Nick Lachey reunion, I tend to think a John Mayer-Jessica reunion is much more likely. Even though I'm not sure if John was texting Jessica while she was still Tony, I suspect he is now. Not that he seems to still love her or anything, but I could see how he'd like an ego boost from Jessica's overshare again. And John Mayer seems like the kind of guy who preys on girls who have just been devastated by another guy. I give a Mayer-Simpson revivial 2 to 1 odds.
John Mayer and Jessica Simpson are shown out at Adelaide airport in South Australia on 4/2/07. Credit: INCO/Fame Pictures