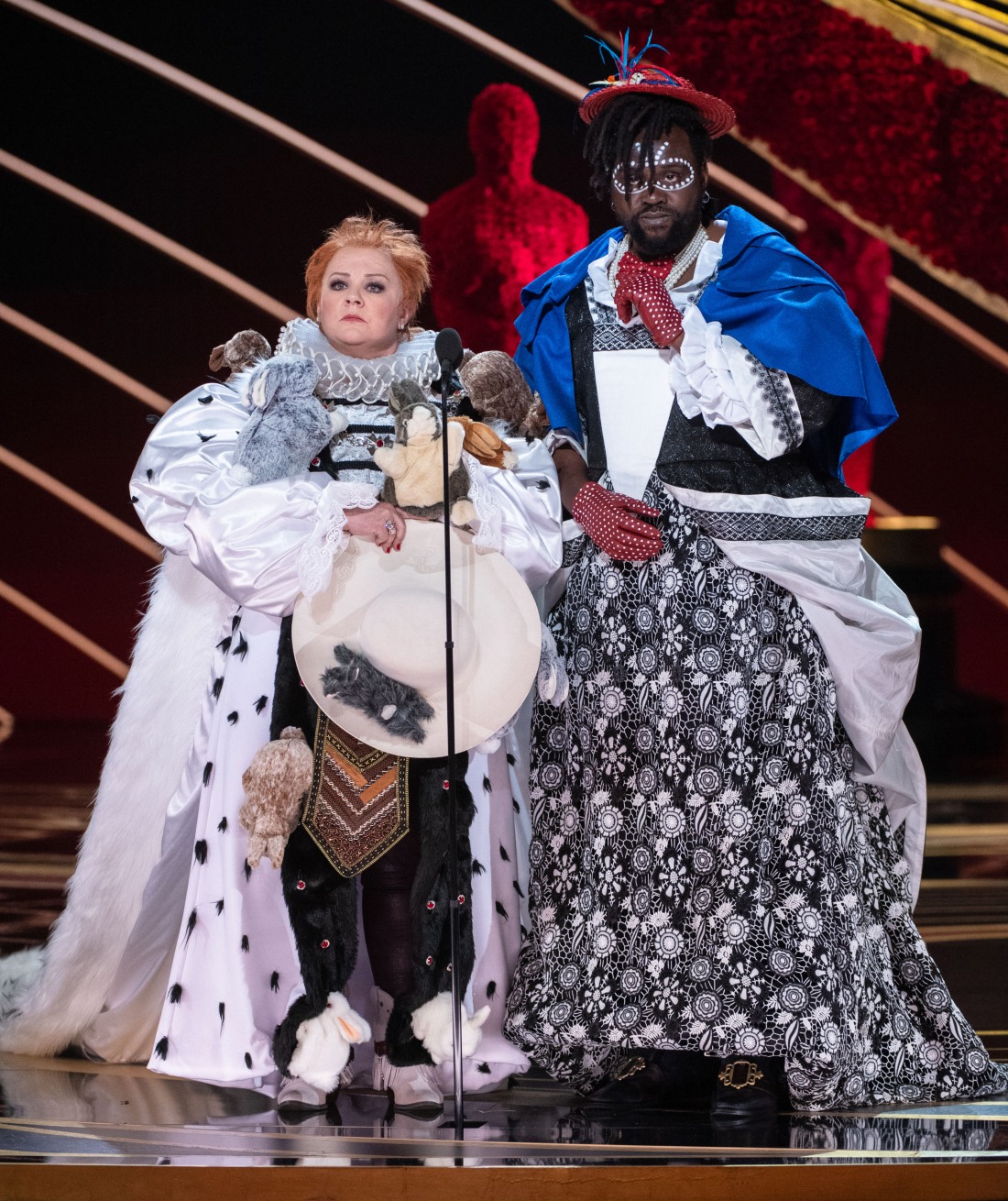 The 2019 Hostless Oscars didn't have a lot of "comedy bits." There were a few pieces of funny banter, but mostly presenters just kept it pretty brief. The one exception was Melissa McCarthy and Brian Tyree Henry presenting Best Costume Design. They did a bit! They dressed up in costumes which represented the nominees, and Melissa's bunny-covered, Favourite-referencing ensemble (and bunny puppet) was one of the funniest moments of the night, in my opinion. Here's that moment:
But was it offensive? To me, no, it wasn't offensive. They weren't making fun of the costume designers. They weren't being mean. They were doing a hodge-podge homage to the nominees' work. Their costumes were made by Katja Cahill, the costume designer for the Oscars, who gave some interviews about how Melissa and Brian's ensembles came together. But at least one Oscar-nominated costume designer wasn't here for any of it.
Twitter thought the ensembles were delicious, but Oscar-nominated costume designer Arianne Phillips said they made her sick. Phillips, singled out by the Academy for her work in 2012 on Madonna's W.E. and in 2006 for James Mangold's Walk the Line, took to Facebook Monday night to slam the looks as "tasteless and insulting" to her industry.

"I like to think I have a sense of humor," posted Phillips, who worked on Quentin Tarantino's upcoming Once Upon a Time in Hollywood. "I have heard from more than a couple friends and family members who also thought this was insulting and in bad taste… WHAT say you fellow Costume Designer, costumer peeps and facebookers? AND…Sandy Powell & Ruth Carter whose work was made a mockery and the makeup design from Black Panther as well."

"As Costume Designers we struggle with people in our own industry UNDERSTANDING our job, on this one night where the work is supposed to be elevated (look at the international ratings) this is perhaps the most egregious misrepresentation not only of taste (which is subjective) but of value to the film making process. We are not just 'shoppers,' as our job is so often misunderstood," Phillips continued. "We constantly have to explain our job this kind of mockery only underscores frustration. Feels like major steps backwards. SHAME on the Academy for allowing this to be broadcast."
First of all, at what point did anyone say anything about "costume design is just buying clothes"? No one said anything like that. It took a lot of creativity from Cahill to put together Melissa and Brian's costumes and do a proper homage to five films in only two costumes. I feel like Arianne Phillips is maybe overreacting? Or maybe she's not explaining her position properly, because I have no f–king clue where her hissy fit has come from. Also: "Phillips, who worked on Quentin Tarantino's upcoming Once Upon a Time in Hollywood." Well, then she would know something about "insulting" and being "in bad taste." She would know because she's costuming Margot Robbie to play Sharon Tate's bloody murder scene.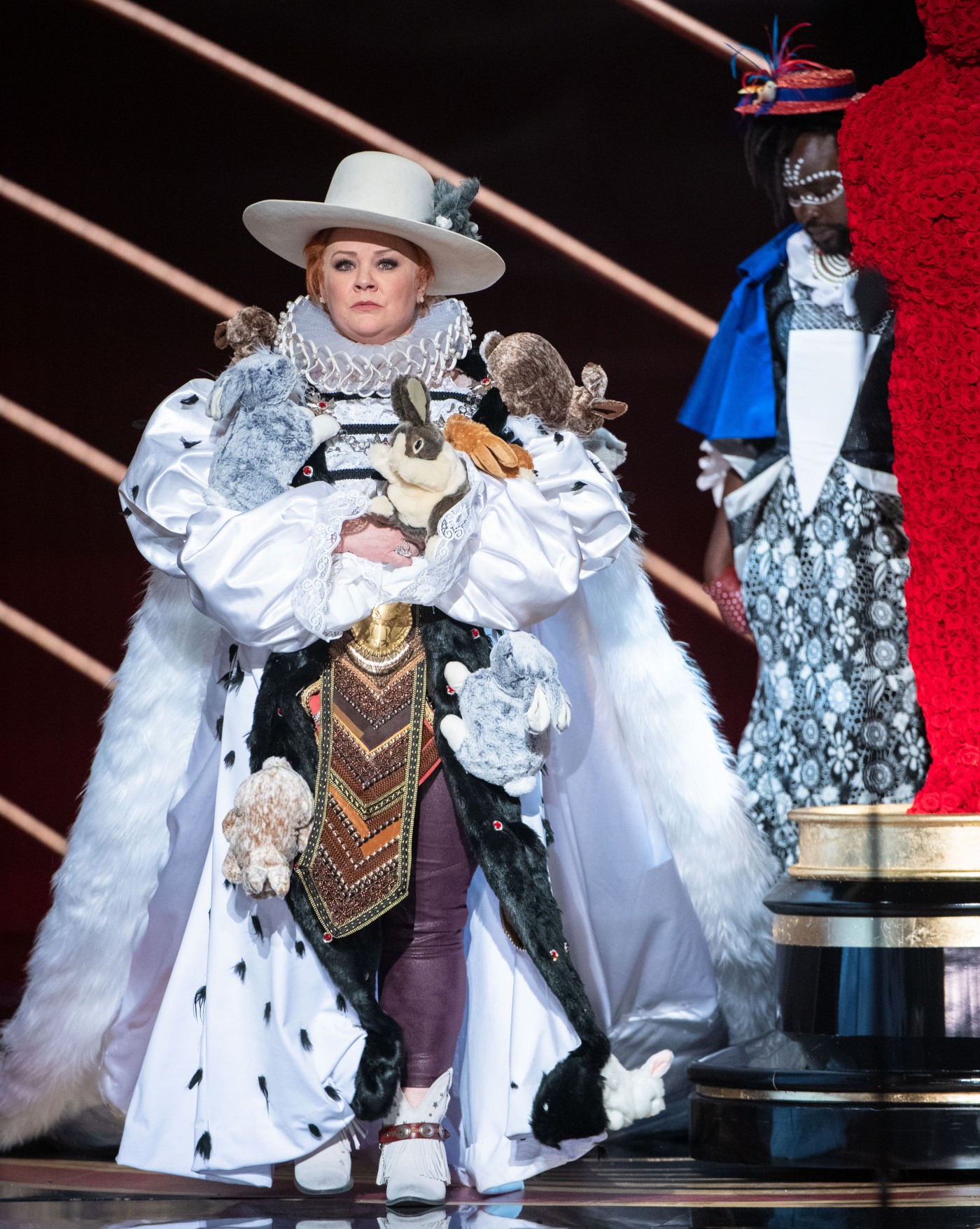 Photos courtesy of Avalon Red.