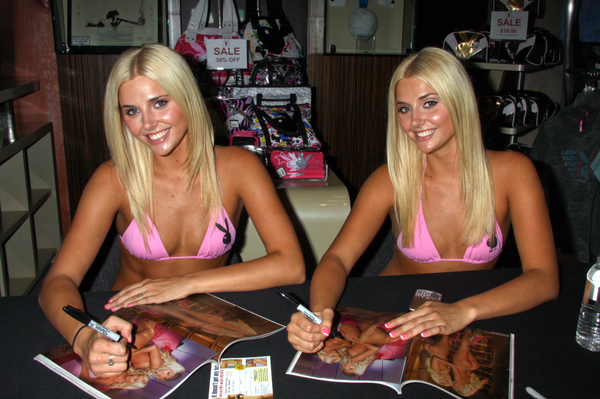 Someday I plan on publishing a novel. I've been working on it off and on for five years and completely scrapped it a few months ago and started from scratch. While I generally try to focus on the research and the writing, once in a while I can't help but imagine what it'd be like to do a reading and have people actually ask me to sign my book.
And while I've never really taken the time to imagine what I'm wearing when this pretend interaction happens, I'm pretty sure I've always got clothes on. If I didn't, it'd be more like one of those naked dreams. But I'm reasonably confident that clothing is involved, because I never imagine anyone in the audience screaming.
Sadly… or not, depending on your opinion… the same can't be said for Hugh Hefner's 19-year-old twin girlfriends Karissa and Kristina Shannon. Now before you panic, let me clarify that they did not publish a book. Though in this day and age when Lauren Conrad tops the New York Times' Best Seller List, I can see why that'd be a legitimate fear.
The twins were doing an autograph signing for Playboy's July/August double issue, in which they are the Playmates of the Month. And it wasn't at a Barnes & Noble or a musty old bookstore like in my own fantasy (just to clarify, my fantasy book reading, not my fantasies about the jailbird twins), but rather the Playboy Store in Las Vegas. Worried that they might appear too formal if they showed up in the matching pantsuits they'd originally chosen, the twins instead decided to wear just teeny tiny bikinis.
And while I'd love to mock, you know the saying: "dress for the job you want, not the job you have." And in all fairness, the twins are doing both. As are their twins.
Giggle.
Images thanks to PR Photos.com.