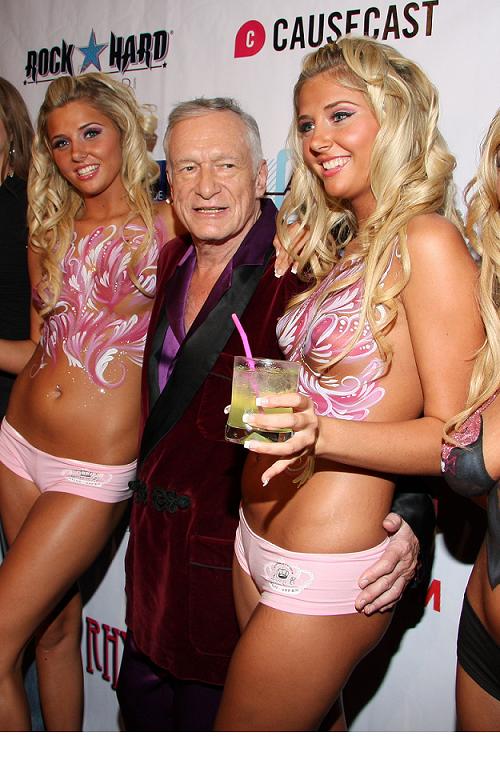 I knew the qualifications for being Hugh Hefner's girlfriend were pretty specific. You've got to be a certain cup size, a certain band, certain waist size, and your I.Q. can be no higher than 100. While those seem pretty strict, I didn't realize they are literally the ONLY requirements to be Hef's girl. Turns out your face can look more like your ass and you can have multiple assault arrests on your record and you're still a-o.k. So basically there is a beauty from the neck down rule, but no sanity rule. Your head doesn't count at all.
Lucky for 19-year-old twins Karissa and Kristina Shannon. They've given the beat down to others, to each other, and I'm guessing someday to Kendra and whoever else dares to stay in the Playboy mansion. I seriously hope they lock the grotto at night.
Karissa (left) and Kristina Shannon (right) — who have recently moved into the Playboy Mansion — were both busted by St. Petersburg, Fla. police for felony aggravated battery back in January. They both received probation and were ordered to pay restitution to the two victims.

Karissa also has a misdemeanor battery charge on her record from 2007. Atta girl!

Playboy had no comment.
Karissa also beat the crap out of Kristina two months before the above assault. She kicked Kristina in the face, which really isn't all that surprising. Though both girls are supreme butterfaces, Karissa looks distinctly uglier than Kristina. I think she was just trying to even stuff out.
Hugh Hefner's new twin GFs don't just beat the living crap out of other people — they also kick the s**t out of each other.

We've learned Karissa Shannon was arrested just two months before she and sis Kristina were pinched for aggravated battery back in January. In this case, however, she was popped for kicking her own twin sister in the face. Lovely.

Here's the blow-by-blow, according to the charge report: When cops showed up, Kristina was lying on the ground outside their apartment "wearing only blue jean pants" and "bleeding from her nose," while Karissa was standing over Kristina asking who had done this, "as if she had no idea what had happened."

Best part: a neighbor said he witnessed the one twin kicking the other twin in the face, though "he could not identify which sister was which." Karissa eventually fessed up.
[From TMZ]
I seriously hope Hef has 24-hour security around him. There is no way I would trust these girls. They're 19. He's 83. They're evil/crazy and will beat down someone they used to share a womb with. What do you think they'd do to get their hands on some of Hef's cash? Not that Holly Madison was all that classy, but these girls make her look like some kind of saint in comparison.
Here are the twins' booking photos; Karissa is on the left. Header of Hugh Hefner the twins on either side of him at the 2nd annual Leather Meets Lace event to benefit Jenny McCarthy's charity Generation Rescue held at the Playboy Mansion on October 4th. Images thanks to WENN.