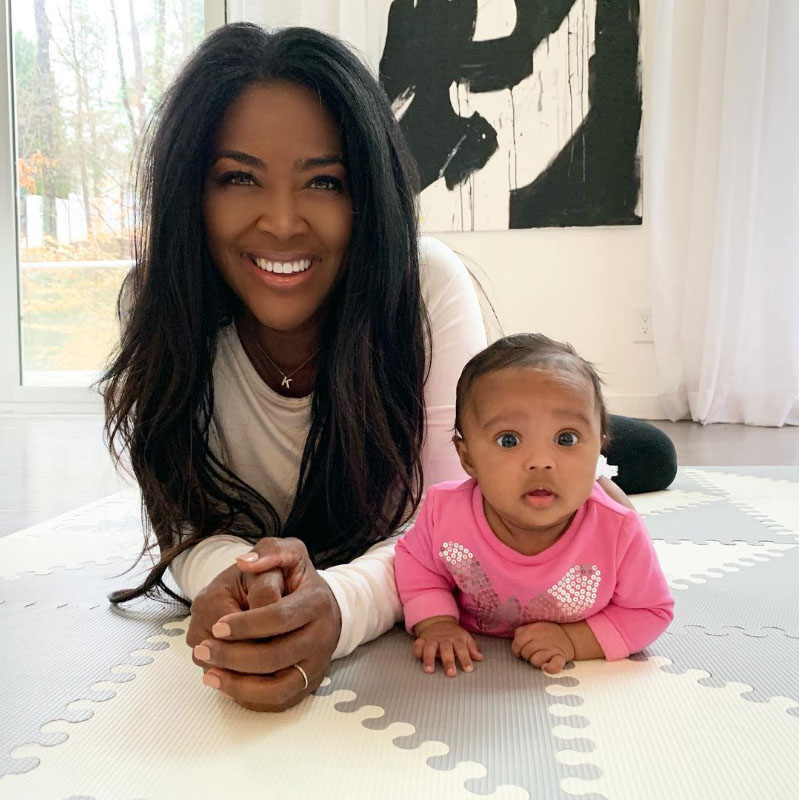 Kenya Moore of Real Housewives of Atlanta, 48, welcomed her first baby, Brooklyn Doris Daly, in November. Her baby was healthy after Kenya had a medical scare and developed preeclampsia later in her pregnancy and had to get an emergency c-section. Kenya now has a sponcon deal with an app for new moms. She posted the photo above with Brooklyn, who is adorable and making the cutest face, along with a weird throwaway comment about how she changed Brooklyn's diaper in a restaurant and got kicked out. So she could have used this app to talk to other moms about it or something. It's confusing, but this is what she posted. I'm cutting some of the ad text for the app.
Last week when I was traveling with Brooklyn, I got kicked out of a restaurant for changing her diaper! OMG, I was so embarrassed. I had no idea about these rules!
As a new mama, I'm learning new things every day. The @peanut app has been an amazing support for me to connect with other new moms that can give me a heads up, advice and a sense of community.
The app introduces you to women in your neighborhood…
So is Kenya using this virtually detail-free anecdote to get more attention for a sponcon or is it a true story? If it's true, how does she not know that you're supposed to go in the bathroom to change your baby's diaper? That's a no-brainer. You don't change your baby out in the open where people are eating as it's a health hazard. Sorry to be gross, but newborns can have projectile poo. I remember some rough situations during diaper duty. I don't think this is true though, or wouldn't she milk it a little more or post an IG story or something? If this is made up for this sponcon it worked because we're talking about it.
Then again maybe she did do this. I've seen people in restaurants change a baby's diaper at least two different times. I think they know better and just don't care at all.
Let's just look at more pictures of this baby.
My ovaries hurt.