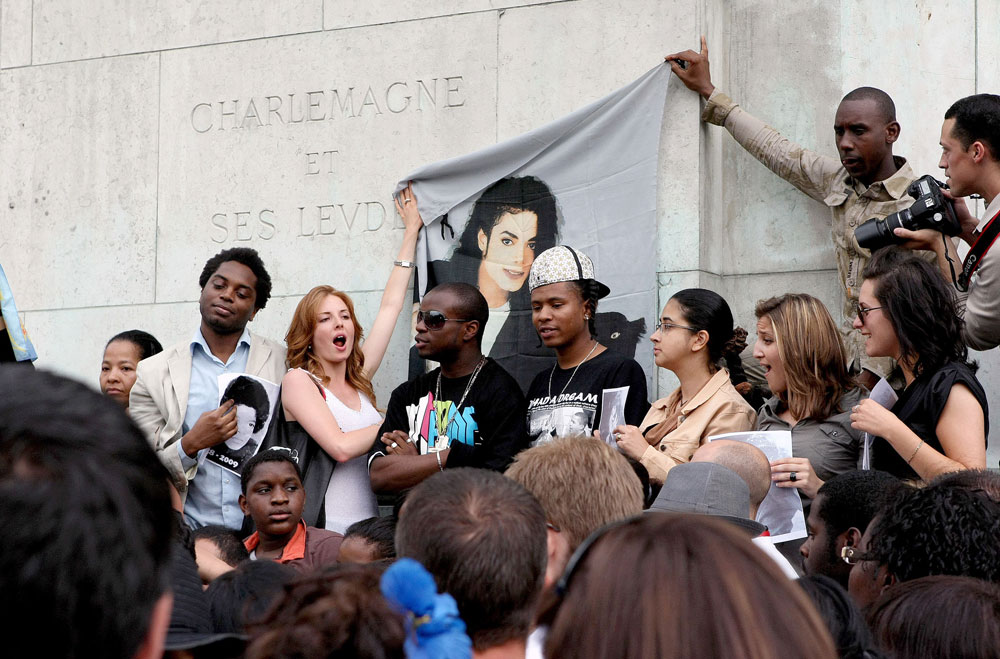 Michael Jackson's body has not yet be interred in its final resting place, but there are plenty of plans underway to cash in on his memory. There's a potential documentary coming, featuring previously unseen footage of his concert rehearsals, a TV special to showcase Jackson's music and choreography, and two tribute concerts planned with his family at O2 arena, where he would have started his comeback show last week. I'm sure everyone just wants to honor Michael in their way, and doesn't care at all about the boatload of cash they stand to make off his tragic life's work.
Sony bids $50 million for Jackson rehearsal footage
Sony Corp.'s movie studio has bid $50 million to acquire the worldwide distribution rights to a film based on rehearsal footage for Michael Jackson's "This Is It" comeback concert series, according to a person familiar with the bid.

The person said Monday that the bid came after several studios, including Paramount, Universal and 20th Century Fox, were shown footage starting early last week. The person spoke on condition of anonymity because the bidding had not been completed. None of the studios would comment on the record.

The winning studio would produce the film with Jackson's concert promoter, AEG Live, and his estate. It would go a long way to helping AEG Live recoup some of the $30 million to $32 million it spent producing the concert before Jackson died June 25.

The bidding was reported earlier by the Los Angeles Times and industry blogger Nikki Finke.

Sony Pictures has a leg up on other bidders because Sony Music distributes Jackson's music and is in a 50-50 partnership with his estate in Sony/ATV Music Publishing. Sony's bid is on par with the cost of making a mid-range budget movie, and is offset by the fact that the Sony group of companies would benefit from the music licensing rights attached to the film…

"This type of a story, if put together right, could be very compelling and draw a very, very wide audience," said Mark Fleischer, an entertainment attorney with Venable LLP and former executive at MGM Studios.
Jackson musical special could be coming
The estate and AEG Live are also negotiating with several television networks and pay-per-view outlets on a TV special that would be a stage show featuring Jackson's music and dancing. It would be directed by "This Is It" director Kenny Ortega.

The selling price being discussed for the rights to show the TV special is also in the tens of millions of dollars.

General Electric Co.'s NBC has been in talks on the TV show, but the concept, air date and cost for the rights has not been finalized, said NBC spokeswoman Rebecca Marks.

"We have no deal for the rights to the Michael Jackson special," Marks said.

The special administrators of Jackson's estate, attorney John Branca and former music executive John McClain, have been moving quickly to secure Jackson's assets and cut deals to capitalize on the surge in interest in the pop star since he died.

Last week, Branca and McClain received signed court papers authorizing them to act on his estate's behalf until another hearing Aug. 3. McClain has been sorting through unreleased Jackson recordings, while Sony Music is interested in releasing a commemorative album. Music sales have soared.
[From AP via Huffington Post]
Meanwhile Jackson's four brothers are planning at least two concerts to "honor" Michael. The first is scheduled for his birthday, August 29, at O2 arena in London.
Brothers plan tribute concerts
If all goes according to plan there will be not one, but two tribute concerts for Michael Jackson at London's O2 Arena this August. The date for the first is Aug. 29, which would have been Jackson's 51st birthday.

"As the schedule stands right now, there will be a second show on Aug. 30," said a source involved with the scheduling.

Jackson's brothers, Jermaine, Jackie, Tito and Marlon, have been involved in "every part of the concerts' planning process" according to the source, and they have good reason to be: they'll be performing at the shows, too. Expect to see the Jackson 4 perform a medley of the Jackson 5's greatest hits.

A plan to do a tribute show was first announced at a meeting of "This is It" tour cast and crew on June 27. At that meeting, tour director Kenny Ortega told the cast and crew that the memorial concert would be "what Jackson would have wanted."

According to the current schedule, rehearsals will take place in Los Angeles the first two weeks of August, and they'll move to London the week before the concerts.
[From MSNBC's The Scoop]
Over the weekend, LaToya Jackson released a tribute song for Michael. I'm sure most of the family, Joe excepted, is broken up about Michael's death and is heartbroken to lose a family member. They sure aren't hesitating to get involved in these probably well-paid tributes, though. It seems like Michael is more of a commodity to his family and business managers in death than he ever was in life. He never did learn to manage his vast wealth or fame, and now that he's passed on others are more than willing to do it for him.
Photos are of fans gathered outside Notre Dame Cathedral in Paris on 6/27/09. Credit: ANG/Fame Pictures