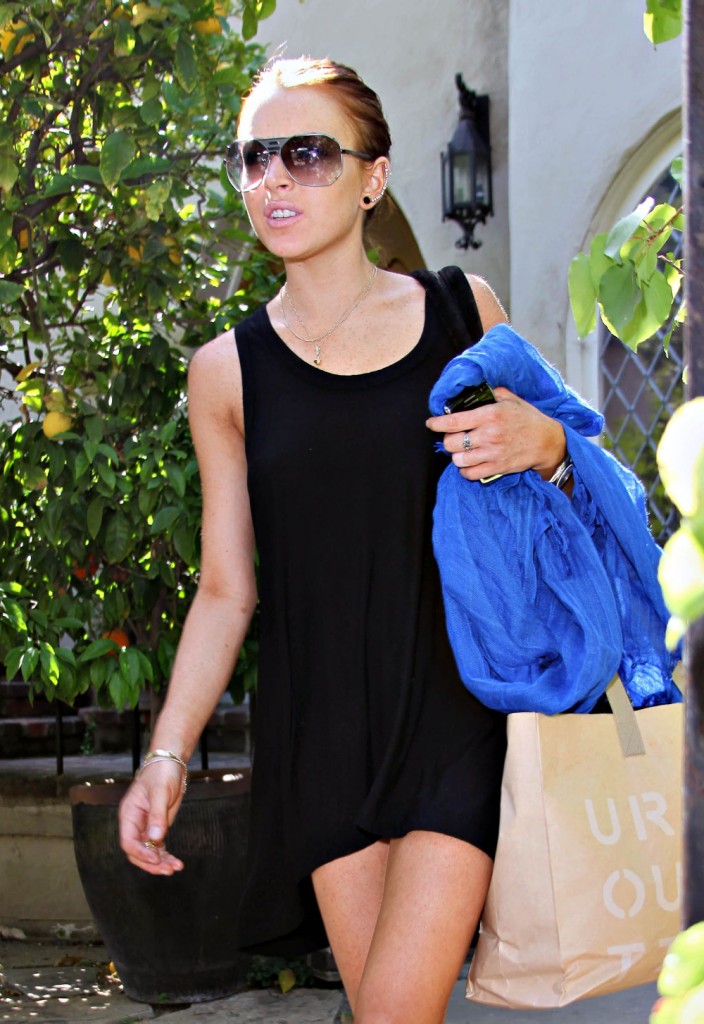 The drama continues between Lindsay Lohan and her maybe off-again girlfriend, Samantha Ronson. Lohan was videotaped showing up at Ronson's house and banging on the door at 6 o'clock in the morning on Sunday. She was eventually let in, and the two had a loud argument that was captured by the paparazzi. On Saturday night Sam was seen going out to dinner with lovely Sopranos star Drea de Matteo. Drea has a one and a half year-old daughter with her fiance, country music singer Shooter Jennings. She just got engaged last month, so it's not like she's a threat to Lindsay at all. Still, Lindsay is said to have been outraged about Sam's dinner date, and was overheard arguing with her about it and possibly throwing stuff.
Although they were spotted lunching happily together just last week, it seems all isn't well in the ongoing saga of Lindsay Lohan and Samantha Ronson.

On Saturday night, Linds headed to Playhouse to watch Sam work the turntables.

But according to a source, the two didn't interact at all.

On Sunday night, Sam went to sushi with Drea de Matteo at Nobu in Malibu.

Despite telling photographers that Drea was one of her "best friends," this dinner date apparently didn't go over well with Lindsay. She made a little trip to Sam's house around 6 a.m. to turn up the drama…

X17 has video of L.L. knocking on Sam's door. Once she's finally let in, you can hear the two of them yelling at each other.
But Linds ended up spending the night, so maybe they kissed and made up?
[From E! Online]
Lindsay and Sam were spotted out at lunch last week, on Thursday, but the next morning Lindsay was waiting on Sam's doorstep for two hours. This same scenario has played out many times, with Lindsay showing up in the early morning begging to be let in. Sam probably feels sorry for Lindsay and lets her in because she doesn't want the photographers to see her freaking out outside. She needs to cut Lindsay off, though, and get out of this dysfunctional relationship once and for all. It's variable reinforcement to let Lindsay come in and continue to see her, and is only postponing the inevitable. Maybe Sam is worried that Linds will really lose it if she cuts off all contact with her. She also probably still loves her and feels conflicted about making a clean break.
Here's the video. The photographer asked Lindsay if she's been fighting all night and if she's going to stalk Samantha (I couldn't understand that part at first) and she calls him "disgusting."

Lindsay is shown later that morning outside Sam's house on 7/20/09. Credit: Fame Pictures