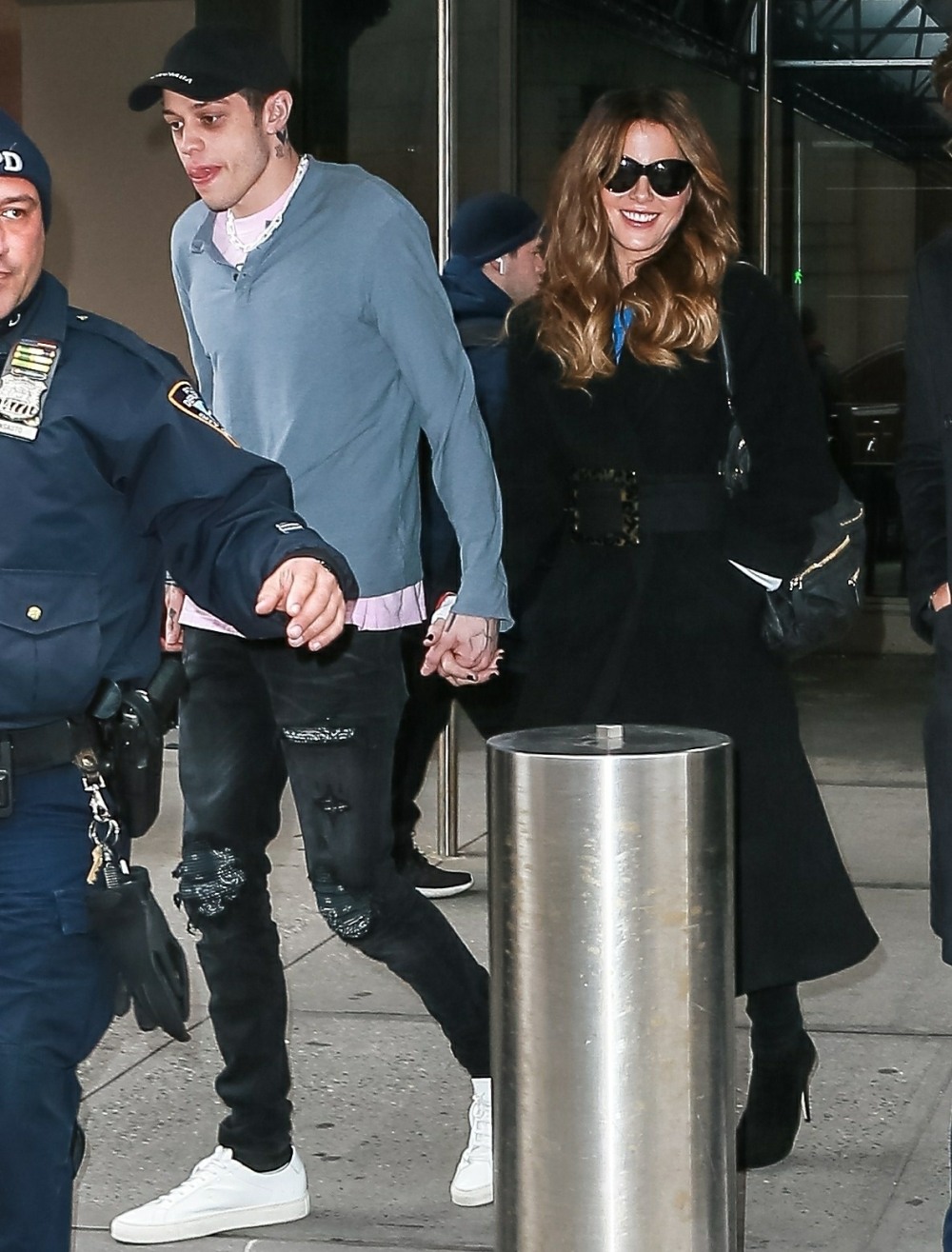 In this week's Gossip with Celebitchy podcast, CB and I debated whether we (or anyone else) really cared about Kate Beckinsale and Pete Davidson as a couple. Pete and Kate have been happening since the Golden Globes, and they've been sighted and photographed together in public on two occasions, the last one being their trip to Madison Square Garden last week to watch a Rangers game. They made out in full view of the cameras and my stomach turned. CB pointed out that Kate needs some attention right now because she has an Amazon series, and thus the "flaunting" of her relationship with younger-man Pete. I still just have a strong aversion to this, probably because I've never been into Pete in any way, shape or form. I suspect some women – Kate, Ariana – see Pete as a project, or as a troubled guy whom they can take care of or save in some way. I've never been that kind of woman. Anyway, in case there are people who care about analyzing this relationship, the New York Post had a crazy-long write up about what's happening. You can read the full piece here. Some highlights:
Is this a real romance? According to one of Davidson's comedy pals, this latest ­unexpected hookup is, at least in part, "a 'f–k you' to Ariana." However sources close to the comic said, despite the age difference, "This is a real romance. They are really into each other. They've been trying to stay low key, but they can't go anywhere without getting spotted."

His friends are supportive: "They saw him so down after Ariana," said a second comedy insider. "His friends were afraid for his mental health….All [Davidson's friends] want him to do is be happy. And right now, he definitely is."

Kate is happy too: "Kate loves the attention — both from a younger guy and the media," said a Hollywood executive with knowledge of the situation. "She hasn't been in the press this much in years."

Pete was cruising for a girlfriend when they met: "Pete was definitely cruising," added the friend, who was also there. "He can't go too long without a girlfriend — he's that co-dependent." Almost immediately, sources said, the comedian began chatting up Beckinsale on a patio. "They were being very flirty together, they were sitting very close on the outside patio seating," a source told Page Six. "Kate had her hand on his knee, and she kept laughing at all his jokes." After about an hour, the two left together. "He couldn't believe his luck!" said the comedy pal of Davidson. "He never thought it would turn into anything [except] maybe a great make-out session."

Kate loves to party & she loves attention: "She's a regular Benjamin Button," said one Hollywood friend of Beckinsale's seemingly ageless beauty and vitality. "When Victoria and David Beckham [lived in Los Angeles], Kate and Len and Eva [Longoria] and Tony [Parker] hit the town with them every night. Kate started to love dressing up and morphed into a total bombshell. She loved the attention. And if you look at her movies, she started in art films but morphed into an action figure with the 'Underworld' ­[series]. She's lightened up now and having a blast."

Pete's friends worry that he's in for another public fall: "They're afraid the lack of privacy might blow up in his face," said a producer in the know. "He kisses first and asks questions later. But that's Pete." And Beckinsale insiders say that the actress, now starring on the Amazon show "The Widow," doesn't put up with nonsense. "Right now, Kate wants a laugh," said the Hollywood executive. "But she's a very together woman and totally in charge of her life. If Pete gets too dependent or starts to spiral down, she won't stick around."
"If Pete gets too dependent or starts to spiral down, she won't stick around…" True or false? I think it's probably true. Kate doesn't see this as a love match. She sees it as something fun and different, a relationship which gets her some headlines and helps her promote her show. But yeah, Pete is codependent and troubled and I'm not sure he understands how Kate is not really in it for the long haul, in sickness and in health. That being said, where did this "poor Pete is codependent and he can't ever be alone" narrative come from? It might be true, but the way it's being framed is so odd. If we were talking about a woman, the vibe would be so different.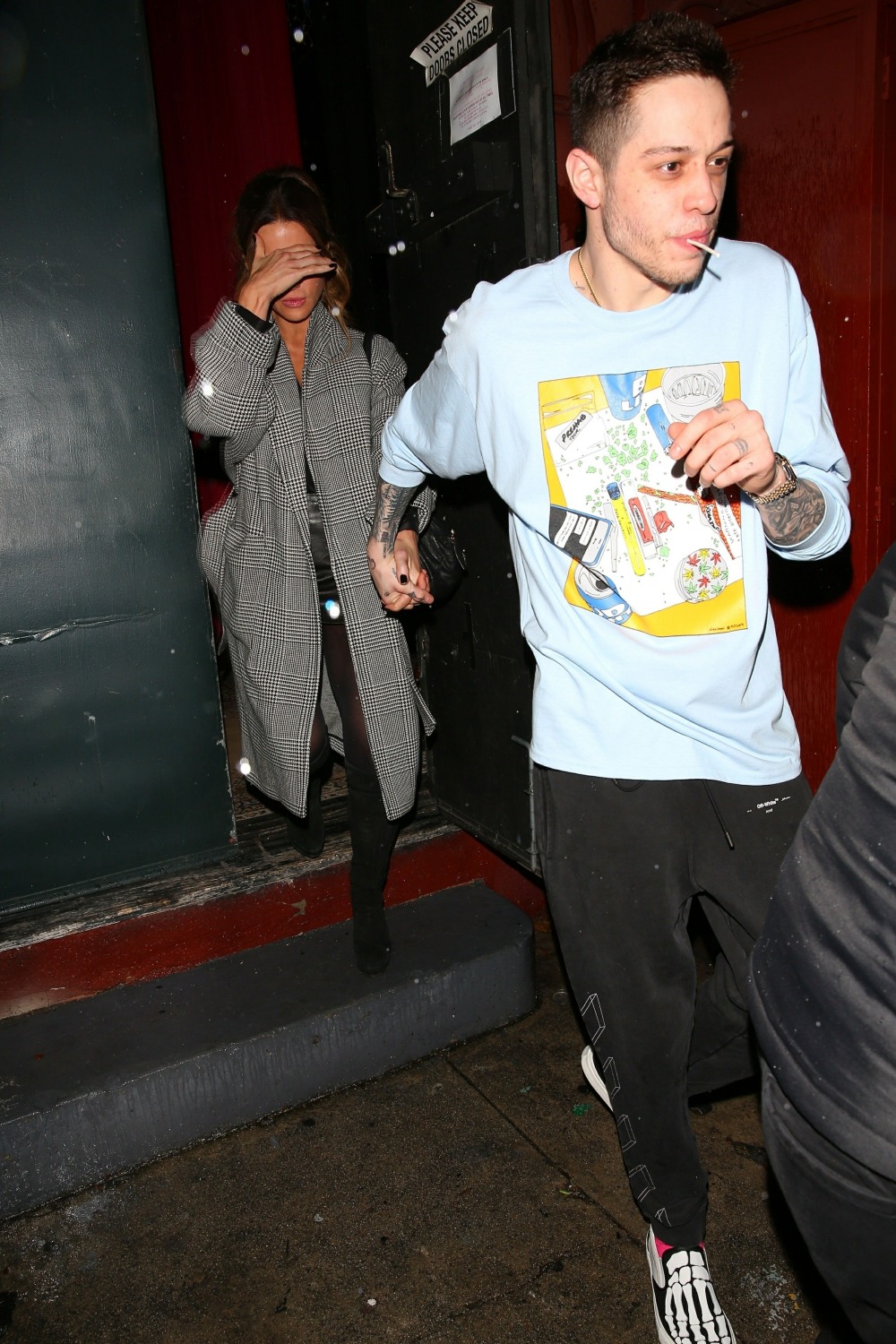 Photos courtesy of Backgrid.