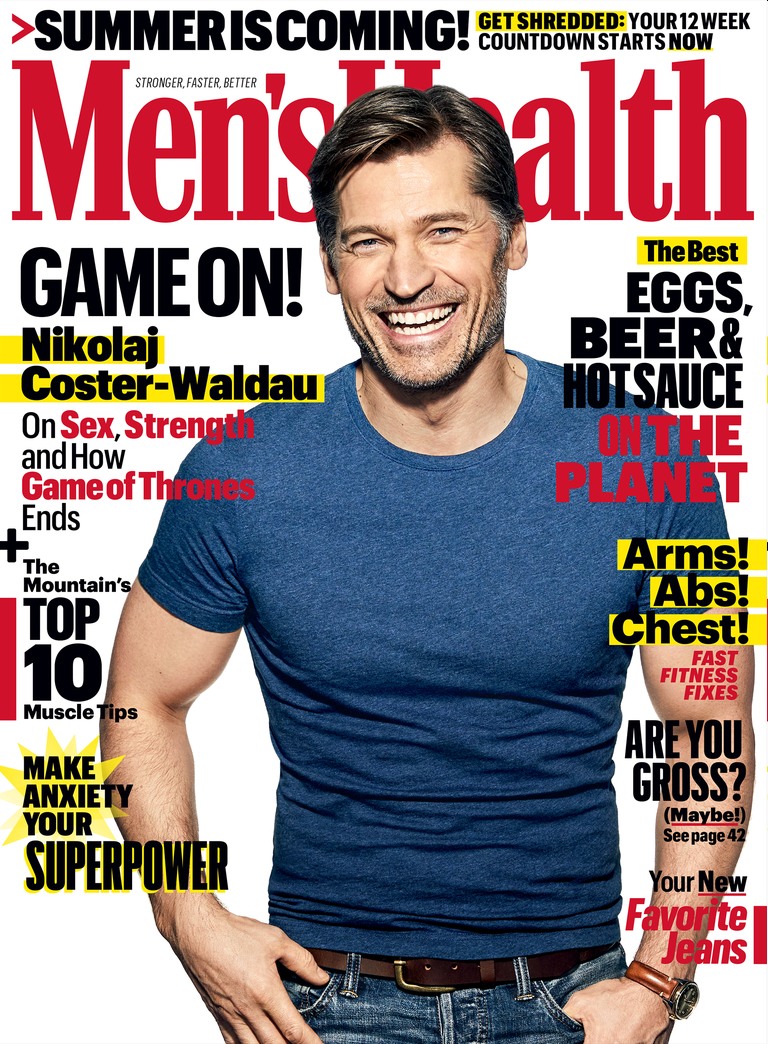 Throughout the past decade of Game of Thrones, it sometimes feels like Nikolaj Coster-Waldau could have gotten more mileage out of the hit show. He was arguably a big part of it, and he was one of the bigger "names" when the show was first cast. But it feels like Nikolaj was always pretty happy to let Kit Harington and Maisie Williams and Peter Dinklage get all the long-term acclaim. Nikolaj perhaps always saw himself as one (important) part of the larger ensemble. Perhaps it's because he's a reserved Danish man, and not a pushy American or whatever. In any case, I respect his low-key vibe. Nikolaj covers the latest issue of Men's Health to promote the last season of Game of Thrones. He can't say anything about what happens, so he ends up chatting about why he likes Jaime Lannister and how Jaime grows his hand back (lol). Some highlights:
He recently made his first trip to a marijuana shop: "It's like you are walking into an Apple store, and they just sell weed. It used to be you'd do it in a parking lot, right?"

The end of Game of Thrones: He knows how it ends. He thinks the way it ends is fantastic. His last day on the Thrones set was a beautiful and emotional one. "I think I got some dust in my eye," he says. When I ask him how the after-party was, all he'll give up is that there were a few of them, there were a lot of people there, and they were—he takes time to choose this word carefully, as if the wrong one would give something away—"fun." Maybe the emotional component of this thing being over hasn't hit him yet. Maybe it never will; he doesn't know. "Maybe this fall, when we're not going back to Belfast, that's when you go, Oh, I guess it really is over."

His first role was a massive hit, the 1994 Danish thriller Nightwatch: "I had this naive belief that if you're the lead in a movie that's that successful, the phone's gonna be ringing off the hook, and nothing really happened. I was like, Sh-t. But I did learn one thing, about being known for one part—and it's gonna be interesting to see how the younger actors on Thrones are gonna navigate this—because for a good five, ten years in Denmark, every time I did anything, I was the guy from Nightwatch. As a young actor, it drove me crazy—like, Don't put me in this box. I'm not the Nightwatchman. And of course that's gonna happen with Game of Thrones. This whole concept of fame, it's a completely empty shell made up of other outside forces. It has nothing to do with you. It will never have anything to do with you. You will just be there to fill some narrative that has nothing to do with you, and unless you keep that in mind, it's going to drive you crazy."

What the final season has in store for Jaime: "I can't tell you anything about that. He grows out his arm. His arm grows back. Yes. It grows back, but not in the way you think. It's a claw. It comes out as a claw. No—it's a paw."

Why he cares about the Cersei-Jaime love story: "I think most people have at least been attracted to someone you shouldn't be. Not your sister, but someone you really shouldn't fall in love with. Like your best friend's girlfriend. It's one of the few true love stories in Game of Thrones—Jaime is dedicated to this woman. He has not had a lot of success and joy in his life. Everything he touches breaks."

On people f–king up & the ability to forgive: "It's very rare that you meet someone who completely, 100 percent walks the walk and talks the talk. Everyone has opinions about everything, but very few can actually live up to the ideals that they bestow on others. Right now we're going through a time when people f–k [up]—and I'm not talking about criminal behavior, just people being idiots. There's no forgiveness. You crossed the line, buddy….For me, anyway, maybe it's because I'm old and I'm insensitive, but I also think that there is a point where you have to—being offended is also a choice. You can choose not to be offended. Because if we don't, if we constantly have to censor each other and ourselves, then that's a scary future."
The last part, where he talks about Cancel Culture and forgiveness… I mean, I get tired of white dudes banging this drum, the "everybody is so offended these days, why can't I say whatever racist/homophobic/sexist thought that crosses my mind?" You can totally say whatever offensive sh-t you want to say. Just as other people can say "dude, you're a racist/sexist dinosaur." That being said, I dunno, maybe he's just making a more general point about forgiveness and comebacks and the longer journey of life. Maybe he's a Danish philosopher. With a paw-hand.
Also: I want him to die in Brienne's arms is that too much to ask??
Cover courtesy of Men's Health.