Over the weekend, most of the cast of Clueless reunited at the Chicago Comic & Entertainment Expo (C2E2). Alicia Silverstone, Breckin Meyer, Donald Faison and Paul Rudd came together to chat about the film 24 years after its release. Cast members not there were Brittany Murphy, who sadly passed away 10 years ago, and outspoken conservative Fox-ette, Stacey Dash, whose invitation was probably 'accidentally' dropped in the incinerator.
The cast looks good but, of course, positively ageless Paul Rudd (49) looks almost the same as he did when he filmed the movie. So someone attending the panel asked, how?! Rudd responded and, as we all predicted, its dark magic:
The teen comedy "Clueless," which turns 25 next year, has aged well. If you were anywhere near McCormick Place Saturday afternoon, particularly if you were attending the annual C2E2 comic con, you know exactly how well. A sea of fans, more than a few dressed in approximations of the memorable, bright plaid skirt suits worn by Alicia Silverstone and Stacey Dash in the 1995 movie, filled a 2,800-seat hall for a cast reunion.

And as iffy as reunions get, this one was charming, a sweet smile of a catch-up, warmer than the typical comic-con panel held in an impersonal ballroom, not so much contrived but rather, a genuine moment among friends who worked together.

Naturally, age came up.

Silverstone, in a denim jumpsuit, looked less lighthearted than she did at 17. Faison looked a touch larger. Meyer looked a bit grayer. But Rudd — at his first comic con, he said — looked almost exactly the same at 49, like America's boyfriend. He said: "You know how in 'Dazed and Confused' Matthew McConaughey looks older than the rest?" When "Clueless" was filmed, he was older than most of the young cast. Today, he looks younger than them. Asked his secret, he said: "I'm 80 years old on the inside." He pointed to his chest: "In here, pure darkness — and a little moisturizer."
I absolutely love that Rudd has made four Marvel films (three released, one coming up) and yet, his first comic con appearance is for Clueless, (even if he did get a bunch of Ant Man and Endgame questions). As for his refusal to age, he has to hear that all the time and with the intonation that it's freaky as hell. The rest of the cast look great but they just look like humans who are a few decades older while Rudd's out here admitting to not having a heartbeat.
I've put the video of the whole panel at the bottom. It is obvious these guys get along really well, they're really playful with each other, which makes it fun to watch. They told a lot of stories about hanging out together during the film (most of which Alicia had forgotten). So, it was especially touching when an audience member asked about Brittany Murphy. The question comes about the 53:54 mark and apparently the lady who asked the question is cos playing as Tai, Brittany's character, so Meyers asked her to step forward because he "want(s) to see Brit's outfit." Each of the four is obviously emotional but they stay positive. It was a nice moment.
There is a really funny story at the 15:13 mark in which Faison talks about his 21st birthday and the cast taking him out to a bar. They ran into William Zabka, who played Johnny in The Karate Kid. The reason it's funny is because Rudd jumped in and said he'd ran into Zabka the day before at C2E2 and they remembered hanging out but couldn't remember why. He gets giddy as he pieces it together:
Oh, my heart! Cher and Josh 4ever 😉😍 #Clueless pic.twitter.com/6pvVpWHnMY

— Mari🌈LoveWins🐚🗑️ (@Cadi_79_) March 24, 2019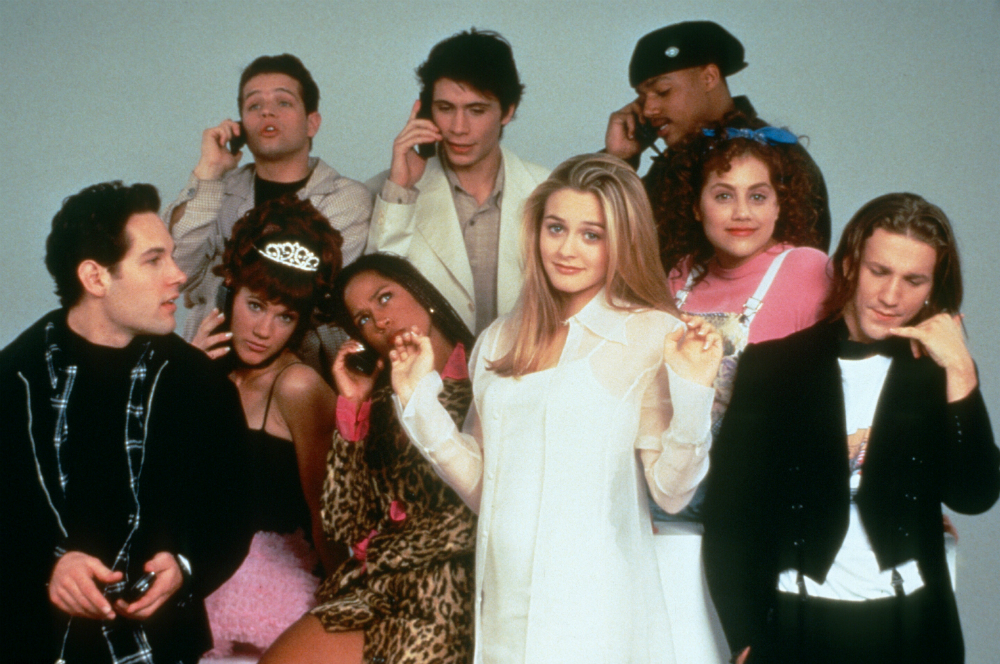 Photo credit: WENN, Twitter and Instagram