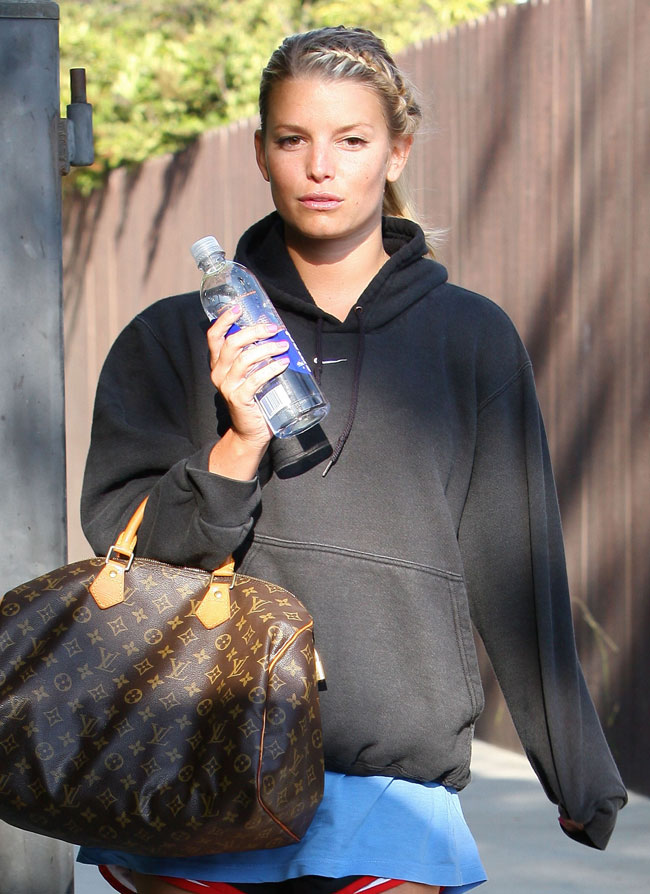 As I documented before, my feelings for Jessica Simpson walk that fine line between sympathy and outright pity. The girl is having a rough time after her now excessively-documented split with Tony Romo. Not only did Tony dump her the night before her birthday, he was hooking up with women on Jessica's birthday. In the days since their split, Jessica has mostly been keeping a low profile. She cancelled her Ken-and-Barbie birthday party, and she's been staying at her parents' house. Over the weekend, she did have a "girls night" with her ladies, and she tweeted all about it, writing "Love my ladies!!! Wish I could be with them everyday of my life. Laughter is wonderful." She also tweeted about watching Hope Floats, that crummy, depressing Sandra Bullock movie. I swear, if Jessica tweets about eating Ben & Jerry's ice cream, she will officially need to get herself a muu-muu and some cats. She's just ticking stuff off some kind of breakup checklist at this point.
Now there's word coming from People that even Jessica's family is "worried" about her. They "feel bad" for her because she doesn't take breakups so well. Poor Jess:
Jessica Simpson's recent estrogen-filled weekend hanging out with her girlfriends and watching chick flicks with her mom was a welcome bright spot in an otherwise difficult week for the newly single singer.

Since Tony Romo broke up with Simpson on the eve of her 29th birthday, "She's a little depressed," says a Simpson family friend.

"She takes breakups really badly," adds another source close to Simpson. "She has a hard time letting go."

The singer-actress has had a rocky romantic record, which includes her divorce from Nick Lachey and her on-again, off-again relationship with John Mayer. But Romo seemed an ideal fit for Simpson, who last year called the Dallas Cowboys quarterback "the love of my life."

So far, Simpson has been coping with the split by living a low-key life and seeking solace with her parents, who "encourage her to go out and have a good time, like she did this week," says the Simpson family friend.

But when she's out in public, "she feels she's being judged by the world and opts to hide out at home," says the friend. "The family feels bad for Jessica. They worry for her a lot."

That wasn't always the case. "The family used to have such faith in [Jessica] and they worried about Ashlee," says the family friend. "Now they are fully confident in Ashlee's choices and they worry most of their days about Jessica. It seems she just can't catch a break."
[From People]
I mostly feel like "Leave this girl alone!" It hasn't been that long, and Jessica is entitled to wallow in breakup sadness for a little while. She really loved Tony – and he turned out to be an epic douche. That being said, I really think Jessica is the kind of girl/woman who derives all of her confidence and self-worth from her relationships. When she's not with someone, she goes into a tailspin of identity crisis and depression. When she has a boyfriend, she knows who she is, and she's happy. My girl needs some therapy, I think.
Jessica Simpson is shown outside her trainer's house on 7/21/09. Credit: MIV/Fame Pictures