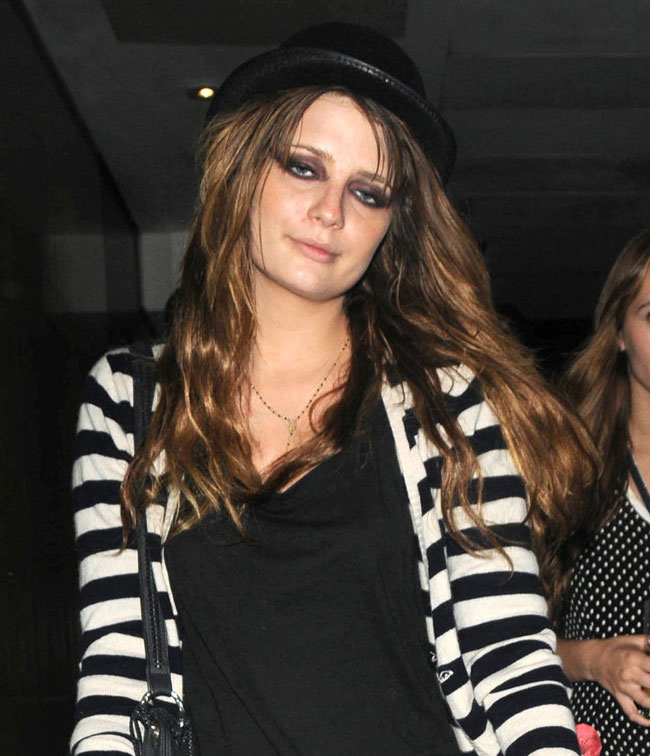 Radar Online points us to this interview with Mischa Barton, taken on June 27 when she opened the Harrod's Summer Sale in London. Her voice is very hoarse and her eyes are droopy. She looks like she's on something and out of it, which is sad because the answers she gives to the fashion questions are kind of impressive. Mischa always struck me as a smart, aware person and I really hate to see her like this. She slips into a British accent occasionally, but she lived in England until she was five and has parents who are English and Irish so that's understandable. It's her kind of sleepy, slurry appearance that makes me feel for Mischa and hope she gets help. There's also another interview with Barton taken that day in which she's filmed from father away and seems more coherent.
People Magazine has been running stories about Barton nonstop since she was hospitalized on a psychiatric hold. They're saying she's a party girl who didn't know her limits, that she had a falling out with close friends over her drug use, and that she has body image issues made worse by the media's focus on her weight.
She has big self-esteem issues. … She hates her legs," says a source close to Barton. "She isn't comfortable with her body. It's been a big source of stress and self-hate."

Speculation about 23-year-old actress's weight and nasty comments from tabloids and blogs also fueled insecurity.

"She had a big problem with those photos of her cellulite. … She didn't like it," says another source. "That just was something that contributed to her spiraling but she didn't do much to fix it because of her partying."

While another friend tells PEOPLE the photos upset the former O.C. star – "[She was] more pissed off than hurt and she complained a lot about that" – she didn't let them get "to her too much. … I never saw her diet."

But when photos showed a thinner Barton, she took to her blog and spoke out about the "crazy press," telling fans that she's "happier and healthier than ever so there's no need to worry about me."
[From People]
Some people say they saw this coming, but I wouldn't have guessed that Barton had any issues other than smoking up and drinking too much like a lot of young people. She comes across as articulate and self aware without being self absorbed, and that's rare for young women in that industry. I've thought that friends of mine were fine, too, and didn't find out that they were really hurting until things were out of control. Barton is just 23 and she can get her life back on track if she's serious about her sobriety. As far as we know, she's still in the hospital being treated. Maybe this is the wake up call she needed. Mischa has her whole life ahead of her and I hate to see the media trash her for this. She's only human, and she has a real chance to turn things around.
Mischa Barton is shown on 6/30/09. Credit: WENN.com