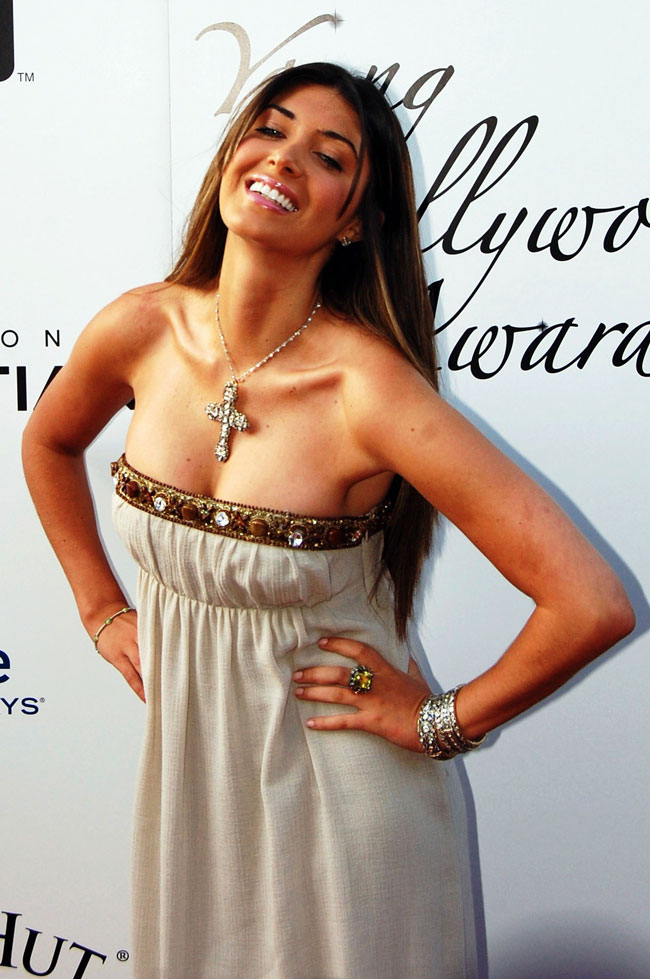 I haven't seen Bruno yet, but I think I've got one of the situations down: Bruno "interviews" random semi-famous people and gets them to say really embarrassing stuff. Brittny Gastineau was one of those random semi-famous people! Brittny is best known for… uh… that show "Gastineau Girls" and …uh… yeah. That's about it. So Brittny is in Bruno, participating in one of the embarrassing interviews. Bruno shows Brittny photos of celebrity babies and asks her for a designation of "keep" or "abort". Sounds hilarious…? When Bruno got to a photo of Jamie Lynn Spears' baby Maddie. Brittny declared Maddie to be an "abort". And now Brittny has taken her "just joking" defense to Page Six:
BRITTNY Gastineau doesn't really think Jamie Lynn Spears should have had an abortion instead of giving birth to now 1-year-old daughter Maddie Briann.

One scene in "Bruno" features Sacha Baron Cohen (as a flamboyant Austrian fashion reporter) showing photos of celebrity babies, and asking the reality starlet if she would "keep" or "abort" them. When shown a sonogram of what Bruno claims was Spears' unborn fetus, Gastineau cheerfully decrees, "Abort it!"

"It's a joke," Gastineau assured us. "It's crazy how serious some people can get."

She said, "The whole time I was talking in this high, jokey voice, and I was just kidding along with it."

"Everyone who follows me on Twitter has said that they know I was joking. I think [Cohen] is one of the funniest people alive, so when I got there, I decided just to spoof myself and be a dumb idiot."

Gastineau admits that she didn't realize Cohen was going to interview her before she arrived. "I was approached through a manager of mine. 'Gastineau Girls' was aired in 54 countries, and I thought I was doing a promotional interview for a German TV show," said the daughter of legendary Jets lineman Mark Gastineau.

"When I got there . . . I knew something was up," she recalled. "They wouldn't let my makeup artist come in . . . Then, when I saw him, I was like, 'Oh, my God, OK.' Because I recognized the character but I couldn't place it. I just went along with it."

As for the rest of the film, Gastineau told us, "I overall thought it was great. I laughed my ass off — I was crying I laughed so hard."

Although several people who appeared in Cohen's first movie, "Borat," sued claiming he had misrepresented himself and ruined their lives by humiliating them and depicting them as bigots, only one has sued over "Bruno," claiming emotional distress.
[From Page Six]
Sacha Baron Cohen gets so many people to say crazy stuff, it's kind of no longer shocking. Considering this interview from Page Six is the first I've heard of the Brittny Gastineau scene, I suspect this is far from the most shocking content in the film. I also suspect that it's one of those situations D-List celebrities find themselves in – they do something weird or gross or shocking, and when nobody notices or cares, they talk about it in a half-assed apology or explanation, trying to get some kind of press out of it. Meh. Abort.
Brittny Gastineau is shown on 6/6/09 and 6/27/09. Credit: WENN.com