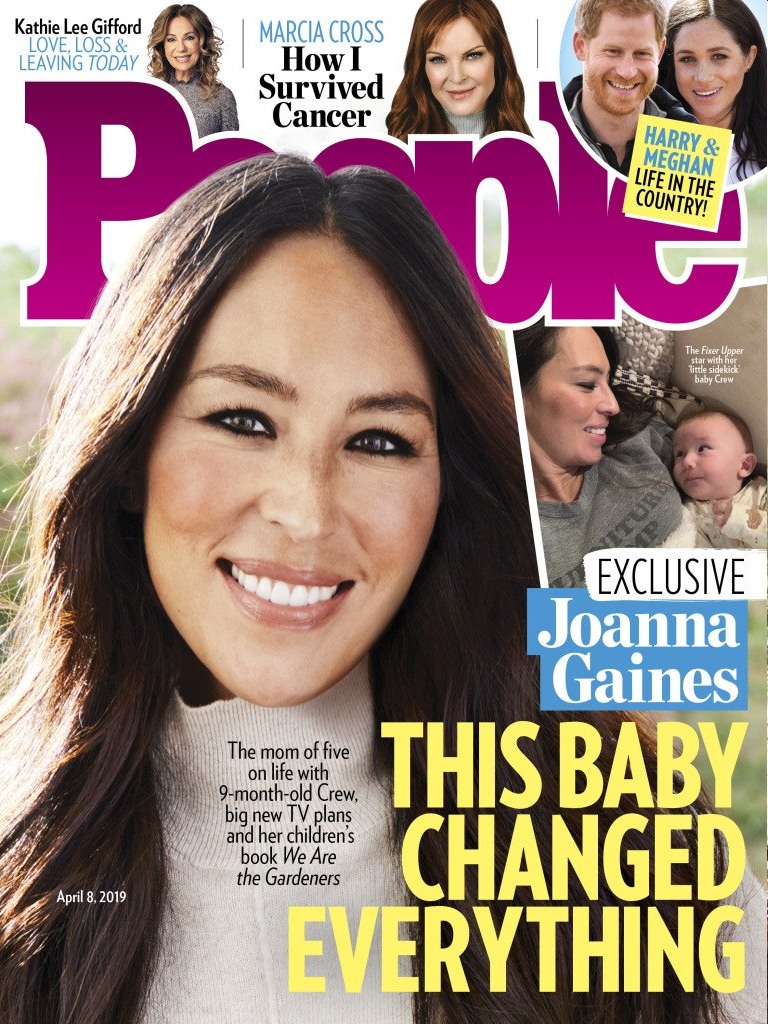 Don't get me wrong, I understand that Joanna Gaines is super-popular with People Magazine's core readership demographic. The Gaines family are happy, uncontroversial Evangelicals who home school their children but aren't super-preachy about much of anything. They quit their wildly popular HGTV show Fixer Upper and they're already working on other things, like a whole new TV network called The Magnolia Network. Joanna is also on the cover of this week's People Magazine to promote her latest children's book, We Are the Gardeners. So, there are reasons for her to cover People Mag. I just think it's weaksauce for People to not devote any cover stories to Lori Loughlin, Felicity Huffman or even the Duchess of Sussex's upcoming birth. But whatever, enjoy some comments from Joanna Gaines:
Giving birth to her son Crew at the age of 40: "I kid with people, 'If you ever want to feel young again, have a baby at 40.' It's brought this whole new thing for me where I'm a lot more laid-back. People joke that I'm the 'Fun Jo' now."

The fifth child has given her spontaneity: "I realized there has to be spontaneity, and schedules kind of go out the door. It's like, 'Hey, if I don't get to it, it's fine.' I've just relaxed so much more, and it's been fun for me."

Crew goes everywhere with mama: "He's my little sidekick. He comes to work with me every day and goes to all my meetings. There's literally a sign-up sheet because everyone wants to hold him."

Whether she'll have more babies: "Heck if I know. I thought I was done, and then we had Crew. But [husband Chip Gaines is] always joking that he wants him to have a little sister. No plans for another baby but then again, we've never been planners anyway."
I think Chip is pretty much down for anything that Joanna wants. That's their dynamic – if she said she didn't want any more kids, he would be fine with that. If she said she wanted five more, he would do that too. As for this: "If you ever want to feel young again, have a baby at 40…" I get that she's saying that jokingly and all, but good lord, I'm close to her age and I want no part of any baby. I know my old ass would not be able to keep up with any of that.
Cover courtesy of People, photos courtesy of Getty and Instagram.