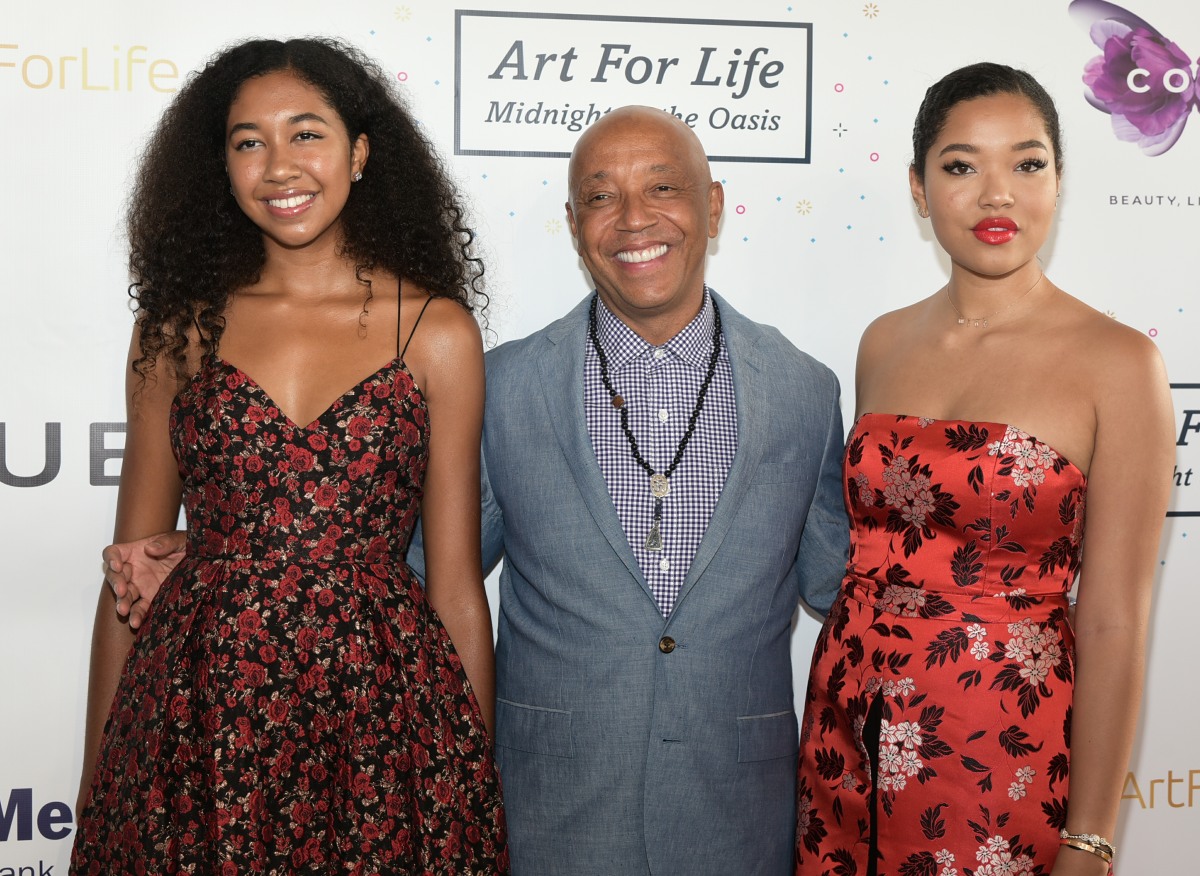 Lord, I did not want to cover this story. It's not that I didn't want to talk about the 16-year-old daughter of celebrities getting into Harvard, it's that this child's father is Russell Simmons. Russell Simmons is a rapist. It's not Aoki Lee Simmons' fault, and she shouldn't have to pay for her father's crimes. But that's why I didn't even want to talk about this story, because the whole thing is Russell Simmons-adjacent. Anyway, in the wake of Operation Varsity Blues and a renewed interest in how the rich and powerful get their children into college, there are some seemingly nice stories. This is one of those stories – a bright young woman got into Harvard. On her own merit, says mom Kimora Lee.
Kimora Lee Simmons' daughter is going to Harvard! At only 16, Aoki Lee — who Kimora, 43, parents with ex-husband Russell Simmons — has been accepted into the illustrious institution.

Kimora announced the exciting news on Instagram, sharing a video of her son Kenzo Lee reading Aoki's admissions letter out loud.

"Yaaaayyyyy @aokileesimmons!! She's on her way to #Harvard!! We are so proud of YOU!! Such hard work and only 16! You did it! It took years of super dedication and lots of tears! But HERE YOU ARE!!! GO GIRL!!!" Kimora captioned the clip, which shows Aoki flashing a wide smile as she takes in the news. "Enjoy the journey! We are excited to see the great things you will do! Sorry I'm one of those SUPERLOUD MAMAS! She also got into Dartmouth, Vassar, Barnard etc! Woooo!"

"I'm still crying and beaming," Kimora says in another video before turning the camera to show Aoki, who can be seen jumping for joy. "You don't understand this has been a ride for me. I'm two out of two kids in college. I have two boys left, I don't know if I can do it… Quite honestly she really did it on her own merit and we're so really proud."

"Yoki can't row or anything like that. There was really no hope for us in that area. I'm just so proud that you did it on your own… Praise the Lord," Kimora says in the video, taking a jab at the recent college admissions scandal allegedly involving Lori Loughlin and Felicity Huffman.
Aoki got into Harvard, Vassar, Dartmouth and Barnard? Damn. She must be smart as hell. That being said, of course Harvard, Vassar, Dartmouth and Barnard looked at her name and her parents' names and knew that A) Aoki would be able to pay tuition upfront, with no financial aid and B) her family would also donate heavily throughout her college career and beyond. She didn't get into college because of her parents' legal or criminal behavior, but let's be real – the reality of Aoki's parentage definitely affected the colleges' decisions.
Photos courtesy of WENN.