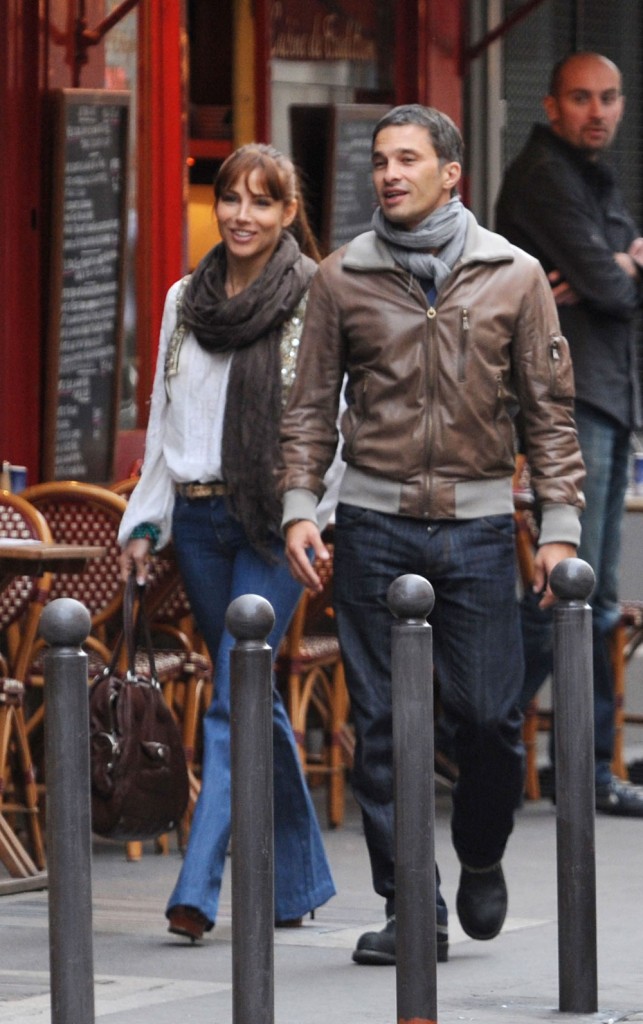 And they said it wouldn't last! Well, I said it wouldn't last. Back in May, we reported that Adrien Brody's Spanish girlfriend Elsa Pataky unceremoniously dumped him and headed off to be lovers with Olivier Martinez not two days later. International scandal! At the time, I gave it two months before Olivier tried (and succeeded) in seducing Elsa's mother, because, hey, that just seems to be the kind of guy Olivier is.
I was wrong! Elsa and Olivier are still going strong. They were photographed together recently, going on some kind of "date" in Paris. That's what the photo agency claims, but I spy Olivier's mangy dog in a couple of these pics, so the "date" wasn't that romantic. Most likely they were just going for a post-coital dog-walking.
I kind of hate Elsa for breaking up with Adrien "I Bought A Castle For My Lady" Brody. That being said, I would probably enjoy her life a lot. To leave Adrien for Olivier? That's a pretty sweet choice. And I love her clothes. I want those jeans and that purse so, so badly. The dog doesn't look too impressed with the ensemble though, does he?
Other than that, all three people in this love triangle don't seem to have a lot going on. Olivier and Elsa are apparently too busy shagging all over Parisian dog parks to actually have any films coming out. I did find out something interesting about Adrien though – he recently singed on for a voice role in The Fantastic Mr. Fox. It's an animated film based on Ronald Dahl's book. Adrien will be joining George Clooney, Bill Murray, Owen Wilson and Meryl Streep in the voice work. Adrien might be working out his grief in the soundproof room… or maybe he just sits around his castle crying. Sigh. Adrien, call me!
Elsa Pataky and Olivier Martinez are shown out in Paris on 7/10/09. Credit: bauergriffinonline.com