As you've probably already seen, the Duke and Duchess of Sussex are posting a lot to their new Instagram page and it hasn't even been in existence for a full week. Their communications team has already posted timely photos of Harry's events, with details about his history of support for various charities and foundations. The Sussexes also thanked their fans for donating to charity as part of the #GlobalSussexBabyShower, and they've been highlighting charities in individual Instagram posts too. They're quite clearly using their IG page as a de facto blog to inform, educate and highlight their interests. It's not the worst thing.
In addition to setting up their communications office, Meghan and Harry are obviously finalizing the birth plan. For months, we've heard that Meghan has been interested in a more holistic, less antiseptic-hospital birth. She was reportedly even curious about home births and all of that. Well, I think everyone is in agreement that she'll be giving birth in a hospital. But she reportedly doesn't want to be surrounded by the Queen's doctors:
The Duchess of Sussex has delivered an astonishing snub to the Queen's highly-regarded doctors, insisting she doesn't want 'the men in suits' to oversee the birth of her first child. The Mail on Sunday can reveal that, in a significant break with Royal tradition, 37-year-old Meghan has appointed her own delivery team, led by an unnamed female doctor.

Royal Household gynaecologists Alan Farthing and Guy Thorpe-Beeston – who is a specialist in high-risk births – attended at the arrival of all three of the Duke and Duchess of Cambridge's children. They are among the best in the world but neither has been given the leading role in Meghan's care. And she has politely declined their services as lead physicians for the birth. In keeping with protocol, the Queen's doctors cannot be excluded completely. There will be some role for them, and should something go wrong – as it did with the Countess of Wessex – the Queen's doctors would step in and take over.

One source said: 'Meghan said she doesn't want the men in suits. She was adamant that she wanted her own people. It did leave a few of us a little baffled.' Another said: 'It is slightly surprising. These people [the Queen's doctors] are the best of the best and when it comes down to it, their role would actually be very limited in the birth itself, assuming all goes to plan.'

Sources close to the Duchess stressed the 'personal' nature of her decision, with one insider saying: 'Above all, this is her birth, her baby, and she must do whatever feels right for her. How could anyone judge her for that?'

There is concern however that Meghan's choice will viewed by some as unnecessarily extravagant. The Queen's physicians do not charge a fee, yet taking on a new team of specialists will cost tens of thousands. A source explained: 'Working for the Royal Household is seen as an honour and attracts other high-profile fee-paying patients.'

Sources close to the Duchess insisted last night that her preference has not caused any offence. One said: 'No one has thought anything of it because it really is ever so personal.'
Imagine a woman wanting to… choose her own doctors and wanting a lady doctor to deliver her baby? *clutches pearls* What kills me is that the Keen folks are so insistent on this idea that Meghan is a "minor royal" and "no one cares" about her and what she does. So, by that logic, her birth plan doesn't matter and it's not important to the line of succession. "Future Queen" Kate had to give birth a certain way, with certain Queen-approved doctors, because that's what happens when you're giving birth to the heirs. It's been made clear (repeatedly) that Meghan and Kate are not in the same position, therefore it should be totally fine that Meghan is doing something different.
Also: "unnecessarily extravagant" – because she doesn't want to be forced to take "freebies" from doctors who will use her name to price-gouge other patients because "oooh, I wanna use the same doctors as Kate & Meg!" Once again, Meghan is getting sh-t for rejecting the traditional – and shady – bargains that royals make.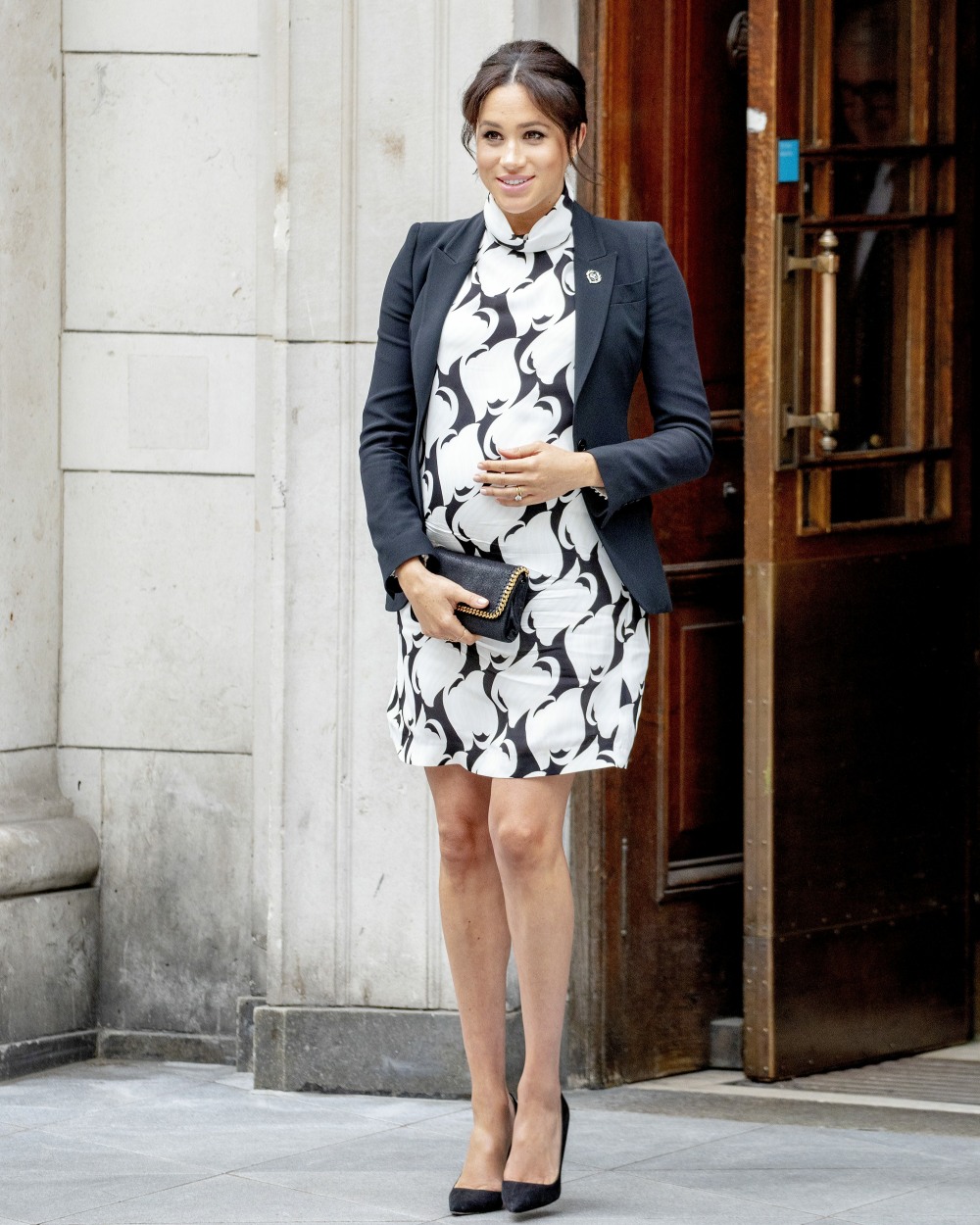 Photos courtesy of Avalon Red, WENN.