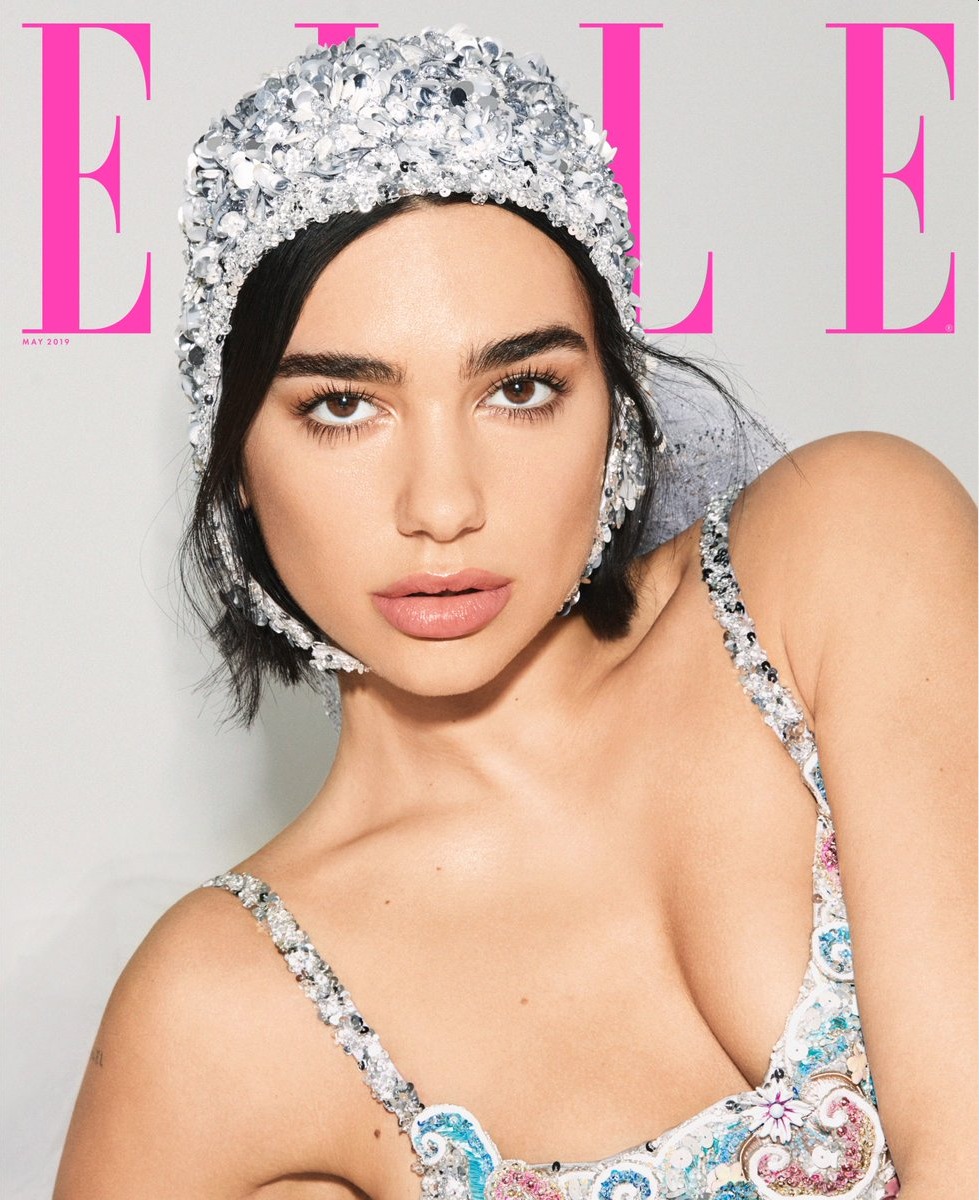 CB stans Ariana Grande. But I stan Dua Lipa. She's my favorite of all of the ladies who have broken out in pop music over the past few years. She's British-Albanian – born of Albanian immigrants, but with a sweet British accent and a cool Brit-Pop vibe. Dua's earliest successes were in the UK, but she slowly became more of a thing in America over the past year and a half. In February, she picked up two Grammys, one of them for Best New Artist. That's the kiss of death for so many artists, but I have faith that Dua will overcome. I'm happy to see her on the cover of an American fashion magazine like Elle – she covers the May issue. She looks pretty in the editorial, but I feel like the editors did her dirty by choosing only the photos with her mouth hanging open. One or two photos, I would understand. But EVERY photo makes her look vacant and this young woman is not vacant. You can read the full cover profile here. Some highlights:
On people mispronouncing her Albanian name: "I've learned to correct people about my name my whole life. So I'm like, Call me whatever you want. You'll learn it soon enough, babes."

Winning the Best New Artist Grammy: "I had crazy adrenaline. I was petrified waiting to hear what happened. When they called my name, I blacked out. I was so nervous. Lady Gaga was front row and blew me a kiss, and I was like, Oh my God, my brain isn't working. But I managed to say something that meant a lot to me. I wish I didn't "Um" and "Ah" as much as I did, but I'm glad I thanked all my female peers, because that was one thing that I definitely wanted to do.

Feminism & supporting women: "We're at a time when people are making more empowering songs. But I was listening to Janet Jackson, and she starts pretty much all her songs with "I have control over my body and my thing." You forget that empowerment was always a big part of music, especially for female artists. We went to a comedy show last night, and Whitney Cummings was doing stand-up. She was brilliant, saying, like, women have been empowered for a very long time, but now it's, "Oh, someone's listening to us? Let's go crazy!" We're not used to being listened to. Now we're taking full advantage of that fact and speaking about things that are really important to us.

The difference between American audiences versus Europeans: "[Americans] are brutal. The trolls stateside are the worst. When I was starting out, I never remember feeling hate. Then things got big, and I felt this weird expectation of being Beyoncé already. Everything you're doing gets looked at under a magnifying glass. People want to stunt your growth. They scrutinize you and tell you what you should look like or what you should do or ask why did you cut your hair? You constantly live in fear of not being good enough. It's crazy; you have to be really strong. We're in this age of "Feminism! You should be supporting each other!" But it's the same people who are saying that who are also bringing women down online. And it's the same people who speak about mental health who are also bullying others. Twitter is super-toxic."

Getting advice from famous people: "When I met Katy Perry, she was like, "I hope you don't search your name." She was like, "That's what I did at the beginning of my career, and I'd get upset about every tabloid that said something about me." She said, "Do not have notifications on. Do not read that sh-t, because it will stop you from doing what you love." Chris Martin also said to me, "Be kind to yourself." I thought it was so weird that he would say that—what does that even mean? But reading those things is a form of self-abuse. It's this vicious cycle where you don't want to read it, but you go looking for it, then you get yourself upset. I can't let the opinions of others define what I feel about myself. That's something I'm constantly telling my fans as well. Platform or no platform, musician or not, everyone's getting bullied because everyone's got this screen and they feel like no one can see them.
"You forget that empowerment was always a big part of music, especially for female artists." RIGHT? I feel like each new generation feels like they're inventing this sh-t. No, Ariana Grande and Katy Perry did not f–king invent feminist anthems. My generation had Liz Phair and Ani DiFranco and Shirley Manson and Tori Amos. We also had a really healthy dose of Salt N' Pepa, TLC, En Vogue and Janet Jackson. The previous generations had Joan Jett and Grace Slick and Carly Simon and Stevie Nicks and Aretha Franklin and Diana Ross and Tina Turner and on and on. Many women in pop music were always empowered feminist icons.
That being said, it's becoming quite the recurring theme for this generation – the repeated mentions of how social media has completely changed the game, and how basically everyone famous under the age of 27 has had to put down their phones for months at a time just to get some peace of mind. It is a different landscape out there, and I applaud Dua Lipa for finding a way to succeed despite all of the noise.
It's gonna be May 💕 @ELLEmagazine pic.twitter.com/nPvQU7IM6S

— DUA LIPA (@DUALIPA) April 9, 2019
On calling out Grammys president Neil Portnow: "I didn't plan it. It just came out of my mouth. But it felt right; it was obviously shade, but at the same time, he's spoken about it and he knows what he did." Read @DUALIPA's ELLE May cover story: https://t.co/EFiPgPlX8g pic.twitter.com/Q8u6wGKNgA

— ELLE Magazine (US) (@ELLEmagazine) April 9, 2019
Photos courtesy of Elle Magazine.