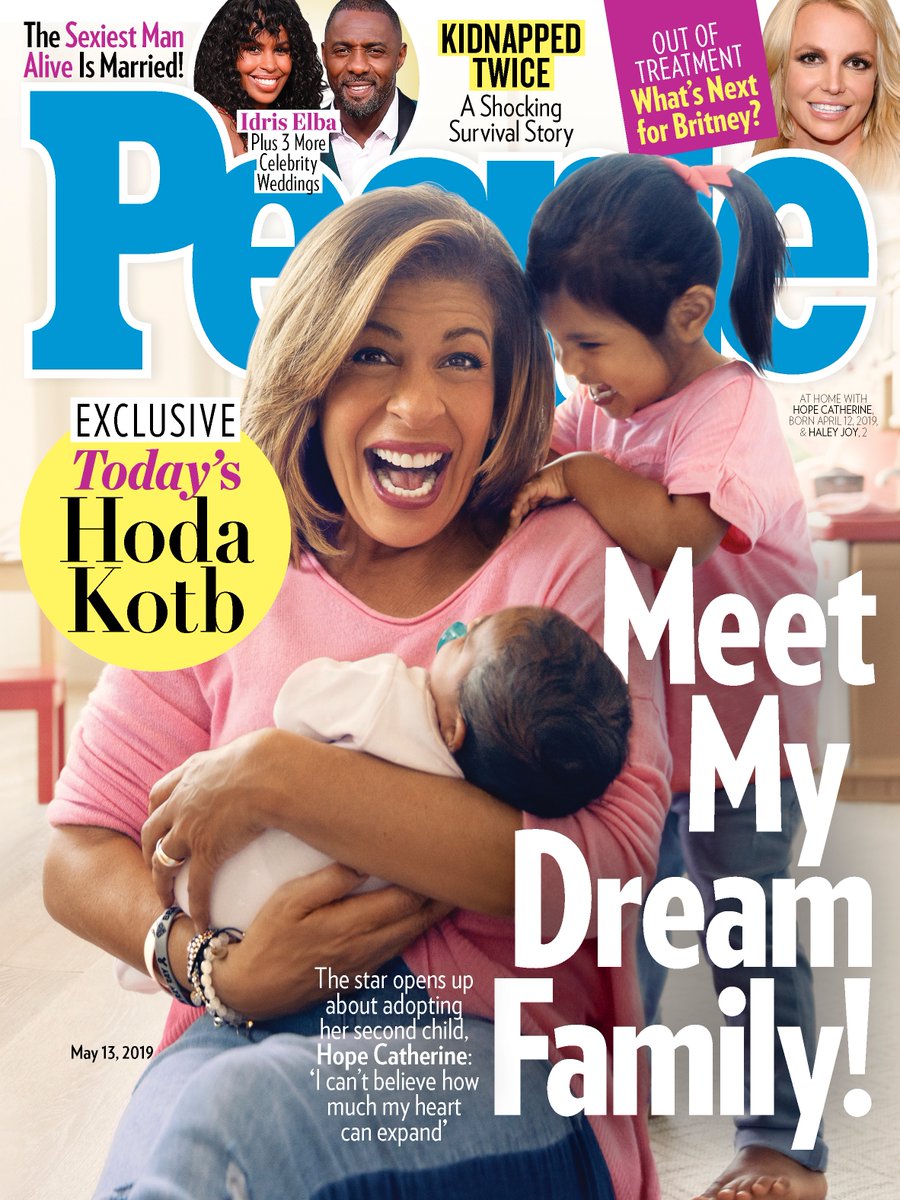 On our Gossip With Celebitchy podcast this week, Kaiser and I talked about Jennifer Garner being named People's Most Beautiful. (That's at about 32 minutes in!) She made a point that I missed in my write up that it was patronizing to their readership and that "People thinks that their readership is all 40-something soccer moms who worship Jennifer Garner." I said that maybe they're right. Magazines are expensive and not a lot of people are buying them except older women. (I think I got that from a comment actually, I didn't come up with it.) We ended up talking about her bad shoes, as that was my comment of the week, but I digress. That's all to say that Hoda Kotb covers the new People. I'm a 40-something mom and I love her! So I see why People chose her. They know their audience and even cynical bitches like me love Hoda. Hoda and her partner, Joel Schiffman, recently adopted their second baby, daughter Hope Catherine who joins little Haley Joy, two. (I saw that Hoda and her partner adopted the babies but I can't verify that they legally did it together. She may have adopted the girls as a single mother.) Hoda tells People that it's harder to have two kids and to balance everything of course, and that she blanked and forgot how to care for a baby once Hope came:
With two children to care for now, Kotb tells PEOPLE that she has been able to let go of some the pressure that comes with being a mom.

"My first time around, I spent my whole time going, 'I got it! I got it!' " she says. "I didn't know what to expect with two. All of a sudden, with two kids, you're like, 'Wait, baby one is crying, baby two needs to be put down. Hope is hungry, Haley needs me.' "

Kotb adds, "I was always like, 'I have to fix it! Here I come.' Now I'm just like, 'Haley's safe. She's good. The baby's going to eat in a minute. She'll be okay.' "

In February 2017, Kotb revealed she had adopted Haley after the baby girl was born on Valentine's Day that year. In 2007, Kotb battled breast cancer, leaving her unable to conceive. She even told PEOPLE in 2017 that she thought she would never be a mother.

"I felt like, before Haley came, I'd had an average life," Kotb shares now. "She stepped in it, my heart exploded. And then, all of a sudden, this little girl Hope steps in and you realize how much room there is in there."

She adds, "You think you're topped out. But your heart's ability to expand blows my mind."
I only have one kid, but I always assumed that having a second baby would be like riding a bike or skiing, that muscle memory will kick in and you'll know what to do. Maybe the part of your brain that's dedicated to caring for kids gets overwritten with new information for the next phase of childhood. That's super scientific-sounding, I know. I can imagine just being overwhelmed at caring for both a baby and a toddler and feeling like you're clueless too. Hoda keeps it real and unlike the last People cover person I don't think this is any kind of media personna she's cultivating. She really is just genuinely happy and so grateful to be a mom to two daughters now. I'm happy they picked her for the cover. Also it gives me a chance to check out her Instagram. Her photos are beautiful!
Look at all the NBC peeps visiting her!