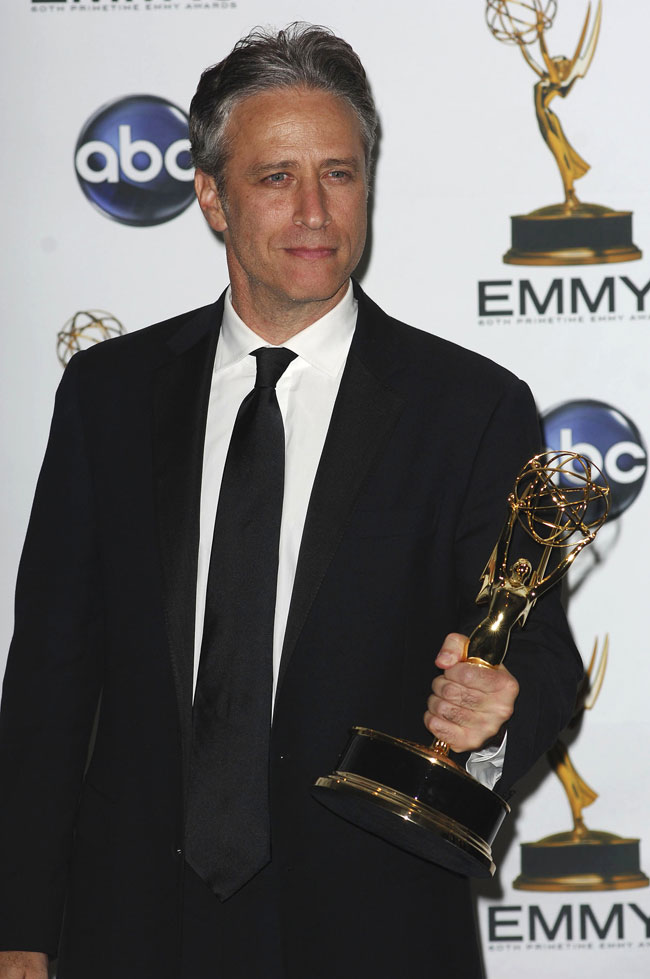 In the wake of Walter Cronkite's death last Friday, the mainstream media has been in a some kind of narcissistic tailspin, whining about how much the news has changed since "the good old days". Even though I find it a little grotesque, it seems Time Magazine did a poll right after Cronkite's death to see who Americans would now pick as their "most trusted newsman". Brian Williams? Katie Couric? Perhaps someone old-school, like Tom Brokaw or Mike Wallace? Not so much. Jon Stewart, host, writer and producer of The Daily Show won hands down. Because apparently Americans think Jon's parody and satire are more trustworthy than anything Chris Matthews has to say:
Well, in a result that he will probably accept as downright apocalyptic for America, The Daily Show's Jon Stewart has been selected, in an online poll conducted by Time Magazine, as America's Most Trusted Newscaster, post-Cronkite.

Matched up against Brian Williams, Katie Couric and Charlie Gibson, Stewart prevailed with 44 percent of the vote.

Now, if we're being honest, he probably managed to prevail as the winner precisely because he was the odd man out in a field of network news anchors. Nevertheless, I think Jim Cramer should feel free to SNACK ON THAT.

Brian Williams drew the second largest percentage of votes, with 29 percent. Gibson and Couric finished third and fourth, respectively, with 19 and 7 percent of the vote.

Time has helpfully broken out the results, state-by-state, so if you want to muse on some anomalous results, feel free. Brian Williams won Arizona, Wyoming, Nebraska, North Dakota, Florida, South Carolina, Indiana, Delaware and Vermont, and tied in Kentucky and Alaska. Charlie Gibson was big in Tennessee and Montana. Katie Couric pulled off the Mondalian feat of winning one state: Iowa.

Stewart finished no lower than second place in all states, except, curiously, Vermont.
[From Huffington Post]
Time's full poll results are here. I'm honestly not surprised that Americans in general think Jon Stewart is trustworthy – but I was surprised by some of the results. Like, how in the world did Charlie Gibson not do better? He's lovely, and I totally trust him. As for Jon's "victory", I suspect people like him and trust him because he's sort of been on a truth-telling rampage lately. The best of which was probably the intense battle royale he had with CNBC's Jim Cramer back in March. So when is Jon Stewart going to knock Robert Pattinson off the People cover? And what about Stephen Colbert?!?
Jon Stewart is shown on 9/21/09. Credit: WENN.com