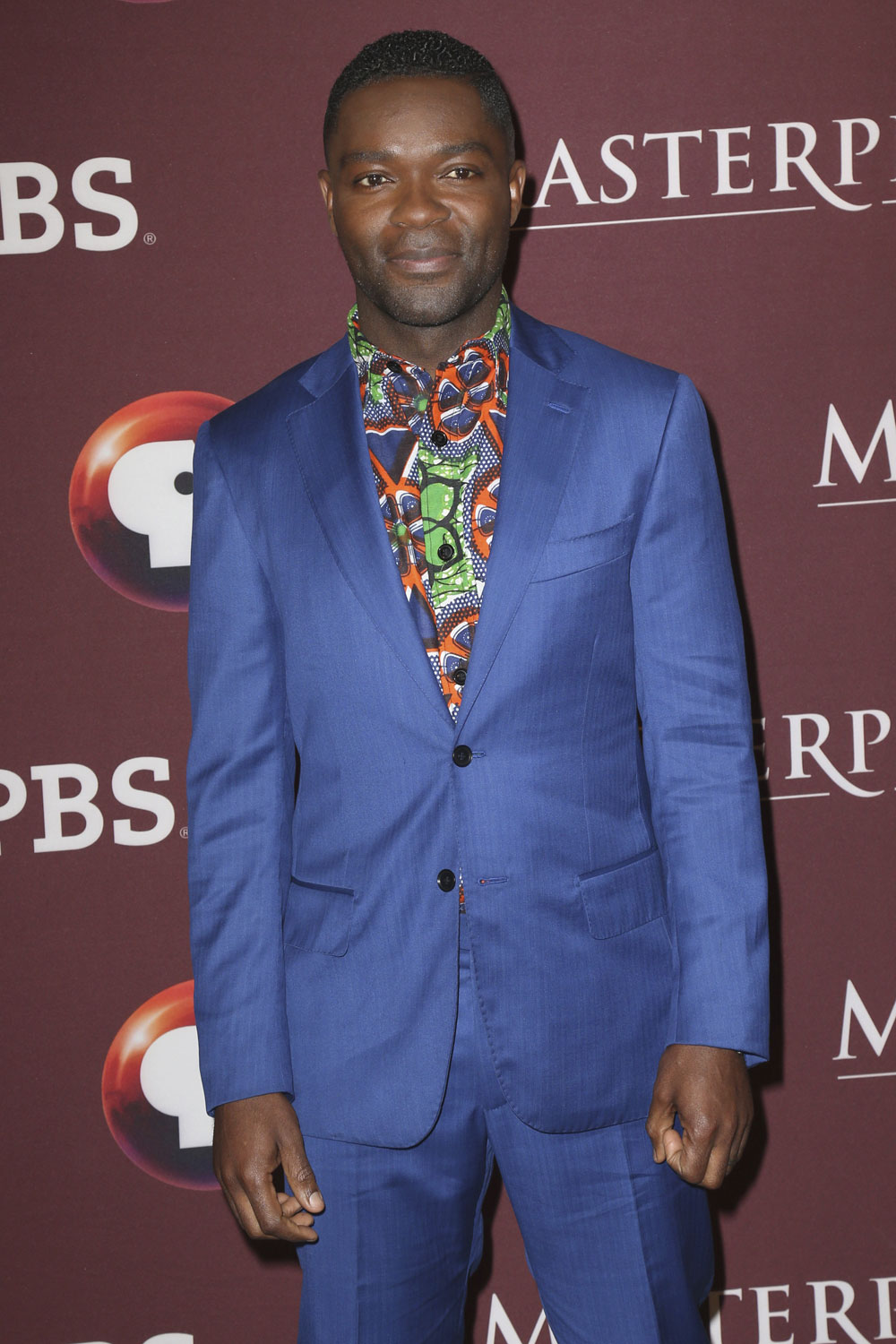 I know the title to this story makes it seem quite boring but the way David Oyelowo tells it is awesome. His dad is from Nigeria, David grew up in England so his dad has lived in England most of his adult life, and now he lives with David and his family in Los Angeles. David is married to fellow English actress Jessica Oyelowo and they have four children from around the ages of 7 to 17. (I actually can't find a list of their children's names and ages.) Anyway I haven't seen David interviewed before, but I did see him play Martin Luther King Jr. in Selma and he was great in that. He's a Shakespearean trained actor and he joked on The Daily Show that if you forget your lines you just say "forsooth" and fake it. He also told this awesome story about his dad and he did the Nigerian accent and everything! The YouTube video below is queued up to that part if you want to watch and here's what he said:
You've been in the US and your father lives with you in LA or does [he just visit]?
He lives with us [laughs]. When we lived in the UK we lived in houses or apartments where we didn't have a yard. LA has a lot of space. My dad has become obsessed with leaf blowing.

Where is your dad from?
My dad's from Oyo state in western Nigeria but lived most of his life in the UK. He wanted to spend more time with his grandchildren.

Your Nigerian dad is obsessed with leaf blowers
If you knew Nigerians you'd know that was really weird. *Does accent* 'What am I going to go and do the gardening for?' He's obsessed with infomercials. He's got like four different leaf blowers. 'I've got the automatic. This one has four gears!'

'OK, dad, as long as you're happy.' The problem is he never does the constant [blowing]. He goes. *makes motor noises in spurts* So for the hour he's doing this [it's annoying]. He's so happy when fall comes. 'Aha the leaves!'
Money and free time can affect people in such cute ways. Like if I was retired and didn't have to work would I get a crazy hobby like this? This man absolutely loves leaf blowing and doing yard work and as David said it makes sense as they never had a yard in England (those community gardens they have in Europe are so cute though I love those!). However he also said Nigerian people typically would not care about blowing leaves or gardening. So if you had the time and moved somewhere different would you get a cool hobby that you'd never been exposed to before? Like would you start painting or doing crafts or taking up yoga? My parents moved to a retirement community and my mom is now having the neighbor ladies over to do chair yoga off YouTube on her lanai. (It's a fancy name for a covered porch, they all call it that.) My parents also golf more and go to concerts and do all sorts of fun things you imagine you do when you retire. I love this story about David's dad trying to get the best leaf blower and spending hours on the lawn.
David is promoting a non-musical Les Miserables miniseries that's airing on PBS. He sold the hell out of it on The Daily Show and it has Olivia Colman in it! It also has Lily Collins and Dominic West, among many others. It's airing at the same time as Game of Thrones but you can still watch it on demand. He's also directing a film with Oprah co-producing (They starred together in The Butler as mother and son) and started his own production company. He said he did it because he didn't see himself represented on film when he was growing up, that film is such a powerful cultural tool for creating empathy, and he wants "a different world for his children." I'm going to pay more attention to him now he really impressed me.
Thank you to my friend Jacqb on Twitter for retweeting this clip!
David posts cute photos and videos of his kids and wife! I couldn't find anything of his dad though.
This is giving me the feels!
photos credit: WENN and via Instagram