Embed from Getty Images
Oprah Winfrey was on The Daily Show with Trevor Noah, which I just added to my list of interview bookmarks after seeing David Oyelowo's awesome interview. Seriously watch that if you haven't already, he's hilarious. Oprah is getting some headlines for explaining in a between the scenes segment that she bought an avocado orchard because the price of avocados was so high. I found it more interesting that Oprah opened with the story she most often hears from fans, that they were latchkey kids and watched her show so much after school that they felt like she raised them. The way she explained it, it's kind of predictable the way that people fan over her. Oprah is promoting her new book The Path Made Clear: Discovering Your Life's Direction and Purpose.
On if she ever gets used to how people respond to her
Actually I love these moments. This happens to me quite often. I'll run into someone who says 'Oh my God, you don't know what this means.' I said 'Yeah, I do. You came home from school. You were a latchkey kid. You watched me at 4 o'clock. So I raised you right?' They're like 'Yes!'

So I feel rewarded by that. I did a good job raising people.

On if she ever misses her show
The only time I actually really missed it was 2016. I missed [talking to] the audience. The audience became my biggest focus group. I would not have been surprised by the election because I would have been talking to people from all states.

On her personal philosophy and finding your path
Being raised by a strong grandmother who taught me to read [with The Bible] … I got myself out of kindergarten the first day. There's always something greater than you. No matter what you are going to be alright. That should be your mantra. Look at wherever you come from. Things are always working out for you. When you have faith you know that things always will.

You need to surround yourself from people who are going to inspire and lift you up, who are going to give you energy and not take energy away from you.

On the most common characteristic of success
People get to where they want to go because they know where they want to go. Most people don't know where they want to go. The most important question you can ever ask yourself is 'What do I really want?' Have every choice you make move yourself in the direction of what you say your vision is. The forces of life rise up to meet you. As soon as you get clear, [life] clears up. Everybody is looking for the path that allows you to come home to yourself.

On if she's running for President
You don't even want that to happen. I have such a beautiful life. Why would I want to put myself in that?
[From The Daily Show]
I hope Oprah doesn't preempt everyone's stories like that! All she has to do is say "It's so nice to hear that, I really appreciate it" and then do a side hug and maybe a selfie and be on her Oprah way. Don't go dashing people's hopes Oprah! I'm sure she's super nice about it though and still makes people feel so lucky to have met her. People remember their interactions with celebrities forever. I'm not saying that they have to give us plebes a ton of time or accept rude interruptions, just maybe be fake nice for a minute. Oprah is genuinely kind so that probably comes through regardless.
As for her life advice, that was deep and I'm going to read her book once it's available at my local library. She also talked about her mental health project with Prince Harry and said he's such a great and involved partner. Plus she said she got a lot of hate for the Finding Neverland coverage, but that she wouldn't change it and she never doubted the victims. You can watch Oprah's interview below.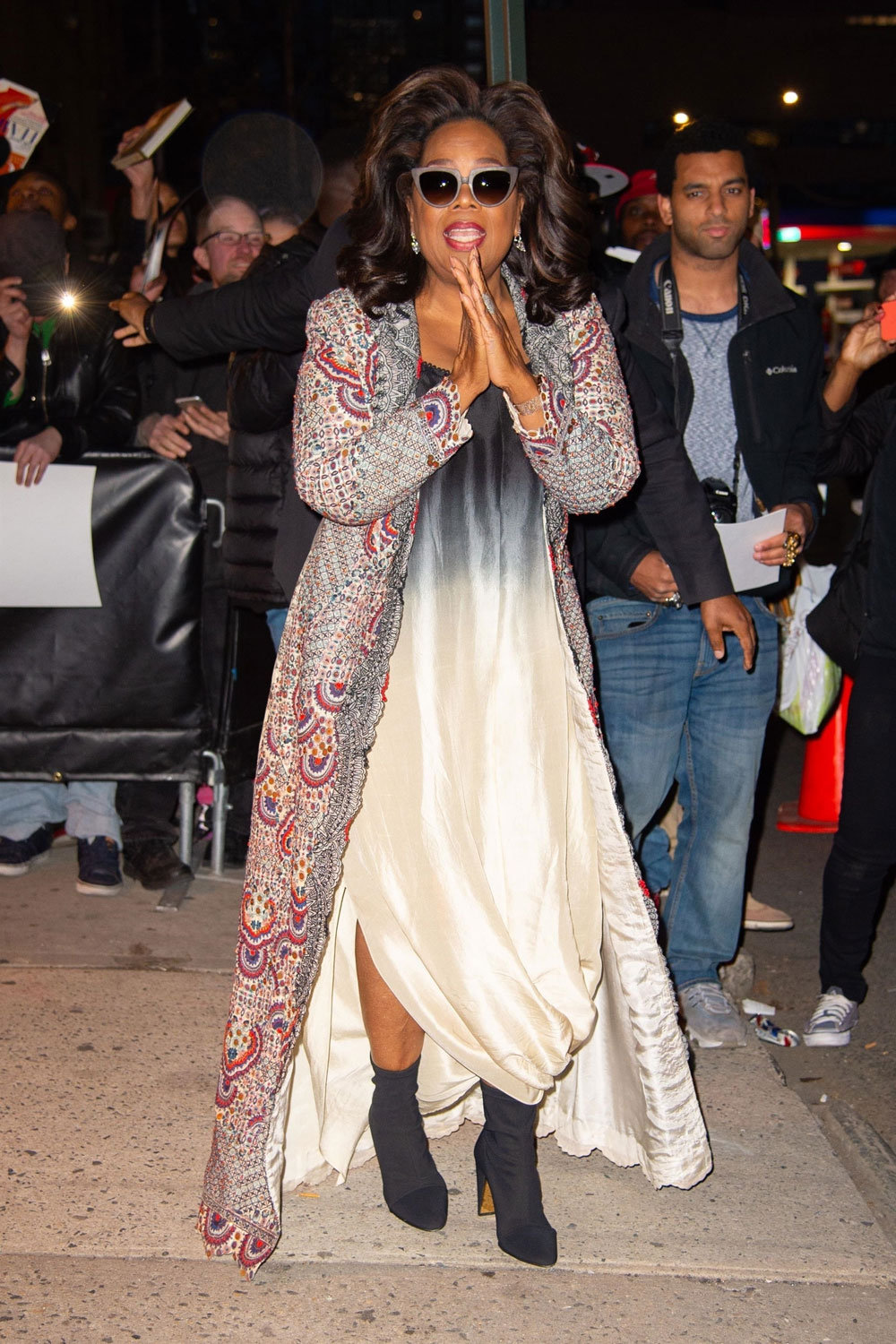 photos credit: Getty and Backgrid