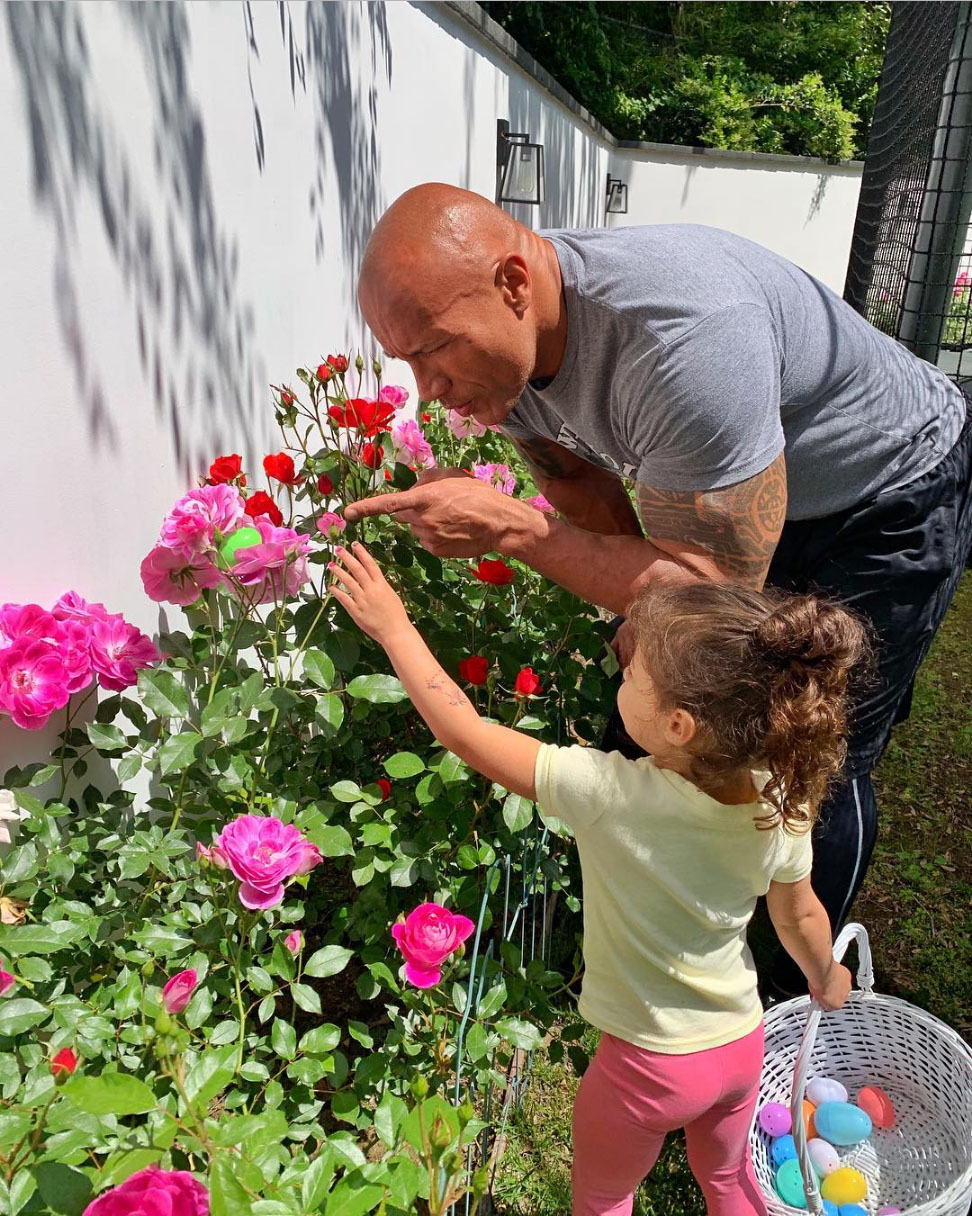 I saw Dwayne The Rock Johnson's Easter post on Instagram (photo above) but I thought it was just a typical cute Easter photo as I didn't read the caption. Then I saw on People that he doesn't give his daughters, Jasmine, three, or Tiana, one, any candy for Easter and instead gives toys. Their cousins were visiting too and they all got toys instead of candy as well. I'm including the full caption below and the relevant part is that he put out 100 eggs for Jasmine and her cousins but wrote that they're "all filled with tiny toys… no candy when you come to the Rock's house." That's interesting, here's what he wrote:
If you look right there, you'll find what the Easter Daddy, I mean Bunny left you.
100 eggs for Jazzy & her cousins for their hunt – all filled with tiny toys.
No candy when you come to the Rock's house – last thing I need is wrangling a bunch whacked out kiddos who've become candy crack heads on the sugar come down 👼🏼👉🏾👹
We had such a fun Easter with our ohana and hope you guys did too.
Lets get back to work.
I don't know if it came through but in the original post he used am emoji for an angel, followed by a finger pointing, then a devil, which is so cute and can definitely be true. Kids can freak out and then crash on sugar. However Easter is the holiday featuring my favorite candy in the world, which is jelly beans! Chocolate is a close second. So the eggs at our house this year contained the typical fare like mini Snickers, mini Heath bars, Jelly Bellies (the best) and Andes candies (underrated classic). My son is a teenager and I asked him which candy he wanted but I also bought stuff I would eat. I already put it all in baggies and stuck it in the freezer, that's my trick for getting myself to slow down eating candy. In my son's Easter basket I added some little toy gifts, like a Spiderman washcloth, but he's really too old for that and it was just nostalgia on my part. My god it goes so fast.
As for The Rock's stance I get it I guess. He's very into health and fitness, but he often has cheat meals with sugar in them. I don't understand why he doesn't give his kids (at least Jasmine, Tiana may be too young) at least a little bit of chocolate and jelly beans for Easter. Like maybe 10 out of 100 eggs could have candy in them. Did they at least get cake that day? I would love to know.
Dwayne also posted this photo of the little display his private flight staff made for him to honor his Time 100 cover. I saw this and found it touching. He's on a flight with a fully made up bed behind him, the ultimate in ultra rich people perks, but he still looks so grateful and happy to be honored. That's part of the reason why we love him.
Oh hey Jason Statham. I'm so seeing that ridiculous movie they're in together, Hobbs and Shaw! It's not out until August though.
Embed from Getty Images
I'm sorry to Hecate for covering The Rock as she loves him! I just couldn't resist talking about candy.