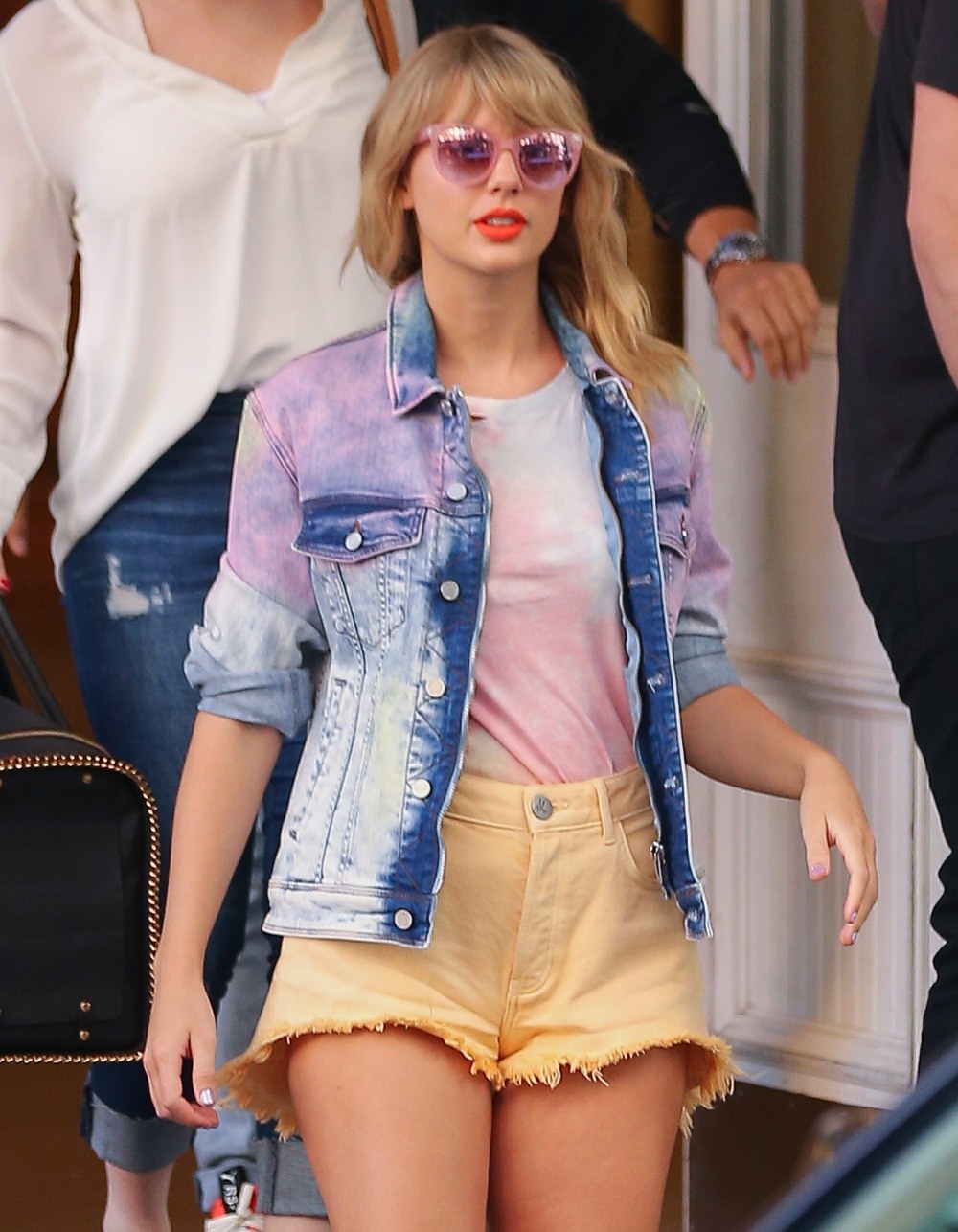 We haven't even seen what Taylor Swift's big 4/26 launch is, and I'm already over this aesthetic. Granted, I actually appreciate the fact that Taylor has been doing red carpets and getting pap'd in New York ahead of the launch, because it's always nice to have new Swifty photos in general. She wants to be seen, and she wants her style-makeover to be discussed. But this sh-t is awful. Here are pics of Taylor out in New York yesterday wearing yellow cutoffs, a sparkly jean jacket and a pink tie-dye t-shirt. We got a promo email about the tee – it's from n:philanthropy and it can be yours for $128.
People are still talking about Taylor's fairy-queen drag at the Time 100 event on Tuesday night too. As it turns out, Taylor helped design that mess with J. Mendel. Mendel won't confirm whether he's designing something for Taylor to wear at the Met Gala, but I think he's confirming that Tay will attend?
On Tuesday night, Taylor offered a glimpse at what her so-called "TS7"-era style will look like, hitting the red carpet at the Time 100 Gala at NYC's Lincoln Center clad in a pale pink and yellow gown from J. Mendel that fit right in with her recent snaps of rose-colored ruffles and Easter egg-hued bicycles.

"Taylor always has a very strong point of view; she's really extraordinary in how she transforms herself constantly," J. Mendel's creative director Gilles Mendel told Page Six Style of working with the pop star. "She always comes to me with an idea; in this case, the theme was pastel colors and soft tones. Luckily, my recent spring collection was very much about those tones, these beautiful pale citrus colors. So we started with my spring palette, and from there, we built up the dress. Taylor wanted a really ethereal, hand-pleated moment, which is something we've always done so well."

The primary challenge of creating Swift's outfit? Since she was set to perform an acoustic set at the gala, she needed a way to ensure her arms would be free to strum her guitar and play the piano without being encumbered by extra fabric. And as it turns out, it was Swift herself who came up with the solution.

"That bolero didn't come from me — it was her," Mendel revealed. "She had the vision of having some sort of cover that would give it a different volume than just a basic dress. So we developed, with our Gilles Mendel touch, this little hand-pleated, silk- sleeved bolero cover that I thought came out really stunning." Best of all, the billowy-sleeved piece made Swift's look convertible, so she could make a dramatic entrance on the red carpet and then shed it before she took the stage later in the evening.

And there's good news for fans eager to shop Swift's Time 100 ensemble for themselves. "I've never duplicated any of the dresses I've done for her," Mendel said. "I've been with her twice to the Met Gala, and those two gowns are still in my archives. But after this experience … I think definitely, in the next collection, [there will be] some modification of what I've done for Taylor." As for whether Swift and Mendel might make their third appearance together on the Met Gala red carpet next month? "Unfortunately, it's so hard to give you an answer, because we never know until the very last minute," the designer said with a laugh. "And it's maybe bad luck to say, because you never know!"
As many have pointed out, Taylor's 2019 aethestic isn't really new for her – she used to do pastels and sorbet-colors all the time circa 2008-10, really. She used to wear tons of J.Mendel too – I remember when she first became a big deal, she wore Mendel's pastel gowns to almost every red carpet. It sounds like she has a great relationship with him and that he allows her to "collaborate" on her looks. Taylor might benefit from a style relationship where she doesn't call all the shots though – imagine if she worked with someone who had the balls to tell Queen Snake "honey, this sh-t looks terrible."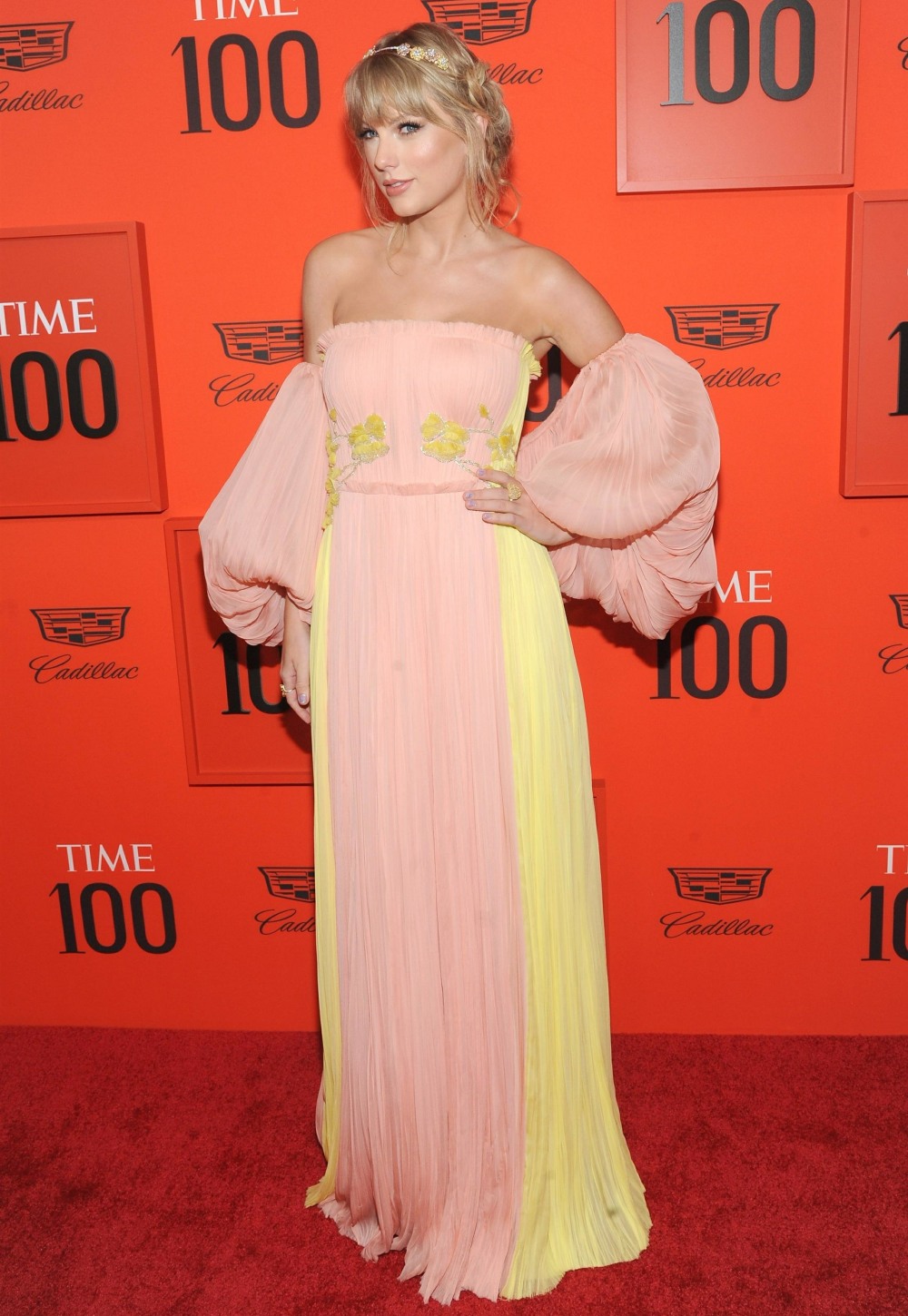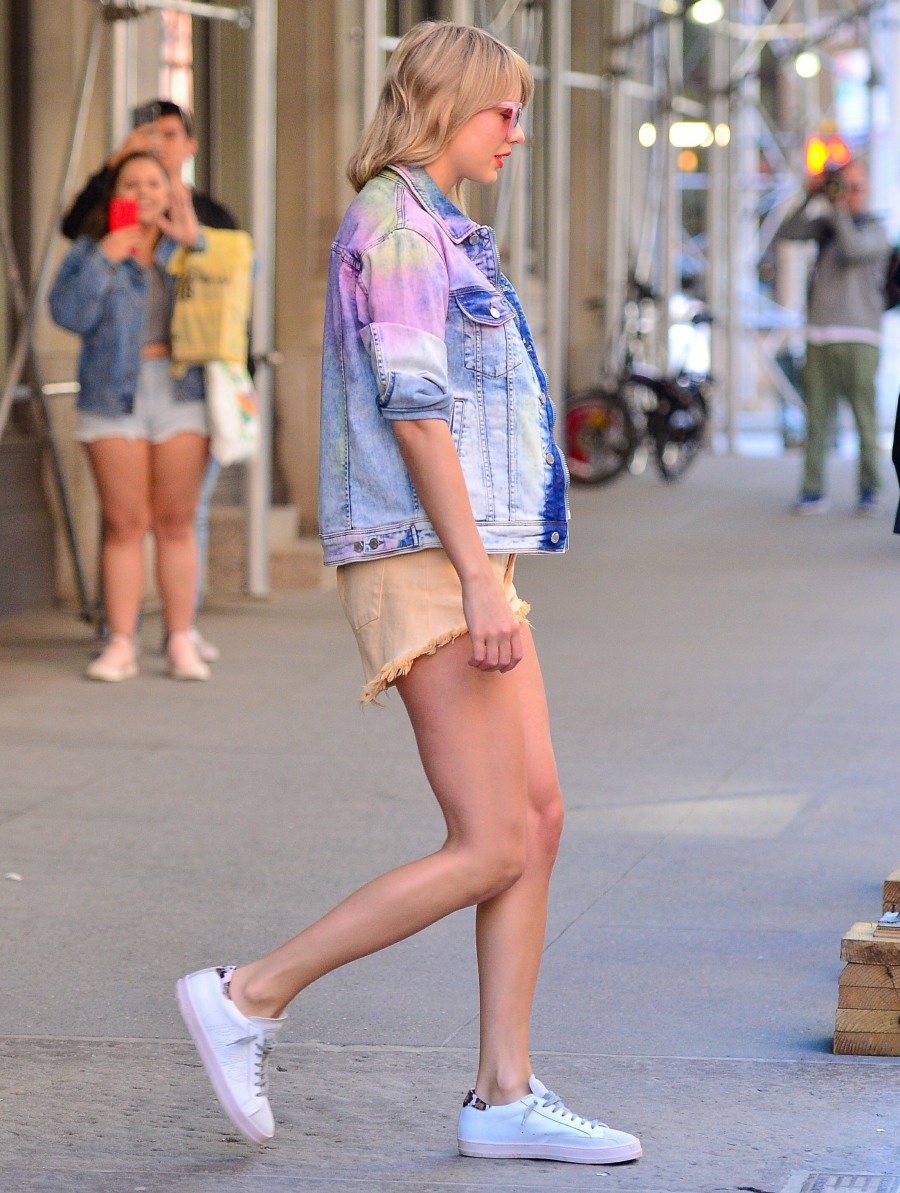 Photos courtesy of Backgrid.