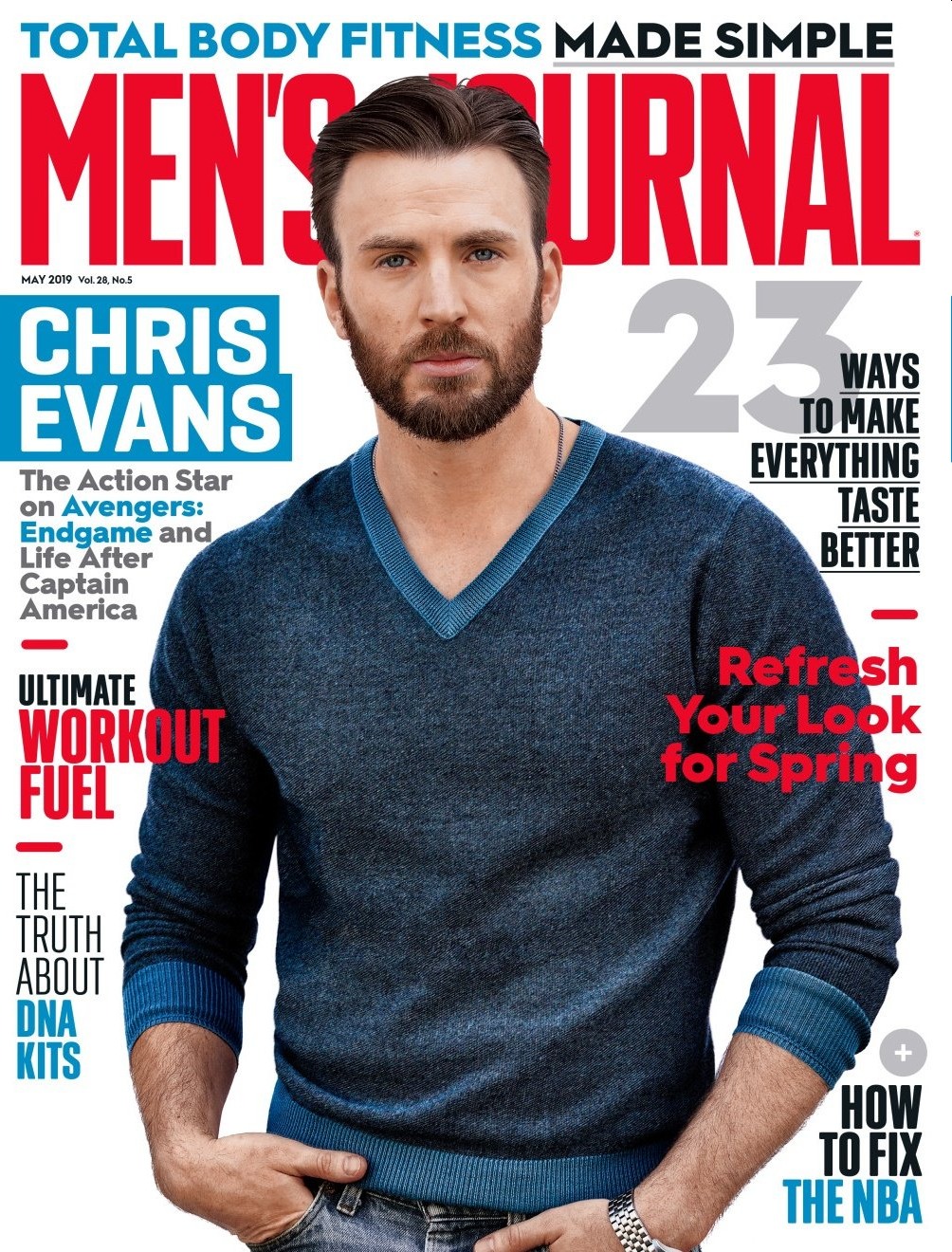 Chris Evans covers the latest issue of Men's Journal. The cover isn't great – he looks weirdly Photoshopped – but the interview is really interesting. I like checking in with Evans every so often to see if he's still a neurotic mess, and guess what? He's grown up a lot recently, it feels like. The interview takes place inside Chris's "heavily renovated farmhouse on a couple of snow-covered acres outside Boston." He owns a place in LA, but he describes his Boston-adjacent abode as his real home, the one where he spends most of his time. You can tell that he feels very relaxed and comfortable in this interview, and I think that's why. You can read the full piece here. Some highlights:
His luxurious but minimalist farmhouse: "The older I get, I shed a lot. I like running clean." A Bösendorfer upright piano is probably the flashiest thing here—Evans has been playing since he was young. He also plays guitar and says he can "fake it" on the drums. "When I'm here, I feel much more like myself, the way I was when I was a kid, when I was only pursuing acting as a hobby because that's what it was—a hobby."

His favorite activity: "I love to rollerblade. It's a bummer that rollerblading became uncool, because it's f–king awesome. You have wheels on your f–king feet. Come on! My friends make fun of me, but I f–king love it."

Hanging out with his bros at the farmhouse: "It's a wicked lucky thing,. We have a real tight group of eight or 10 guys. The majority of them are in the suburbs, and they all have kids. Now on the weekends, they come over here. We just drink, you know, and bulls–t. I was never much of a 'I can't wait to leave this town' kind of kid. This is home to me. I have no desire to lay down roots somewhere else."

Getting to present at the Oscars with Jennifer Lopez: "She's been a major crush of mine for so long. I was just thinking, Don't be annoying, don't be annoying, shut up Chris, just shut up. Don't be a dickhead. Don't say anything, because you don't know what to say."

Helping Regina King up the steps when she won her Oscar: "The bar is so low that literally I did a normal thing, like on par with saying 'God bless you' when somebody sneezes, and people thought it was—I don't know."

Putting down Captain America's shield: "It felt like graduating high school or college, you know. For the last month of filming I was letting myself go to work every day and be a little overwhelmed and a little nostalgic and grateful. By the last day, I was bawling. I cry pretty easy, but I was definitely bawling."

Why he thinks people were interested in his relationship with Jenny Slate: "Yeah [people thought I was bro-ish]. I think she may have even, at first. But then she was just like, 'Man, you're not like what I thought you were going to be.' I can speak fluent bro, but I don't consider myself one. I wear a hat, and I drink beer, and I like sports. But I was a big theater dork in high school, you know what I mean?"

He's looking for a wife: "I really want kids. Yeah, I do. I like pretty pedestrian, domestic things. I want a wife, I want kids. I like ceremony. I want to carve pumpkins and decorate Christmas trees and sh-t like that."
Chris has said similar things about wanting a wife and wanting to settle down, in the past, I've said that it comes across, to me, like a line. A pick-up line – few things are as attractive to most women as a good-looking guy who muses about wanting to settle down and get married and have kids. The thing is, he's been saying that sh-t for years now. If it was a priority for him, it would have happened by now – no good-looking millionaire would be THAT unlucky in love, that unable to find a brunette with a big booty. Ipso facto, it's his line. But I also think he's probably one of those guys who spends all the time in his minimalist farmhouse with his bros and his dog and he never puts it together that if he spends all that time with the bros, he's not really meeting new women.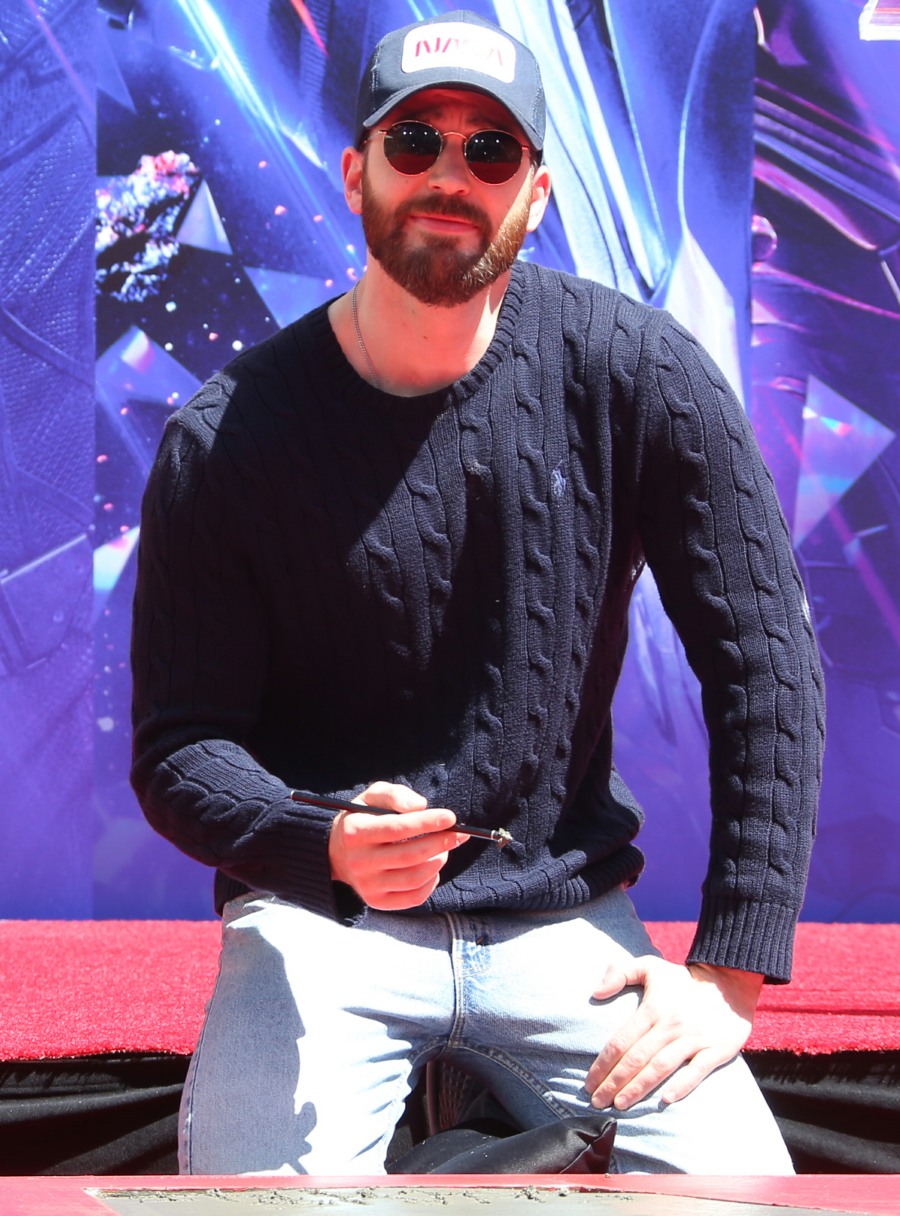 Cover courtesy of Men's Journal, additional photos courtesy of WENN.