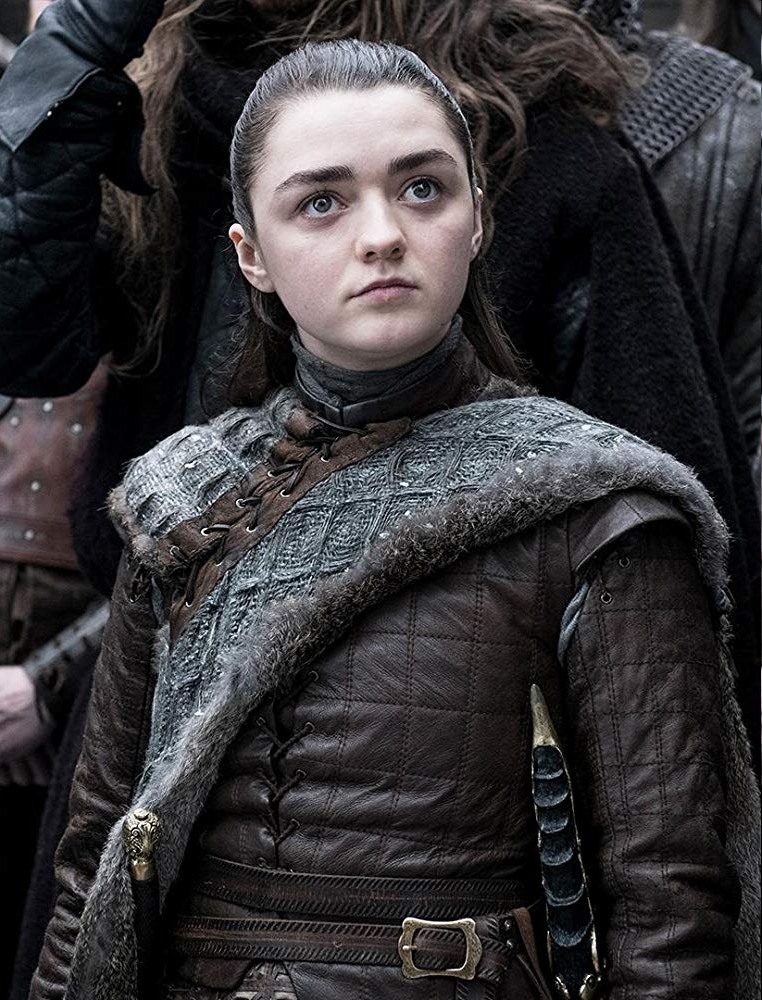 SPOILERS for Game of Thrones.
After last night's epic battle, it was sort of a downer to realize that oh, right, Cersei is still getting wine-drunk in Kings Landing. Like, if I was an average Westerosi, I would be like "you know what, I'm not going to follow this Cersei bitch anymore, she didn't even care that the undead were ravaging half of Westeros." So it was a downer to see the trailer for the next episode:
Apparently, some eagle-eyed viewers caught sight of Ghost in the "survivors outside of Winterfell" shot. Thank the lord of light. I need a Ghost-Jon reunion scene NOW. I also need Cersei to stop with her f–king smirking because there are badder bitches in Westeros, and their names are Daenerys, Sansa and ARYA. Once last night's episode was over, one of my first thoughts was "so Arya was Azor Ahai this whole time." Azor Ahai is an ancient prophecy in the Game of Thrones world, and as of this moment, Arya has the strongest claim to the name:
Arya's defining moment does beg the question of whether or not she — and not Jon or Dany as has been widely speculated — is the One Who Was Promised. According to the prophecy of the One Who Was Promised, the One, a prophesied savior in the religion of R'hllor who is the reincarnation of legendary hero Azor Ahai, is destined to "lead the people against a darkness" by wielding a flaming sword called Lightbringer.

"There will come a day after a long summer when the stars bleed and the cold breath of darkness falls heavy on the world," it reads. "In this dread hour a warrior shall draw from the fire a burning sword. And that sword shall be Lightbringer, the Red Sword of Heroes, and he who clasps it shall be Azor Ahai come again, and the darkness shall flee before him."

Obviously Arya didn't kill the Night King with a sword, let alone one that was on fire. But if there's one thing we've learned from Game of Thrones it's that prophecies don't usually pan out in a literal sense. And with three episodes to go, it's likely that there's still plenty we don't know about the truth of the Azor Ahai prophecy. Whether or not Arya does turn out to be Azor Ahai reborn, it's clear that she's an important figure in the religion of R'hllor. Not only was Melisandre's fate directly entwined with hers, but we now know that Beric Dondarrion was brought back to life six times by the Lord of Light purely so that he could sacrifice himself to save Arya from death by wight during the battle.

Of course, we also have to find out what Jon's ultimate purpose is in the Lord of Light's grand scheme since he was brought back as well. But with Cersei gearing up to go head to head with the survivors of Winterfell, it's likely that revelations about every unresolved prophecy are about to rapidly be made.
The show has already mentioned the Azor Ahai prophecy – it was Melisandre who spoke of it to Daenerys last season. Melisandre, like Bran Stark, knew a lot more than she told people. Both Melisandre and Bran understood which pieces to move around – Dany and Jon had to meet, Jon had to know about his parents, but what if Arya was the most important piece of the puzzle? When Mel turned up at Winterfell, she was there to help everybody, of course, but it felt like her ultimate goal – perhaps a goal given to her by the Lord of Light – was to help Arya, because Mel had finally seen it in the flames. Bran knew too – that's why he gave Baelish's dagger to Arya. He gave her the dagger at the exact same spot she would use the dagger to save the world. Also: what if NEEDLE is Lightbringer??
Also: in the trailer, it really looks like Dany won over the North, right? I hope at the very f–king least, Dany, Sansa and Arya are 100% on the same page now.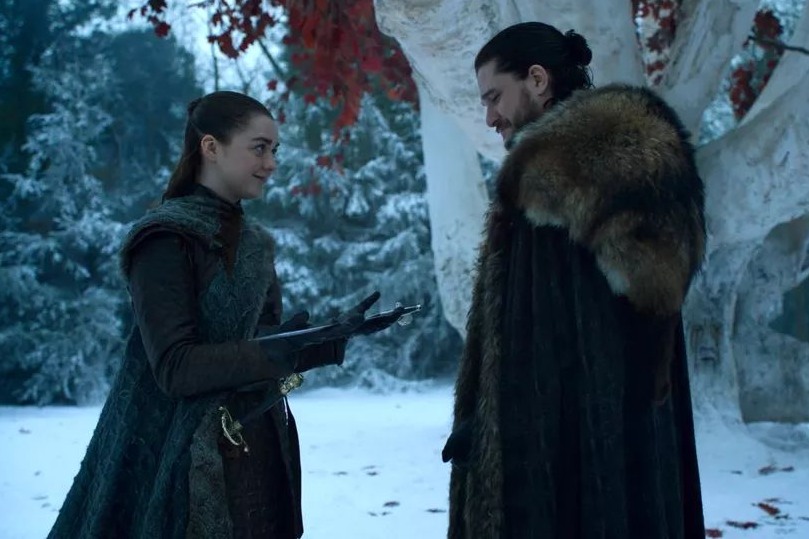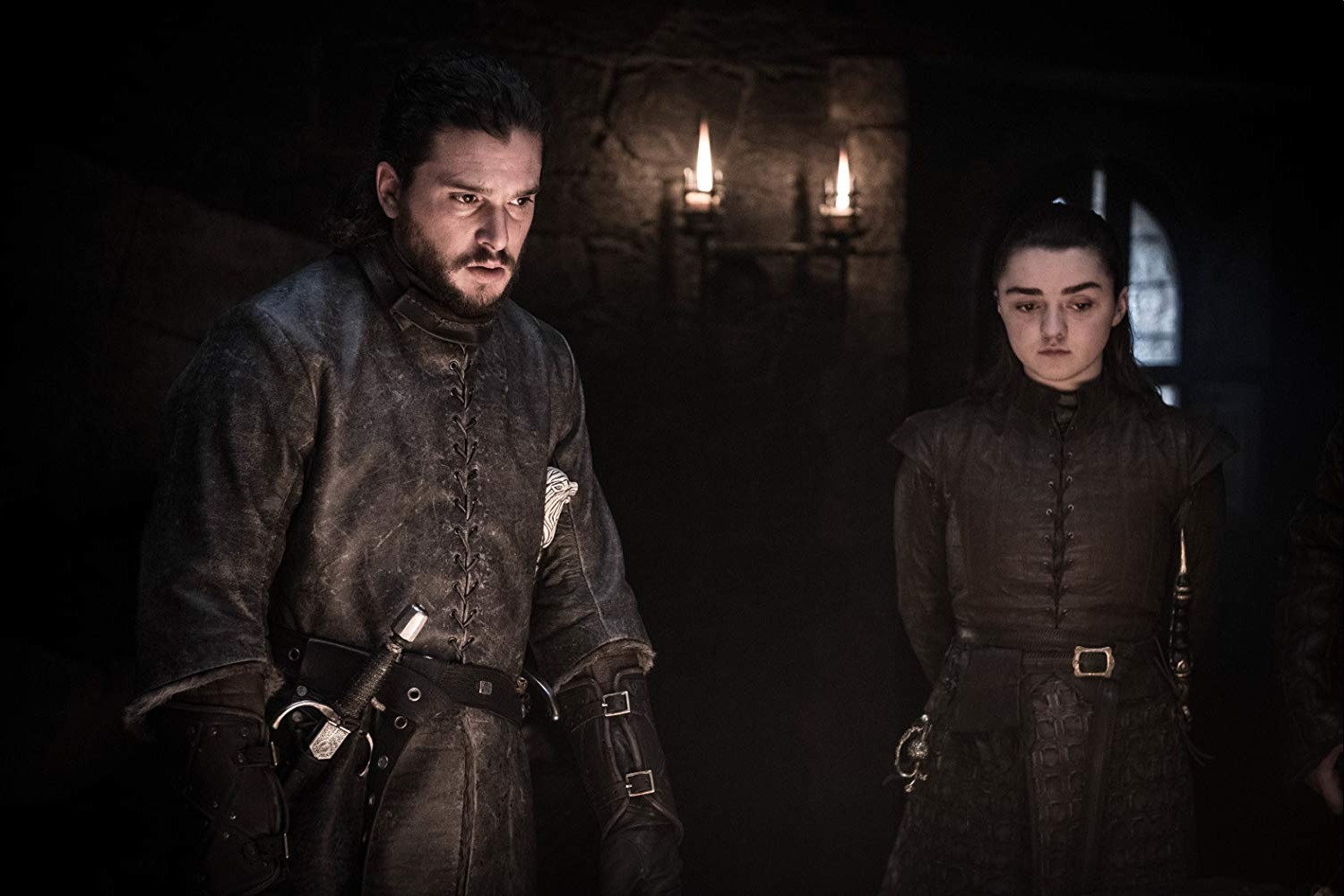 Photos courtesy of HBO/Game of Thrones.