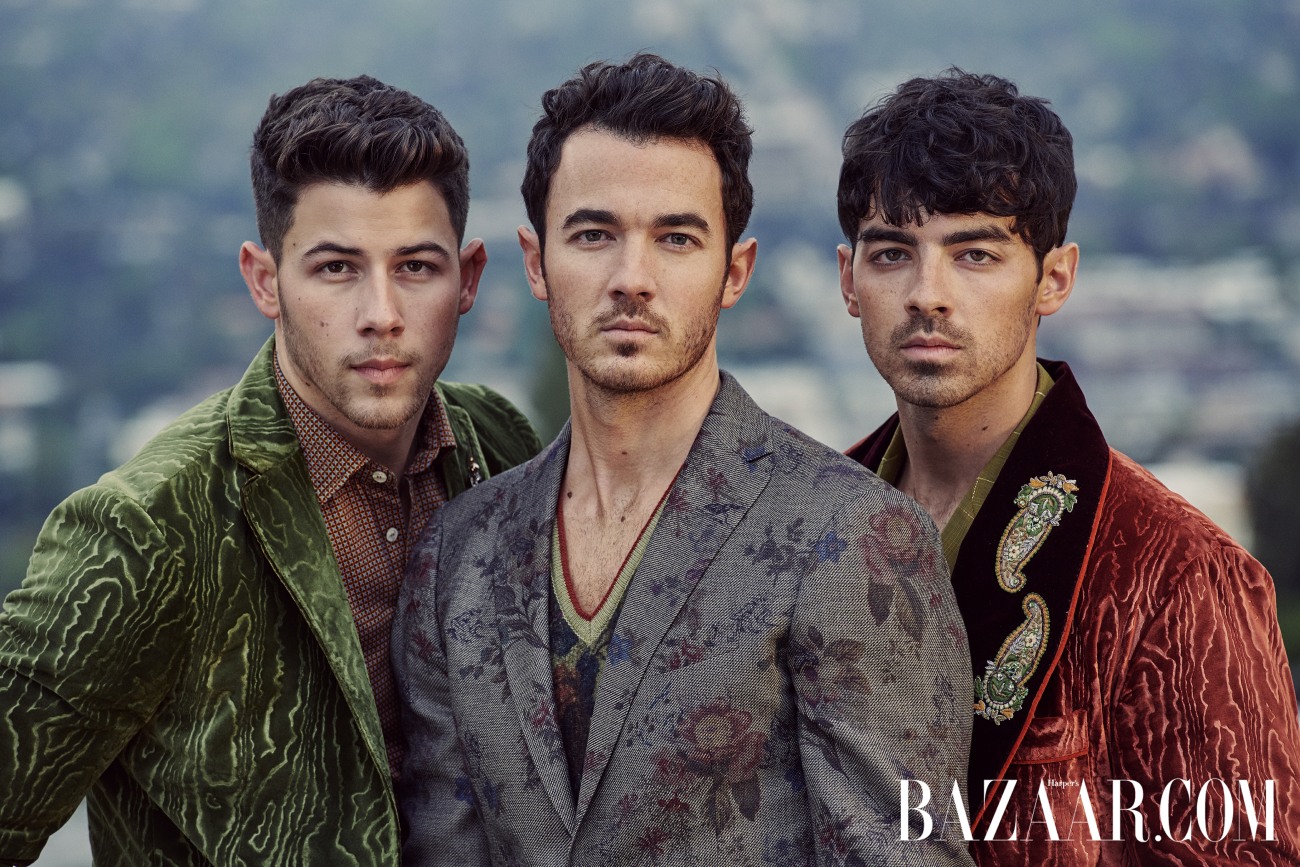 The Jonas Brothers cover the new issue of Harper's Bazaar Men, and it's a digital issue, meaning there is no hard copy, no newsstand magazine. The JoBros are obviously promoting their new album and documentary of the same name, Chasing Happiness. I haven't really minded their promotion, by the way. I was too old to care about the JoBros the first time around, but I liked Nick and Joe's solo music ventures, and I like how open they've been about their dysfunctional relationship and how they needed to move apart before they could come back together. That's a lot of what this Bazaar profile is – talking about how much has changed, and more. You can read the full piece here. Some highlights:
Joe on the tipping point for the band: "At some point [the band] got so dysfunctional that we didn't even let in outside writers. We didn't have a producer. We didn't have a label. We were like, 'We're good with this.' Not to speak of memes, but it was like that dog and the burning house: 'This is fine.'"

Kevin on their infamous breakup in 2013: "Being back with the Jonas Brothers? I truly never thought it would happen. Like, ever. When that chapter closed, it closed. I put that book on the shelf….It was like, 'You're joking.' And then it was like, 'F–k this. And f–k you guys.' I was like, I'm going to go figure out what's next for me and this will never happen again."

Nick on the breakup: "Right after the band broke up, I didn't know if we would ever speak again."

Nick on being the one who ended the band: "I felt guilty for having been so honest. But I was also aware that was absolutely what needed to be done. I could have done a better job of communicating the way I felt. I'd had a month or two to live with this decision I'd made, and they hadn't."

Nick on his wife, Priyanka Chopra: "Certainly the person I ended up falling in love with and marrying is very famous and successful and all of that. I couldn't have predicted that would happen, that life would take me down that path. The fact that she'd been working in this business for as long as I have, we could relate on that. I'm grateful to have found the right person."

Joe on his marriage to Sophie Turner: "We had to do a legal marriage before we did a real big one." They're having a wedding in France this summer, but they needed to get the union on the books in the U.S. beforehand. "It was either the courthouse, or our version, and I preferred our version. Friends, Elvis and Ring Pops."

Joe on pop stars not bothering with secrecy anymore: "That's why everyone loves Cardi B so much. She's the Queen right now, because she is so brutally honest on her Instagram, whether it's about herself, or others, politics. She's a badass. I think people respond to that way more to that, than any kind of mystery."
[From Harper's Bazaar Men Digital]
Okay, I am delighted with the idea of Joe Jonas secretly social-media-stalking Cardi B to see what she's up to and how she's living her life. He's right about how Cardi is super-open and very honest about everything, but I feel like pop stars have done that before. It goes in phases and cycles – sometimes we're living through a cycle where everyone is hyper-managed and terrified of letting people in, and sometimes we're in a cycle where stars are super-messy and they let it all hang out. As for the rest of it… they grew up. They were mad at each other at the time, but they needed that space to grow up and figure sh-t out apart from each other. What's weird is how it was treated as this scandalous thing when it wasn't.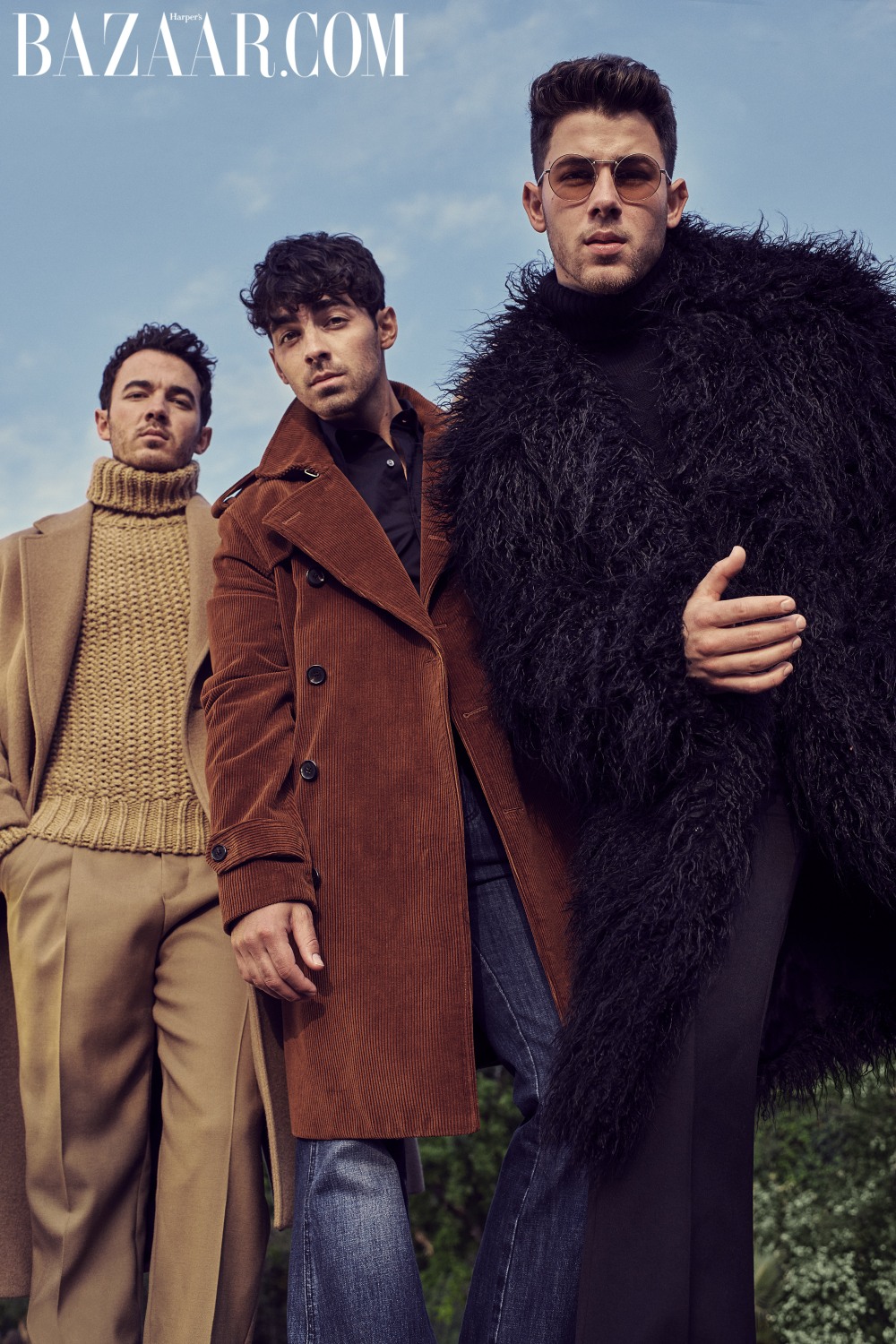 Photos courtesy of Eric Ray Davidson for Harper's Bazaar Men, sent from promotional Bazaar email.