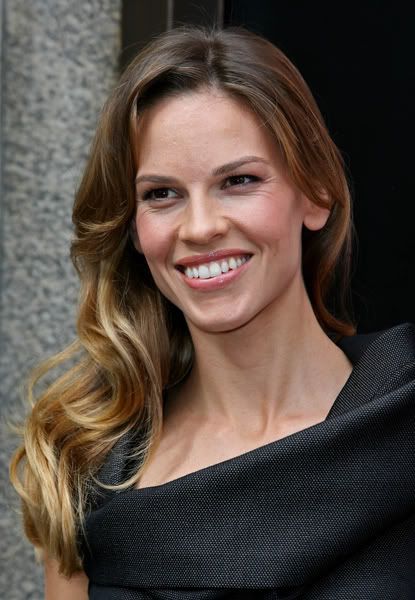 Hilary Swank, 33, has been dating her Creative Artists agent probably since April of 2006, when they were first spotted exercising together and looking flirty. Their relationship went public in August, 2006 when they were photographed on a romantic holiday in Rome.
Swank's boyfriend, John Campisi, 40, was only separated from his wife of 11 years at the time his romance with Swank was made public last summer. Not only had he not yet filed for divorce at that time, at least four months after he started cheating or "exercising" with Swank, he even had a toddler at home.
It was Campisi's wife who filed for divorce after receiving the public humiliation of seeing pictures of her husband kissing and holding hands with Swank on a romantic vacation in Italy.
Now their divorce is about to be made final, and Swank and Campisi plan to get married as soon as he's legally available. After that, Swank is planning for a baby:
Hilary Swank is planning to marry her boyfriend and former agent John Campisi as soon as his divorce becomes final in a few weeks – and she wants to start a family right away, say sources.

"Don't be shocked if Hilary gets pregnant soon after she walks down the aisle with John," a source told The Enquirer.

She's now free to wed, having finalized her divorce from Chad Lowe.

"It's just a matter of waiting for his divorce to clear the courts – it's expected to be final by November," said the source.
[From The National Enquirer, print edition, October 1, 2007]
I'm thinking a guy who leaves his wife and child for you without settling his affairs at home first is not that great of a catch, but maybe it will work out for Hilary this time.
Hilary Swank is shown yesterday at the launch of the Guerlain fragrance Insolence, which she represents. Thanks to PRPhotos.