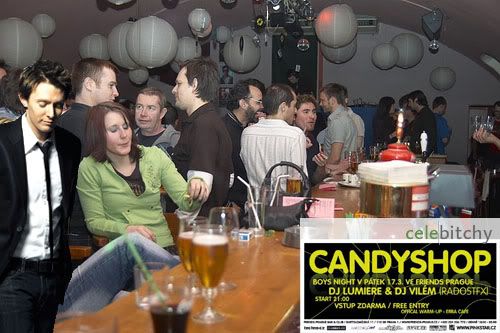 The NY Post reported that Clay Aiken was seen out at a gay club in Prague:
Clay Aiken, traveling in Europe after being "outed" by the National Enquirer, [was seen] at Candyshop, a gay club in Prague.
The club is actually called "Friends," and has a boy's night called "Candyshop."
It's definitely a gay bar, though, and bills itself as "Gay Prague's premiere venue."
Friends is THE place to visit when you arrive in Prague. Situated in over 200m2 of underground space, Friends features a state-of-the-art sound and video projection system. We're got the cutest waiters in Prague and they make some great cocktails. With DJ parties Wednesday through Saturday, Friends is great whether you're out for a quiet drink or ready to dance the night away. Popular with local Czechs, ex-pats and tourists, you'll meet a good mix of people and hopefully make some new acquaintances.
There's even a Flickr photostream for the club. (Which is how we got the image for the composite above. Apologies to "Friends" and their patrons.) The place looks like a lot of fun and we're sure Clay had a blast.
We think Clay should come out and be proud of his orientation. He's a talented guy and can sell more albums as a gay artist.