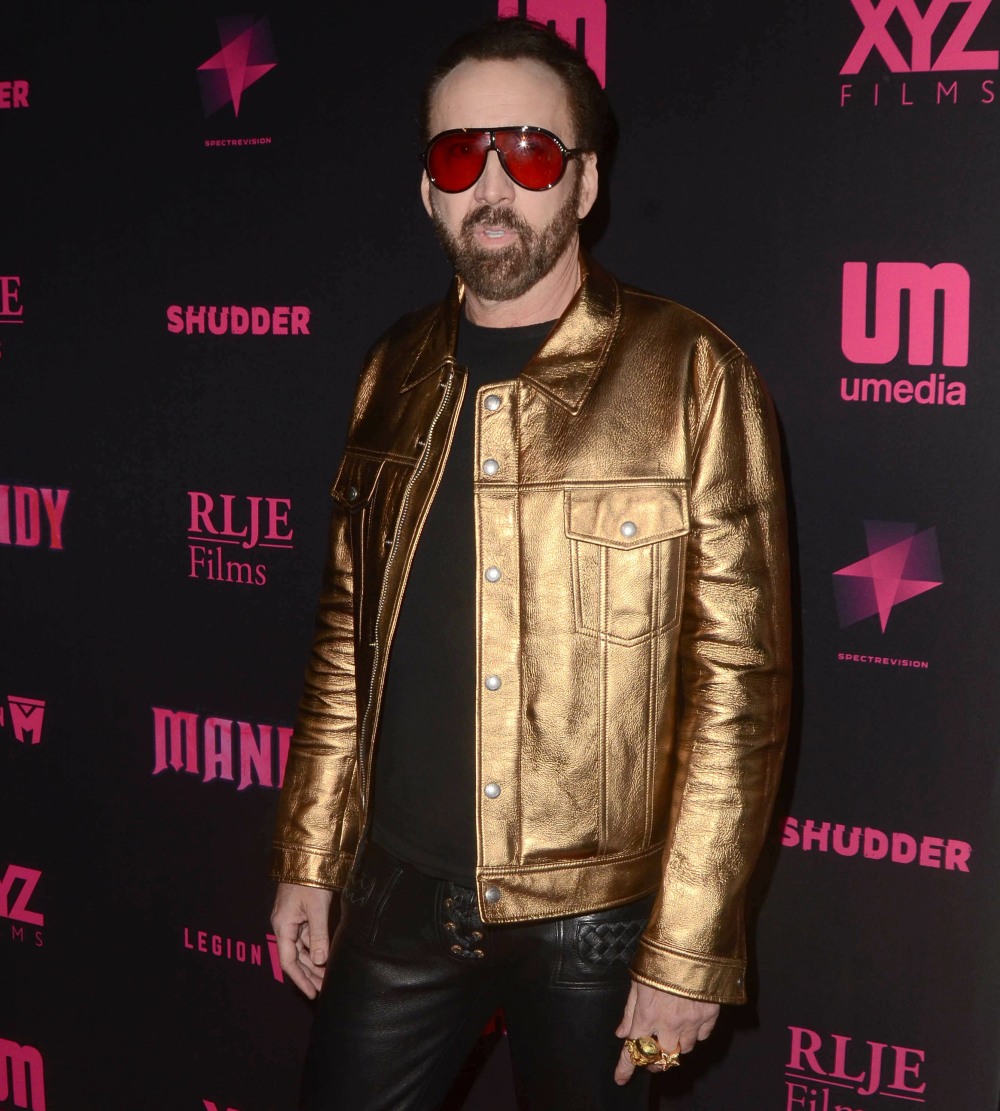 Nicolas Cage is, I suspect, NOT insane. I believe there's a difference between people who are legitimately dealing with profound mental health issues versus people who are just willfully bonkers. Nick Cage is willfully bonkers. I'm not saying that's a good or bad thing, but it is… entertaining. Like watching a car crash, if the car crash had a bad toupee and owned a bunch of dinosaur bones. Behold, the greatest hits from Nick Cage's NYT interview, where he covered such subjects as those screamy karaoke videos, his search for the Holy Grail, and why he's not in therapy anymore.
About the videos of him screaming "Purple Rain" at a karaoke bar: "You go to a karaoke bar with a male friend in the neighborhood, the bar says 'no videotaping' and suddenly, there's two different videos of you doing karaok. Who did that? Who exposed the videotape? Who sold it?…[It was]more like a primal-scream therapy" session that he didn't want to become a viral moment, since it was right around the anniversary of Prince's death. "It was a holiday weekend, and I didn't want to go anywhere, but my friend who was with me said: 'You can't sit here in your apartment. You've got to go out.' So I went to the one place in my neighborhood that I knew had no video recording, just to have some fun, and that became everybody's business."

He doesn't want to go out anymore: "At this point in my life … I heavily prefer to not go out. I'd rather just stay at home. I don't think I can decompress ever again, even at a karaoke bar. It's too vulnerable. I'm not trying to complain. It's a fact of life that I have to accept. I'd much rather let my work and not my personal life speak for me."

He doesn't do therapy anymore: "I haven't been in any kind of analysis for at least 20 years. The times that I've done it, there were some benefits. It's kind of like writing in a diary. You get things out…. Inevitably, there was a point where I'd look at the person and I'd start to go: 'Why am I talking to you? I'm more interesting than you.' Then I'd get up and walk out. So I stopped going."

He owned two king cobras: "I did have two king cobras, and they were not happy. They would try to hypnotise me by showing me their backs, and then they'd lunge at me."

The dinosaur skull he briefly owned: "The dinosaur skull was an unfortunate thing, because I did spend $276,000 on that. I bought it at a legitimate auction and found out it was abducted from Mongolia illegally, and then I had to give it back. Of course it should be awarded to its country of origin. But who knew? Plus, I never got my money back. So that stank."

He really did a quest for the Holy Grail. "I started following mythology and I was finding properties that aligned with that. It was almost like National Treasure. It's like when you build a library. You read a book, and in it there's a reference to another book, and then you buy that book, and then you attach the references. For me it was all about where was the grail? Is it at Glastonbury? Does it exist?… Yeah, if you go to Glastonbury and go to the Chalice Well, there's a spring that does taste like blood. I guess it's really because there's a lot of iron in the water. But legend had it that in that place was a grail chalice, or two cruets rather, one of blood and one of sweat. But that led to there being talk that people had come to Rhode Island, and they were looking for something as well… What I ultimately found is: What is the Grail but Earth itself?"
This was honestly what I was expecting from a 5000-word Nicolas Cage interview. *shrug* King cobras, dinosaur skulls, an aversion to therapy, a story about a cat who loved to eat magic mushrooms, and a one-man quest for the Holy Grail. Sounds about right? I honestly had no idea that he was on a Grail quest at one point and now I want Dan Brown to write a book about him. An eccentric, dinosaur-bone-collecting hermit-actor develops a fascination with the Holy Grail and decides that it's probably in Rhode Island. And he has two king cobras as pets and they keep trying to kill him. I would read that book.
Nicolas Cage has owned pet king cobras. He has been forced to return a stolen dinosaur skull. He is keeping a pyramid waiting for him — as a tomb — in New Orleans. He is a performer who sees possibilities in art — and maybe life — that no one else does. https://t.co/aGdTKTsllQ pic.twitter.com/T9KMER7cvn

— NYT Magazine (@NYTmag) August 7, 2019
Photos courtesy of Avalon Red.