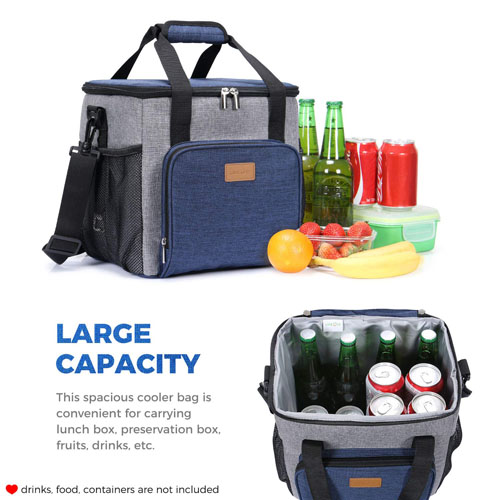 These Amazon posts just end up filled with stuff I want, so I may as well lean into that and ask for advice. I recently got contact dermatitis around my eyes. I think it's due to using my son's Effaclar face wash instead of my regular German store brand face wash. (I use this, look how cheap it is! It's just as good as more expensive face washes.) I've been using hydrocortisone on that area, but is there anything else that works for that? I'm thinking of trying the Vanicream we talked about on Tuesday. (I have so many creams but if it works I'll buy it!)
Oh and I wanted to do a follow-up on the foot peel stuff from last week. The verdict is out! There wasn't one foot peel everyone liked and some of you said that it made your feet peel so much you wouldn't recommend doing it in the summer at all. So I'm holding out on that.
A leakproof cooler bag to squeeze the last days out of summer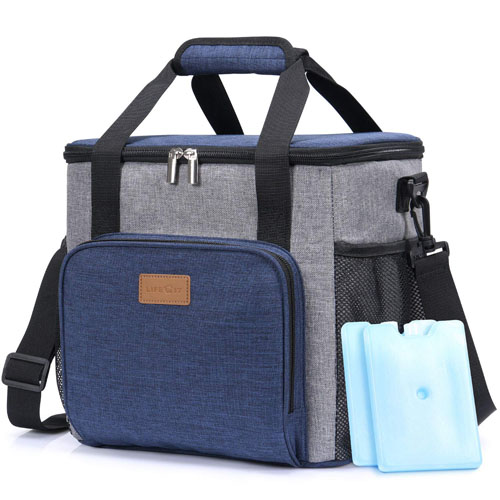 I have a cooler bag which I stole from my mom. (She said I could keep it after a few weeks.) The zipper is broken but I still use it a lot. It's great for picnics, keeping drinks cold during car trips (although I still want that mini fridge for the car), and bringing hot prepared dishes to parties. This cooler bag is less than $25 and it has so many compartments to organize your stuff! It has 4.6 stars and so far it only has 24 ratings, but unlike other cooler bags it has an A from Fakespot. Plus the styling is so cute, with blue and black versions and colorblocking. This comes with two ice packs and a bottle opener. It even has a padded carrying strap. Reviewers call it "high quality and spacious," "very roomy" and "heavy duty but not too heavy."
Expandable under-sink storage to make your problem areas neat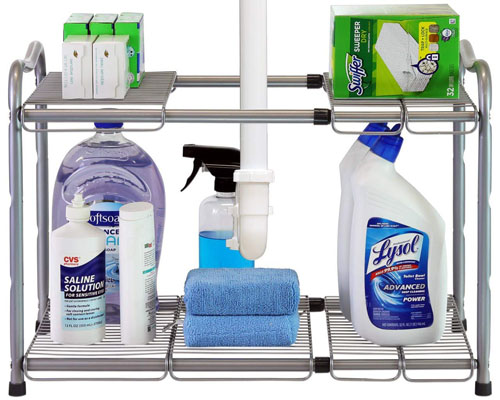 Clutterbug helped me get the hidden spaces in my house under control (I'm a ladybug, here's her test for that if you haven't seen it yet), but I need to work on upkeep. The area under my kitchen sink is particularly bad and I have to clean it out. So I should buy storage for that area before tackling that, right? This patented under-sink two tier metal storage rack has an area to fit your pipes. The width is expandable to provide just the amount of storage space you need. It has over 1,000 reviews, 4.5 stars and an A from Fakespot. It's called a "great product" which "keeps things tidy and organized" and is "very sturdy" and "better than expected." It's said to take about 15 minutes to put together.
A pot and lid holder that people love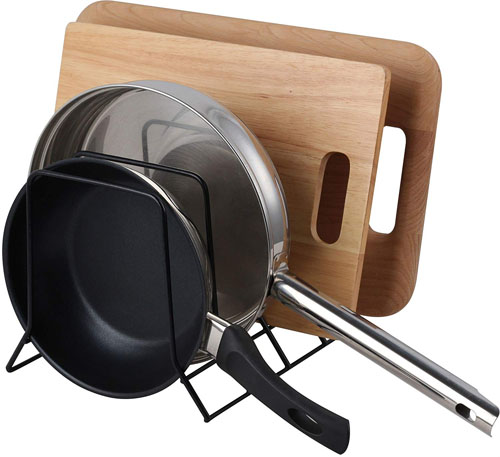 I looked through a lot of pot and lid holders because again, my kitchen storage is a mess. Most of them have bad Fakespot ratings, but not this organizer by Neat-O. It has 4.5 stars, 889 reviews and an A rating. It can also be used to hold cutting boards, pans or plates. It's called "just what I needed," "durable" and "space saving." At less than $9 it's also a "great value."
A structured bag which fits so many groceries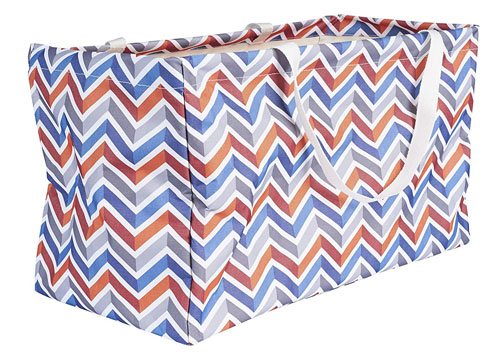 Years ago I went to one of those overpriced bag parties. I bought a long rectangular bag which I keep it in the trunk of my car (along with this) and still use for groceries. It holds so much. I ask cashiers to let me pack it myself because I'm used to doing this from when I lived in Germany and also I like to shove as much in there as possible. This large structured bag looks comparable to mine and it's less than half the cost. It also comes in so many cute prints. People say it's "large and versatile" while being "soft and collapsable" and say they're surprised how much it holds. Some reviews recommend cutting up a box to put in the bottom so the bag is sturdier. (This doesn't have a great Fakespot rating and some people who sell the 31 bags dislike it and say it's not as good, but they would say that, right?)
A cute and versatile t-shirt to transition to fall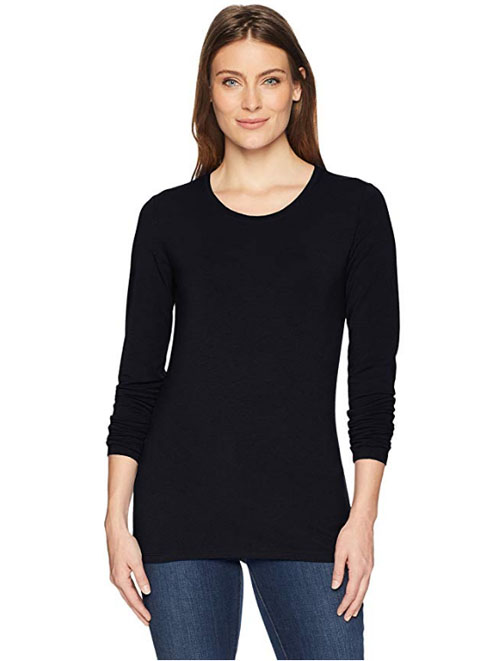 I got asked to feature stuff with longer sleeves. I love a nice long sleeve and 3/4 sleeve t-shirt. They're so versatile for fall and can be worn alone or layered under a light jacket. This crewneck long-sleeve t-shirt by Amazon Essentials (above) is under $12. It comes in 21 different colors and prints and in sizes x-small to xx-large. It would be an excellent staple item that pairs well with a skirt, jeans or dress pants. If you're looking for a v-neck with 3/4 sleeves this top by Kavio! has seven color options and is in sizes small to xx-large. Both of these tops have over 4 star ratings and Cs from Fakespot. (I ran so many listings through Fakespot and this is the best I could do as most clothing listings have Ds or Fs.) Here's a plus-sized 3/4 length sleeve shirt which comes in medium to 5x and 11 different colors.
A fit and flare 3/4 sleeve dress with a control panel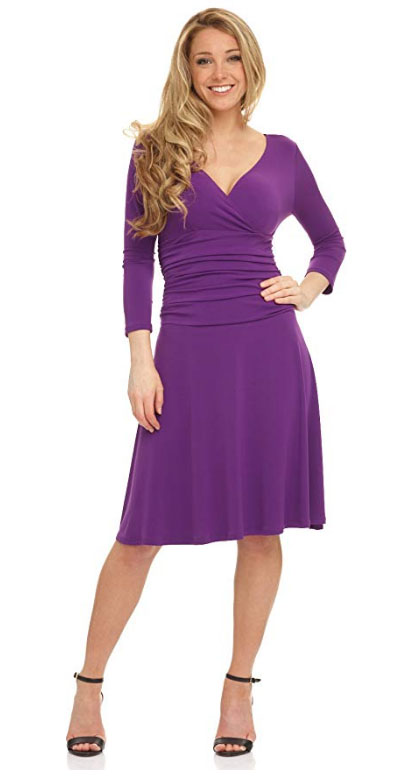 I don't think we've featured this dress before! This medium-weight 3/4 sleeve v-neck ruched dress by Rekucci comes in size 2 to 18 and in 35 different prints and colors. It has a control panel built in. It's just under $40, has 4.3 stars, over 1,500 reviews and a B from Fakespot. Women call it a "fabulous, flattering, easy-to-wear dress" that's "true to size" and "flattering for my curvier shape." It's also said to be very versatile and the "perfect business travel dress."
An under-$20 v-neck roll-sleeve tunic to look effortlessly chic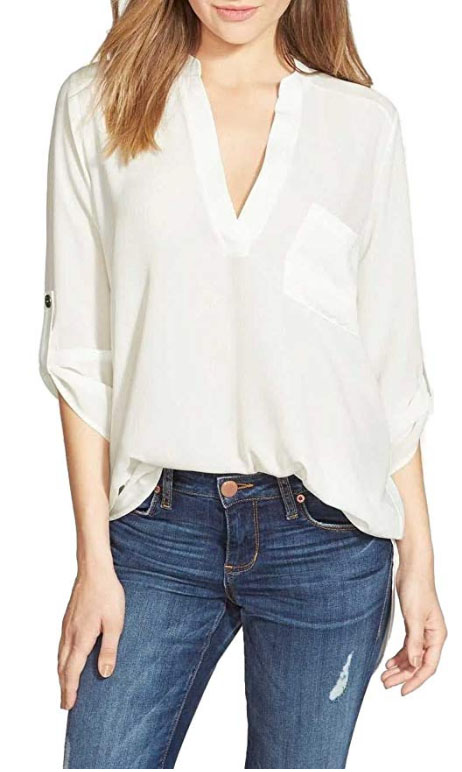 Again, so many of the clothes on Amazon have fake reviews. This cute and breezy tunic has 3.7 stars, over 450 reviews and a B from Fakespot. It comes in sizes small to 2xl and in black, white and olive colors. Women say that they get "so many compliments" on this shirt and wish it came in more colors. It's said to be a lightweight material and "the same thing you would get at Nordstrom or Banana Republic." Plus it's only $18! You can't beat that. It's said to run small so you may want to order a size up.
Thanks for reading and commenting on our affiliate post!