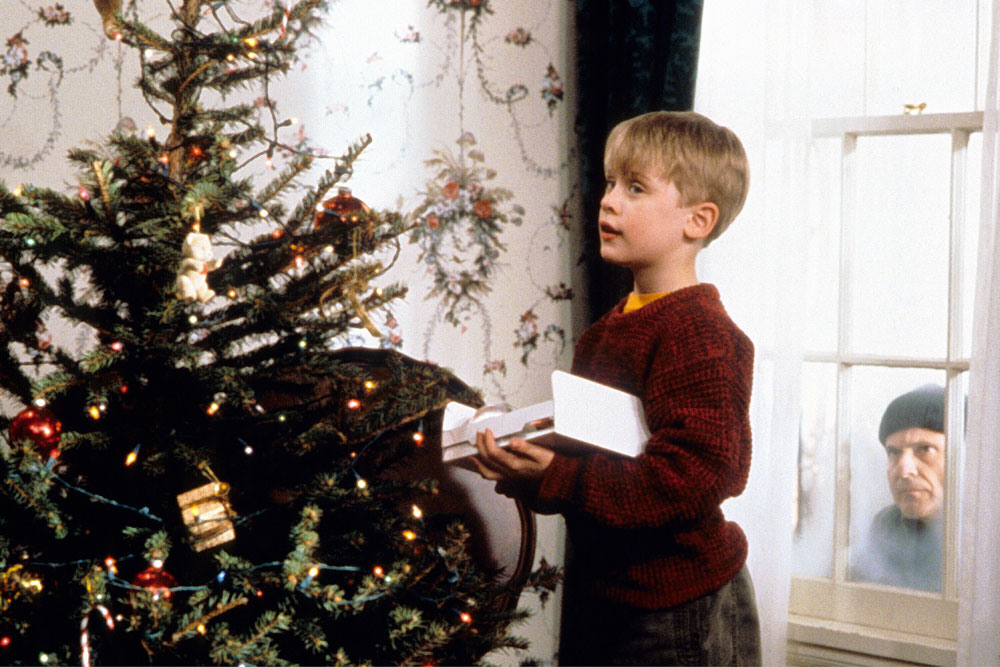 When I was growing up, one of my family's Christmas-centric traditions was to go out for dinner and head to the movies on Christmas Eve. While I can't remember every single movie we saw on one of those trips, I vividly remember going to see Hook, Jumanji, Home Alone, and Home Alone 2. I loved all of them, HA2 slightly less than the others, but Tim Curry was in it, so, for me, his presence made up for all its flaws. (What a simpler time that was, at least to my pre-teen self.) While I've only seen Jumanji again more recently than not, I'm always going to think of all of those movies fondly, never mind that they might not be considered "cinematic triumphs." Disney apparently loves Home Alone, too, because it is going to remake the film as one of the offerings on its streaming service, Disney+, which is going to launch in November:
Merry Christmas, ya filthy animal — a Disney remake of "Home Alone" is on its way.

In a conference call with investors, Disney CEO Bob Iger said the company would be "reimagining" the 1990s Christmas classic film for its long-awaited streaming service, Disney+, along with "Night at the Museum," "Cheaper by the Dozen" and "Diary of a Wimpy Kid."

In March, Disney acquired most 21st Century Fox assets following a $71 billion deal — including several film franchises.

"Home Alone," which was released in 1990 and starred Macaulay Culkin, has an audience rating of 80% on Rotten Tomatoes and a 7.5 rating on IMDb.

Disney has provided no details about how or when the film will be remade, or who will be cast.

"We are also focused on leveraging Fox's vast library of great titles to further enrich the content mix on our… platforms — for example, reimagining 'Home Alone,' 'Night at the Museum,' 'Cheaper by the Dozen' and 'Diary of a Wimpy Kid' for a new generation on Disney+," Iger told investors on Tuesday.
I'm more than tired of remakes and wish that studios would leave well enough (or not) alone, but I can understand that Disney wants to leverage all of the popular, beloved films and shows that it now owns in order to make more money. I remember being excited when the company announced its streaming service in 2017, because it meant that subscribers might be able to see animated movies that were "locked in the vault" and released on a very strict rotating schedule, along with maybe some of its TV movies that aren't aired anymore. (I don't care how ridiculously cheesy it is, I will always love Mr. Boogedy; Kristy Swanson, the original Buffy, is in it, as are John Astin and David Faustino. When I first saw it as a child, it scared the heck out of me.)
In the interim, Disney has continued to add to its holdings. (Is there anything the company doesn't own now?) Yesterday, the company delivered another blow to its competitors when it announced that a bundle of its streaming services, Disney+, ESPN+, and Hulu, would cost $12.99 per month, which means that it will cost less or about the same as other streaming services, including Netflix and Amazon Prime Video. I'm worried that eventually the shift to streaming isn't going to save customers a lot of money (assuming that companies continue to raise their prices). I still remember paying one low price for the Netflix mail and streaming bundle. For now, $12.99 for the three services from Disney looks great, so I suppose that I'll be one of those folks ready on November 12 to start handing over my money. (I'm surprised they aren't waiting a week until Mickey's birthday on November 18.)
Update by Celebitchy: Here's Macaulay Culkin's tweet about this!
This is what an updated Home Alone would actually look like. pic.twitter.com/sGj86933LA

— Macaulay Culkin (@IncredibleCulk) August 7, 2019