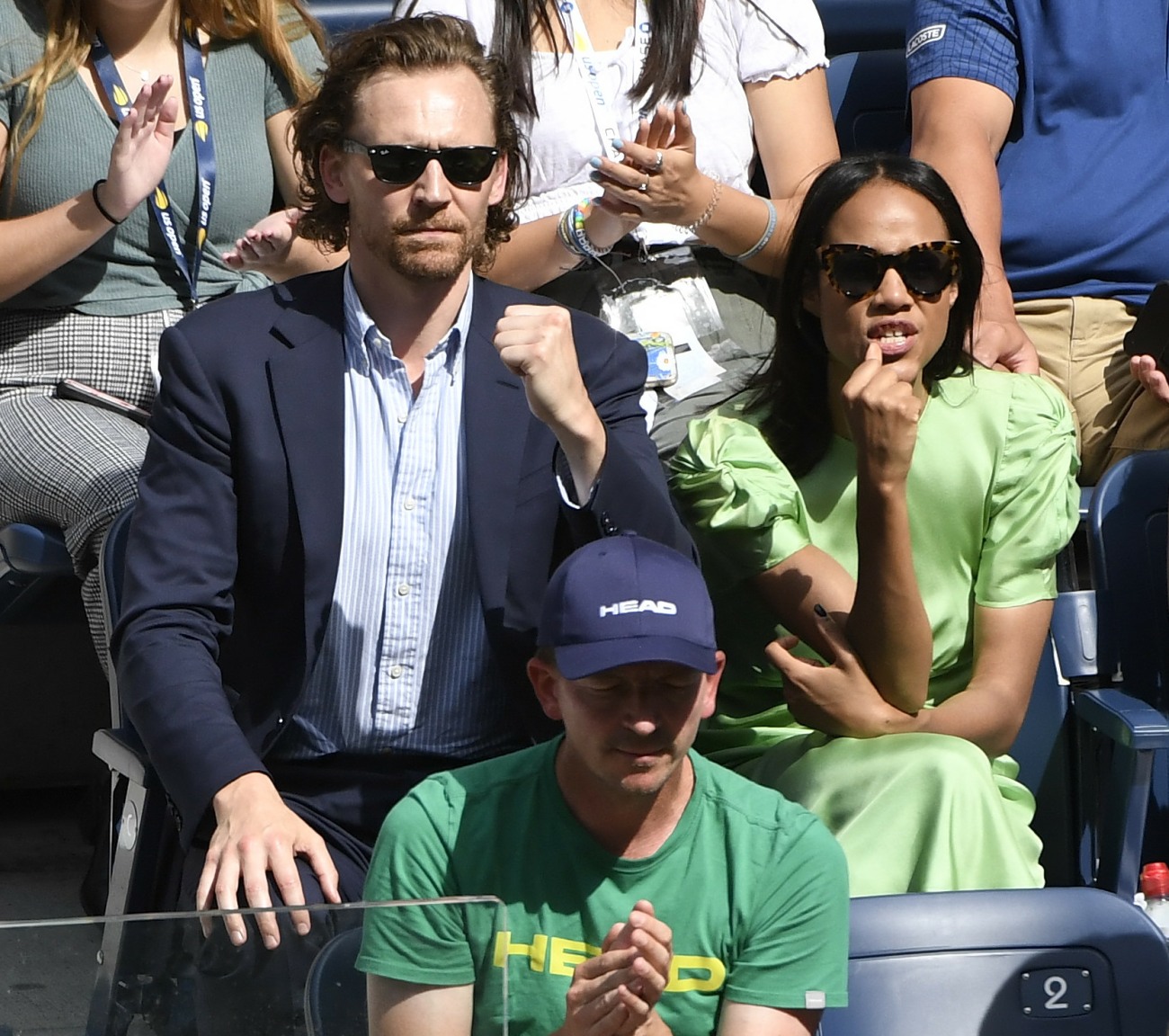 If you follow me on Twitter during the Slams, I apologize. There are a lot of tennis tweets. In my defense, this year's US Open has been really good! There have been some great match-ups and storylines. Some of the storylines I will continue to ignore, like Coco Gauff – I think it's completely irresponsible to put all of this hype on a 15-year-old. It makes me uncomfortable. But I'm here for the hype of adult players who are making big breakthroughs.
Very quietly, British women's #1 Johanna Konta has been having a great season. She's back in the top 20, and she might end up top 10 by the end of the year. Konta is doing really well in New York this year, a Slam where she historically has not done so great. And in her matches during the fortnight, she's had some big support from… Tom Hiddleston! Yes, Tom Hiddleston has been in her box and he's been very vocally rooting her on. Tom has been attending Konta's matches with his Betrayal costar Zawe Ashton. That's why Tom is in New York during the US Open – he's on Broadway with Betrayal, and in his spare time, he's checking out the tennis.
I'm pretty sure Konta has a boyfriend so it's not like she and Tom are undercover dating. I suspect that Tom and Zawe are undercover dating though, and I've suspected that for months now. During one of her on-court interviews, Konta explained the connection:
Tom Hiddleston was spotted supporting Konta at the side of Court 17 during her 6-1 4-6 6-2 win over Daria Kasatkina on Monday afternoon and the 16th seed revealed the pair had only met a matter of days before. 'Yes, he was in the box,' Konta said. 'He's here in New York and has quite a few shows till Christmas, he said. We only met a few days ago and he turns out to be a big tennis fan and so I invited him down and he brought some of his co-stars and I had some of my friends there as well, so I had a lot of great support in the box, it was good.'

Konta wouldn't divulge exactly where they met but gave an insight into their chance meeting in the Big Apple. 'Just in New York actually, just literally we crossed paths,' she added. 'I did the Good Samaritan thing and said, "Don't bother him, he's obviously busy," and then he actually said, "I don't usually do this but I'm a massive fan," and I was like, "What, who? Who else is here?" 'It was basically that and then we got chatting and he's super nice and his co-stars came as well and they're also super nice, so it's good.'
So there you go – Tom sought out Konta and possibly wanted some free tickets. It's nice! We usually see Tom at men's matches when he goes to Wimbledon and the French Open, but I'm glad to see a British guy showing support for a British WTA player.
Photos courtesy of Getty and Avalon Red.