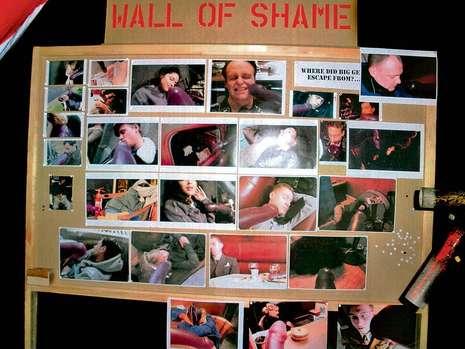 Apparently Quentin Tarantino gets a huge kick out of waiting until people he's working with fall asleep and then taking their picture with a dildo held up in front of the camera like it's headed for their mouth. The dildo looks huge and menacing in the photos, but I think he's really missing an opportunity not sticking the dildo in a more incriminating place on his victims – I don't mean he should uh, invade their personal space or anything, just place the dildo in their hand like it served its purpose and the person forgot to put it away before they passed out. This scenario scares me which is why I'm usually pretty careful about hiding the sex toys before I fall asleep.
The picture of Brad Pitt isn't done with much artistry and you can't really see his whole face, but Tarantino was probably wasted when he took it and at least you can tell it's Brad. The source article by our friends over at The Bild is in German, but I know just enough German to be dangerous. I'm pretty sure it says the dildo's name is Gerry after someone Tarantino worked with named Geraldine, and that it's accompanied him on every filmshoot since Kill Bill. It's always there on a chair when he's filming, waiting for someone to fall asleep. Brad's co-star Gideon Burkhardt tells The Bild "I fell asleep and had to pay the price." That would make me shudder if I all I knew was that there was a dildo and a camera involved.
In related news, the Bild also has some hot photos of Tarantino's date (semi NSFW) at the Berlin Basterds premiere, Tallulah Freeway. I mentioned that she looked really sexy to me and it turns out that there's a good reason for that – she's a burlesque dancer on the level of Dita Von Teese and has performed at the prestigous Admiralspalast in Berlin. Now she's with Tarantino, or she's at least seeing him when he's here. I hope they're using a separate set of sex toys. That Gerry has seen better days.
Thanks to The Bild for these photos and to A.Z. for the tip!